Browsing articles in "BLOG"

Please don't ask for a blessed year 2018 until you're done ending 2017 well. In this last week of the year I want to remind you that moving on to the next year will only be good after you did an honest review of this past year. Lot's wife is a prime example of someone who is still haunted by the past. After the episode of Sodom and Gomorrah being destroyed she still cannot let go and turns back. The consequence is that she is stuck. She turns into a pillar of salt and can't move anymore at all.
It maybe true that when one door closes, God opens another. But you may not be ready to embrace that change. You first need to finish mourning the loss of the first opportunity. Any change, any transition, needs a proper ending. And judging them as "good" or "bad", as "negative" or "positive" is not the point. Change is change and transitions are transitions. When someone dies the process of preparing for and going through the funeral helps end things well. When a couple gets married the process of preparing for and going through the wedding helps end things well. Yes, a wedding is not just a new start but also an ending: your single life ends. It's really a shame that on the occasion of a divorce a lot of people just go through legal battles and miss the opportunity to end things well by going through a blessing ceremony for this part of their lives.
Here is how to end things well: When Israel left the slave house of Egypt, they did not directly proceed to the promised land where milk and honey flow. But God had them roam the desert for two generations. When Jesus died on the cross he did not directly come back to life but was buried and stayed there for three days. There is a pause between the old and the new. And that pause is not just being antsy about what is to come, it is about the reflection of the past: The time in Egypt was an overall horror story for God's people but in the desert they learned to remember and appreciate that there was more food than they have now. When Jesus was in his grave, the disciples learned to be the church without following Jesus like a guru.
Again, the point is to pause and not just write off experiences as "good" or "bad", as "negative" or "positive". If you lost a loved one in 2017 don't let that be your only memory for this year. If your house got flooded, find another memory as well. If your 2017 is all great because the Astros won the World Series, find something that didn't go perfect this year. Be grateful for what went well and mourn what didn't. Only after you have taken your heart through an honest review of 2017 will God be able to reach it with a blessed year 2018.

If you are interested in a clash of ideologies, this is not written for you. If you think America is in trouble because fewer people say Merry Christmas, this is not written for you. "Happy Holidays" and "Merry Christmas" are not alternatives. It's not one or the other. Just in the month of December there are XX holidays. So your safest bet it to use "Happy Holidays" most of this month.
With Advent being so late this year, Islam got a head-start in 2017 with Mawlid an Nabi, the birthday of the Prophet Muhammad on December 1. For Christians the season of Advent covers the four Sundays leading up to Christmas, December 3-24. December 6 is Saint Nicholas Day, the holiday to commemorate one of the cultural roots of Santa Claus. Catholics put an emphasis on the Immaculate Conception of Mary on December 8. Last Sunday you may have seen a parade of horses and many worshipers heading through town. Those were processions held in honor of Our Lady of Guadalupe, a December 12 holiday commemorating an apparition of Mary in Mexico. Our Jewish brothers and sisters celebrate the eight nights of Hanukkah December 13-20 this year. A miracle made the oil last to light all eight candles on the candelabra. Remember how Mary and Joseph couldn't find a place in the inn? The week before Christmas is a week of Posadas Navidenas – their perilous journey reenacted by the Hispanic community. The winter solstice on December 21 is a turning point in the sky and probably one of the objective reasons why so many holidays pile up this time of year.
So far "happy holidays" would have been my seasonal greeting of choice. Now, December 24 changes that. Christmas Eve begins what the church calls Christmastide. The song calls it the 12 days of Christmas which end on Epiphany, January 6. Jesus's birth, the incarnation of the Word of God, the divine becoming human, is a turning point that starts a whole new season. Advent was preparation, now Christmas means: Christ is born! That's when I say: Merry Christmas!
But the holiday season continues. December 26 is a day that is remarkable for two deaths: the Prophet Zarathushtra for the Zoroastrian faith and Stephen, the first martyr of the Christian Church. And the wheel keeps turning until the babe in the manger gets martyred himself. When I say Merry Christmas I mean it. When I say happy holidays I mean it.

Earlier this year I went cold turkey and gave up on caffeine. Seven weeks without coffee, the entire Lent season from Ash Wednesday to Easter Sunday. The start was rocky and painful, eventually I adjusted. But guess what: A few months later I was totally back on with my coffee habit. It started out slowly. At first I did not drink two pots of drip coffee anymore but just a few shots of espresso twice a day. Then came multiple situations where there wasn't any espresso, so I went back to drip coffee as well. By now I needed my regular fixes again.
This ended last Sunday. I reminded myself that Advent, just like Lent traditionally is a season of fasting. The two major Christ holidays – Easter and Christmas – each have their own preparatory fast season leading up to them. That's why we have all these goodies in December. The four weeks leading up to Christmas used to be as strict a fast as the seven weeks leading up to Easter. People weren't allowed to eat except one tiny meal of bread after dark. And they made sure to make it count. That's where ginger bread originated.
Pretty soon the originally scarce nutritional boost of the fast turned into a seasonal treat. The bread got sweeter over timer. It got covered in chocolate. It got accompanied by all other kinds of baked goods and voila the indulgence escalated just like my coffee habit. From an innocent shot of espresso to thousands of sugary and buttery calories the original fast is but a distant memory.
To make a long history short: I am giving up caffeine for Advent this year. And I invite you to find something that you can do differently this time of year. Any habit change is good. It doesn't matter whether you give up something or add something to your routine. Any intentional change helps to focus on the coming of Christ regardless of time of the year. Don't get me wrong: I will not pass on any goodies, I just won't have coffee with them.
As a pastor I get to visit all kinds of groups and learn what they do. The other day I went to a group who call themselves "mature adults" – dozens of people who get together for an afternoon of games. That afternoon two ladies introduced me to Farkle. All the other tables were playing different versions of dominoes. One of the dominoes tables raised a good question:
Does God help you with dominoes?
I had to leave and I did not want to rush the answer. That is why I punted to the time of this writing. So the very short answer is YES!
God helps you with dominoes: Look at you! God called you out of the house this afternoon. God said get out and don't worry about dusting or dishes. God wants you to be connected this afternoon and have a good time with people you enjoy being around. God uses dominoes to help you not be home alone. God uses dominoes to help you bring joy to others.
In classic Western movies and children's games cowboys are the good guys with revolvers in their hands. Indians with bows and arrows are the bad guys who are after your scalp. Thanksgiving is one of the few stories that interrupts that image. Here the natives are good because they help the newcomers. There are other stories where Native Americans have positive images: the love story of Pocahontas or the image of the noble savage who is so civilized and gentle to animals and the natural environment that he becomes a romanticized role model.
One thing that strikes me is that all these stories, positive or negative live off a stark contrast and an oversimplified dualism. Good versus bad, us versus them, white versus colored, civilized versus savage. I would love to think things have changed. But I guess this pattern is too tempting to give up. America continues to be divided between native and immigrant, rich and poor, educated and uneducated, urban and rural, liberal and conservative, turkey or ham on the Thanksgiving table.

The world has always been divided. That is part of human nature. It is the original sin. The emblem of the United Church of Christ recognizes this reality by displaying the globe with lines cutting across the orb. God's children live divided into different nations and religions. From that divided world rises the cross. It is a symbol that Christ has suffered as one of the least of us, an outcast among outcasts, a Jewish radical crucified by the Roman Empire, a Native American speaking up against occupation, a pilgrim trying to establish a safe haven. The crown on top reminds the church that Christ reigns. That is what the last Sunday of the liturgical year is all about: The reign of Christ. Your nationality, your religion, your education, your wealth, your political leanings, none of that has the final say. None of that is supposed to govern how you live your life, but the person of Jesus Christ. The cross reveals that all the labels that divide us are false idols. This Thanksgiving let us be thankful for diversity and nuanced conversations.
Why do we celebrate Veterans Day on November 11?
Last week I posed this question to a group of community leaders. They did pretty well. They remembered that Veterans Day was initially called Armistice Day. Then it got a little more shaky: Was it to commemorate the ending of World War I or II? A slight majority got it right and settled for World War I.
– A great way to commemorate Veterans Day is to promote peace!
Why did the 1918 Armistice take effect on November 11?
Negotiating and drafting the Armistice took well over a month. So what made them decide to let it take effect on 11/11? This day is dedicated to Saint Martin, the patron saint of soldiers. Saint Martin was famous for using his sword for charity. Martin was a soldier in the army of the Roman Empire and he was stationed in Gaul (modern-day France). One day he was approaching the gates of the city of Amiens, where he met a scantily clad beggar. He impulsively cut his military cloak in half to share with the man.
– A great way to commemorate Veterans Day is to promote charity!
Why should the church care about November 11?
The remainder of Martin's cloak eventually turned into a relic venerated by the Catholic Church. The priest who cared for the cloak in its reliquary was called a cappellanu, and ultimately all priests who served the military were called cappellani. The French translation is chapelains, from which the English word chaplain is derived. Nowadays a chaplain is an individual who is ordained or endorsed by a faith group to provide chaplaincy care in diverse settings including, but not limited to, hospitals, corrections, long-term care, sports teams, palliative care, military, hospices, workplaces, mental health and universities.
– A great way to commemorate Veterans Day is to promote spirituality!
Support our veterans!
Remember Saint Martin!
Promote peace!
Promote charity!
Promote spirituality!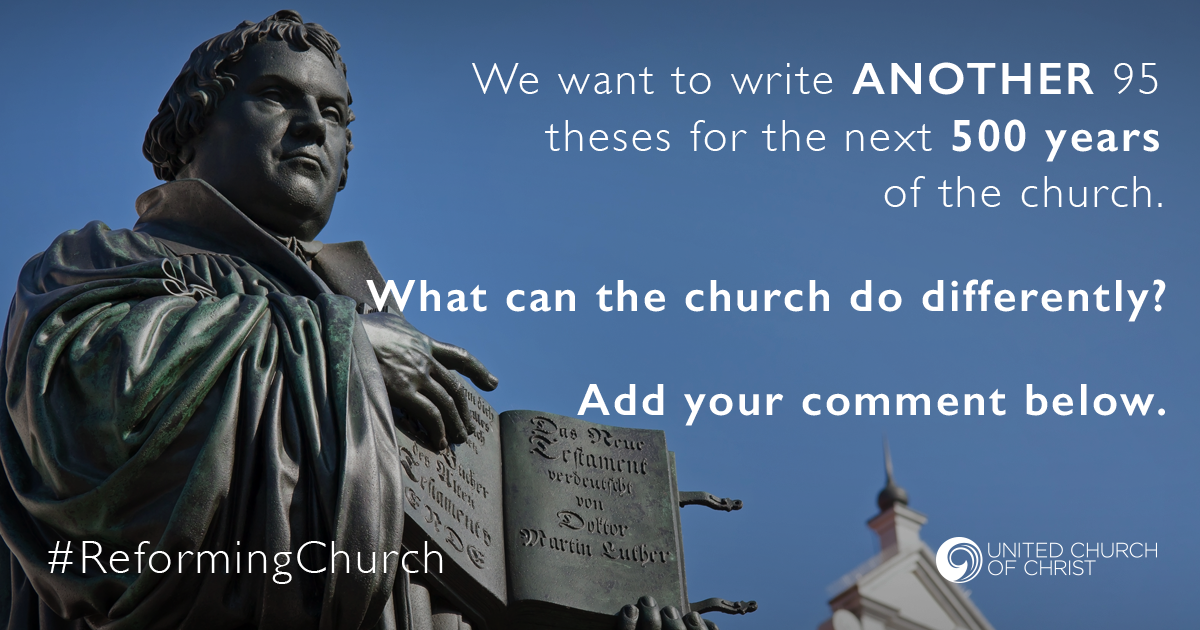 I love church traditions and I enjoy formal structure and I strive under rules and regulations. Today I am reminded though that the church must not become too attached to its traditions, structure and order. Today is Reformation Day. Actually it is the 500th anniversary of the Protestant Reformation. Today the body of Christ reminds itself that we are not about our traditions but that we are the living body of Christ.
Our church service starts promptly at 10 am and ends no later than 11 am on Sunday morning. But we also know that the church cannot limit worship to a particular place and a particular time.
Our church bulletin shows the order of worship that has roots reaching back as far as the first temple in Jerusalem under King Solomon's reign 1,000 years before Christ. But we also know that meaning-making cannot be limited to ancient words and traditions.
At our church Holy Communion is celebrated once a month. But we also know that spiritual nourishment must be available 24/7.
In our church elected members of the church council do the announcements. In our denomination a pastor has to have at least a master's degree to be even considered for office. But we also know that everybody must be encouraged to serve God's children whenever and wherever the spirit leads them.
Events planned for our congregation have to be scheduled way in advance so they can be put on the calendar. Every dollar has to be budgeted, received, spent and posted meticulously. But we also know that stewardship and commitment have to be reimagined.
The stain-glass windows and the organ are the backbone of our sanctuary. But we also know that sacred places pop up wherever people find meaning.
Martin Luther reminded us to become radical again, in the original Latin sense of the word radix, to go back to our roots. The first Christians did not have a bank account or a church newsletter. They worshiped in whatever place was safe at the time. They were constantly adapting to their environment. Over time we have developed structures that make us feel comfortable. The 500th Reformation Anniversary can remind us that the church is not only the building with the sanctuary. The church is not only the congregation of lovely people. The church is first and foremost the Body of Christ. I do not know what the future church may look like. Martin Luther did not know either. But one thing is for sure: It's going to be radically different as it always has been for thousands of years. God, I trust you have something wonderful in mind and thy will be done.
Listen to my three part sermon series commemorating the 500th Anniversary of the Reformation.
It is based Luther's three Solas:
Sola scriptura, sola fide, sola gratia!
Scripture alone, faith alone, grace alone!
There are three steps to learning: Know Be Do
The first sermon explores the "knowing" in terms of religious literacy:

The second sermon explores the "being" in terms of lived faith practices:

The third sermon explores the "doing" in terms of graciousness and generosity:

Listen to last Sunday's sermon here:


October 14th 2017 marks the tenth anniversary of my ordination to Christian ministry. I have served full time for fourteen years, but in Germany ordination is not granted until a few years into your ministry. How is an ordained person different from a non-ordained person? As far as God is concerned there is no difference because every Christian is a priest to the LORD. Ordination is a promise that professionals make to the church. For my tradition it is summarized in the Ordained Minister's Code. It has wonderful guidelines for ministry and life in general:
The Ordained Ministry
I believe that God calls the whole Church and every member to participate in and extend the ministry of Jesus Christ; that the privilege of witnessing to the gospel in Church and society belongs to every baptized Christian; that God empowers the ministry of the Church and its members by the Holy Spirit; that the Church nurtures faith, evokes gifts, and equips its members for service; and that God calls certain of the Church's members to various forms of ministry in and on behalf of the church.
I have been called by God to be a minister of the Lord Jesus Christ and ordained by the United Church of Christ to preach and teach the gospel, to administer the sacraments and rites of the Church, and to exercise pastoral care and leadership.
I will seek to witness to the ministry of Jesus Christ.
I will preach and teach the gospel without fear or favor. I will speak the truth in love.
I will administer the sacraments and rites of the Church with integrity.
I will diligently perform the work of ministry which I have agreed to perform.
Partnership in Ministry
I will nurture and offer my gifts for ministry to the Church. I will seek to call forth and nurture the gifts of others in the Church and join their gifts with mine for the sake of the mission of Jesus Christ and the health of the Church.
I will seek to understand, support and interpret the diverse ministries of the Church and its members as carried out throughout the world. I will stand with those who risk personal well being because of actions taken in response to their Christian convictions.
I will work cooperatively and collegially with those whom I serve in the particular ministry to which I have been called.
I will stand in a supportive relationship with my colleagues in ordained, commissioned, and licensed ministry, offering and receiving counsel and support in times of need.
I will be an advocate for fair standards of compensation for all ordained and lay employees of the church, particularly in the place where I serve.
I will be a responsible participant in the life and work of my Association, Conference, and the United Church of Christ.
I will be a responsible representative of the Church Universal and participate in those activities which strengthen its unity, witness and mission.I will seek the counsel of the Conference or Association Minister or the Association Committee on the Ministry should divisive tensions threaten my relationship with those with whom I minister.
The Ethics of Ministry
I will regard all persons with equal respect and concern and undertake to minister impartially.
I will honor all confidences shared with me.
I will not use my position, power, or authority to exploit any person.
I will not use my position for personal financial gain, nor will I misuse the finances of the institution which I serve.
I will not perform pastoral services within a parish or for a member of a parish without the consent of the pastor of that parish.
I will deal honorably with the record of my predecessor and successor.
I will not, upon my termination and departure from a ministry position, interfere with nor intrude upon the ministry of my successor.
Growth in Ministry
I will encourage and participate in the regular evaluation of my ministry.
I will seek to grow in faith, knowledge and the practice of ministry through intentional continuing education, study and devotional life.
I will cooperate with my Association in the periodic review of my ordained ministerial standing.
Commitments to Self and Family
I will live a life which honors my commitments to my family.
I will honor my need for time for physical and spiritual renewal, recreation and vacation.
I will honor my family's need for privacy and time together.
I will be a responsible steward of my personal and family finances. I will honor and accept responsibility for all debts which I incur.
I will attend to my physical well being and avoid abusive behaviors and abusive use of substances.
Relying on the grace of God, I will lead a life worthy of the calling to which I have been called.