Browsing articles in "BLOG"
For the summer everybody has book recommendations for you. I am no different. Every few years I re-read a true classic. And you know when I am talking "classic" I really mean "ancient". St. Augustine finished his "Confessions" around the year 400 CE. Augustine of Hippo is probably the most influential teacher of the Church. In this autobiographical work he describes his journey into Christianity. The conversion story part is a pretty easy read. The book is long, consisting of 13 books itself. And I don't read it fast. Sometimes I may lay it down for a week and think about how Augustine's life is similar to mine. I invite you to start reading now and take your time. Then at the end of the summer let's get together and share how Augustine's spiritual journey has impacted yours. The Spiritual Summer Reading wrap-up session will be on Sunday, August 26, at 9am at St. John's UCC in Rosenberg, Texas.
You can get The Confessions of Saint Augustine for free at Project Gutenberg. But honestly that 19th century translation is not very approachable. Barnes & Noble has an edition in their Classics Series for under $10. And of course you can always find it on the e-reader of your choice.
As you read and travel this summer, don't forget to take a look at your inner being: "And men go abroad to admire the heights of mountains, the mighty waves of the sea, the broad tides of rivers, the compass of the ocean, and the circuits of the stars, yet pass over the mystery of themselves without a thought." (Augustine's Confessions, Book 10).
"When in the Course of Human Events" is that most popular opening phrase of the Declaration of Independence. Usually I have skipped over them coming to the good stuff about liberty and America. This year these few words caught my special attention.
The first word of the Declaration of Independence is "When". It is not a theoretical, moral declaration but one that happens in a particular time and place. "When" is a temporal clause not a conditional one. It does not say "If in the Course of Human Events". "When" means the present turmoils are something that is part of life. Major breakups, separating from your family of origin, leaving the old behind is something that regularly and normally occurs in the course of human events. Abuse happens, the reaction happens. Freedom needs to happen. Revolution needs to happen. That's just how life is.
These words are part of the "Course of Human Events". This declaration is not divinely inspired. It is a human document. People were hurt by people and react in human fashion: They express their pain, they state their case and they follow through. That's what humans do. Action causes reaction. That's just how life is.
This year the opening phrase of the Declaration of Independence reminds me that life goes on. This human, messed up life, just as it is.
Over the past few years I have reflected on this important document in other contexts:
2017 Brexit 1776? – Happy Independence Day!
2016 A decent respect to the opinions of mankind
2015 Obergefell v. Hodges
2014 Don't Mess With Texas
2012 Declaration of Independence pushing for immigration

I am called an American. My certificate of naturalization says so. It also lists my "country of former nationality" as Germany. Now what makes me an American? I eat apple pie, I speak English, I have a propensity for liberty. That's good enough, right? Well, wait a minute. This whole hemisphere from Cape Horn to the Arctic is called America. Since I did not go to school in this country I had to look up why that is.

Please join me on that search and meet Amerigo Vespucci. He was an explorer who landed in the New World in 1502. Vespucci demonstrated that Columbus was wrong when he thought he found a shortcut to India. Vespucci showed that this is a truly new continent and that is how the latinized version of his first name became the name of my citizenship. Amerigo became America. Amerigo Vespucci was born in Italy, naturalized into Spanish citizenship and worked for the Portuguese government. That's what America is all about: We wear our national identity lightly. The places we live and the identities we hold are subject to change. You are single one day and in a relationship the next. Then you may turn into a parent. All of sudden loved ones are gone. Nothing ever stays the same. Most Americans even hyphenate their self-classification: German-American, Czech-American, Anglo-American, Mexican-American and so on. America in its very name carries the notion of being from somewhere else. This land is not truly your land or truly my land.
The facts that I eat apple pie, speak English, and have a propensity for liberty – those are all things of this world. And as such they are only of secondary importance as 1 John 2:15-17 reminds us:
"Do not love the world or the things in the world. The love of the Father is not in those who love the world; for all that is in the world—the desire of the flesh, the desire of the eyes, the pride in riches—comes not from the Father but from the world. And the world and its desire are passing away, but those who do the will of God live for ever."
So this Fourth of July, let's eat apple pie and celebrate liberty. But let us also remember that these desires are passing away. Only God's love remains.
Ever since I left my parents for college I have not lived in a house for more than two years – except for the current one – it holds the record of four years! I have been used to moving a lot. In some cases it was a "running to" in others it was a "running from". This movement has solid ancient precedents. The desert fathers and mothers of the early church are well known for moving away from it all. But of course their movement is also one of running from and to at the same time. They left everyday life in order to find solitude. But they also receive visitors and students. Rowan Williams beautifully unearths the story of Abba Arsenius and Abba Moses. These ancient saints gave the book its title. One sat in complete silence with the Holy Spirit, while the other was in a large group sharing honey cakes. Solitude and community are both equally important. And even going to the desert as an hermit does not change that dynamic. Eventually the former Archbishop of Canterbury offers a compelling reframing of what it means to flee or to stay. Fleeing like the desert fathers and mothers left civilization is hardly running from. They intentionally avoided distraction from the inner work they had to do. They avoided other people's projections. They were running to focus and intentionality. In the final chapter Williams makes the case for staying. Just because routine gets boring or just because you start feeling an itch to move after a few years does not mean you should follow it. Of course the grass is always greener on the other side. Ultimately Williams succeeds in separating the concepts of fleeing and staying from a localized understanding. You can distract yourself in your community and miss your actual purpose. You can move half around the world and still be stuck in old unhealthy patterns. As long as movement is not about avoiding what needs to be done but a movement into development work it is good. As long as staying is not just laziness but enhances focus it is good. You should read Silence and Honey Cakes
. It is enlightening and charming with cute British phrases like "shan't".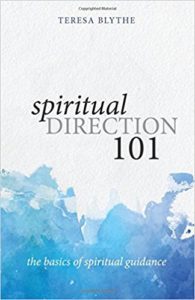 The sticker on my windshield tells me that my car needs an oil change every three months or after so many miles. Also I go in for a spiritual oil change at least every three months, preferably every one or two. People have done that since the dawn of time. In recent years spiritual direction has entered the mainstream. More and more people understand that body, mind, and spirit need regular check-ups and check-ins. And where there is a demand, there will also be a supply. Spiritual direction comes out of the monastic tradition but is now available to everyone and offered by persons from a variety of backgrounds.
In her book Spiritual Direction 101, Teresa Blythe addresses those who want to hang their shingle and become active practitioners of spiritual direction. Now Blythe continues to remind her readers that everybody can simply call themselves spiritual director. The title and the work and not regulated in any way but she insists on maintaining the ethics of the profession as outlined by Spiritual Directors International. One big take-away for the aspiring or practicing spiritual director is to not do this work alone. Blythe continues to emphasize that spiritual directors receive supervisory spiritual direction themselves.
If Blythe's book is your first formal education in spiritual direction you will love it for its bibliography. There you will find most important classics and a few hip and coming approaches. Blythe also shares abundantly from her own praxis of many years – like a list of most helpful questions a spiritual director can ask, with the top three being:
– What is it you care most about in life?
– When do you feel most fully alive? When do you feel least alive?
Although there is skill and knowledge involved, Blythe keeps reminding her readers that, "this is one of the great tests of spiritual direction: If you can remember that God is the true director." Whether you work with groups or individuals, whether you work with cisgender or transgender persons, whether you work with people who are similar to you or very different, spiritual direction is about "honoring the third chair" – a reality that transcends the here and now. From this spirit of inclusion Blythe details how to work with the aging, the addicted, clergy, and other groups.
Finally Blythe gets into the nitty gritty of setting up shop: location, decoration, pricing, marketing and much more. Spiritual directors see their directees in coffee shops, church offices, professional offices or retreat centers. Their fees range from free to top dollars. Working your call to become a sustainable praxis requires a lot of discernment. It is probably best to check in with your own spiritual director about that when you meet next time. Oh, by the way, you don't have to do spiritual direction as a stand-alone business. It also works well in other ministry settings. I just scheduled my next spiritual oil change.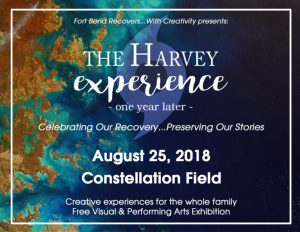 I do not remember the names of my high school music or arts teachers. And they don't deserve to be remembered. They told me I wasn't good at music or arts and I believed them. To this day I don't trust that I am a creative person, at least as far as formal arts and music are concerned. You may be the greatest artist or musician or you may be challenged as I am. Regardless of your skill: creative expression is important for developing and maintaining resilience. I have been part of the Fort Bend Recovers working group for emotional and spiritual health since Hurricane Harvey hit our community. Working with these dedicated leaders and helping our community get back on its feet is very rewarding. There is a lot of resilience that needs to be showcased and celebrated. And that is exactly what we are going to do:
Fort Bend Recovers … with Creativity's vision is to celebrate our community's restoration and resilience by promoting healing and recovery through original works. Fort Bend Recovers …with Creativity's first project will be to present "The Harvey Experience – one year later". This is the title of the anniversary event. We plan to hold the event on August 25th 2018. We are formulating our call for submissions, developing creativity categories which include both visual and performance art. The call for submissions will be worded to encourage residents of Fort Bend County (young and old) to tell their Harvey story – in writing, poetry & essay, in paintings, in music, in dance, etc. We hope that we will get a Harvey quilt, a Harvey rap song, and many Harvey paintings and drawings and photographs. "Art has a way of transforming hard truth, ugliness, and heartache and turning it into something beautiful. We believe that creative works will be healing for the creators as well as the observers/participants." — Dr. Amy Harkins, a psychologist with Easter Seals Greater Houston
Fort Bend Recovers…with Creativity is working to finalize the details for The Harvey Experience. The details for the creative works will be posted soon. But don't let that stop you from starting to create. Express your Harvey experience and share your process. We are not looking for the next Mozart or Van Gogh. My high school music and arts teachers are not invited to the event. You are free to express yourself and find your own voice.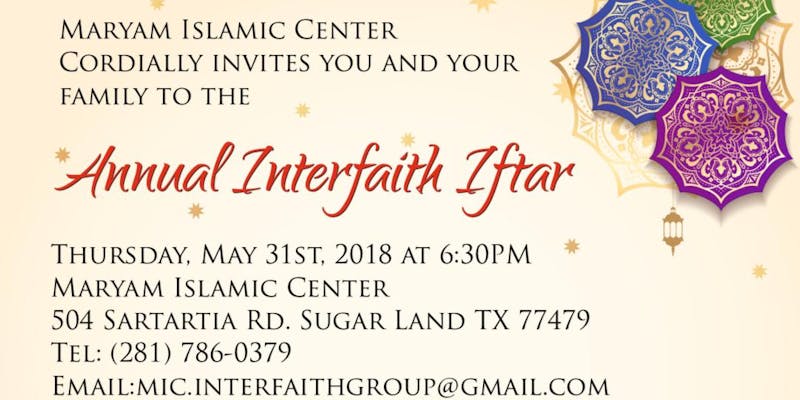 I am excited! I ordered 9 free tickets for my wife, my kids, my in-laws, and myself. We are going to the annual INTERFAITH Iftar of Ramadan at Maryam Islamic Center in Sugar Land on May 31st, 2018. Here is what is going to happen there:
6:30 PM – Arrival & Socializing
7:00 PM – Program Begins
8:15 PM – Fasting Experience/Iftar
8:40 PM – Prayer followed by Dinner
Amina Ishaq is the Lead for Maryam Islamic Center's Interfaith Team. Which brings me to the question: Who is the lead of St. John's Interfaith Team? How come we don't have an Interfaith Team? Anyway here is her introduction on the importance of the holy month:
"Ramadan is a special and holy month of the Islamic lunar year for over 1.6 billion Muslims around the world. It is a time for inner reflection, contemplation, discipline and devotion to God. As we fast and sacrifice food and drink during the daylight hours, we are reminded of Gods blessings upon us and are encouraged to be charitable.
Ramadan is a month of giving and sharing. It is an opportunity for friends and family of diverse faiths to understand one another and to show kindness to those around them. It is a time of renewal and recommitment to bettering oneself. It is a time for one to become closer to God through sacrificing ones most basic need in order to become more patient and disciplined. The holy Quran was also revealed in the month of Ramadan.
The month of Ramadan ends with the celebration of Eid-ul-fitr or the celebration of the breaking of the fast. On Eid muslims pray to God, greet one another happily, exchange gifts, eat delicious food, visit family and neighbors, give charity and have fun.
It is our hope that this Ramadan & Eid brings a sense of peace and hope throughout the world."
So, don't miss out. Please join me and my family this Ramadan. Get your free tickets over here. If you can't make it this time, then at least talk to your church council members about getting an Interfaith Team started at our church. I'd love to help!
We count how many people attend church every week. But that's not all: we also keep a membership roll of who "belongs to the church". Then we also look at how much money ends up in the offering plates every month. How big is your church? We answer that question in terms of Sunday attendance, membership and income.
In all honesty, the three measuring sticks of attendance, membership and income are not as accurate as they used to be. Originally the idea was that members attend "their" church regularly and give regularly to "their" church. That is hardly the case anymore. My own son went to preschool at a United Methodist Church. We attended chapel there regularly. I go to spiritual direction in a Roman Catholic Community. My wife serves a Presbyterian congregation and I join them for special services as time permits. In many patchwork families children attend services with mom one week, dad another and grandparents on a third weekend. We have children in our own Sunday School who are part-time Baptists. A lot of children hit every Vacation Bible School in town. Faithful church members of our own congregation – now in their 70s – tell me that was commonplace even when they were little. We went to a First Communion Service last Sunday. It was a great moment for our friends. But the reality is the kids had had communion at our UCC church for years – only on the Catholic side of their identity can they call it "First Communion".
Bottom line: Everybody is wearing multiple hats. Hardly anybody "belongs to" one particular church. We show up in places. We give when we find meaningful ministry that deserves support. For most people church does not fit into their life at all. So for those who show up and give, let's celebrate them and not give them a hard time that they don't abide by some rule of exclusivity. The church as the body of Christ belongs in all incarnations to the one God. Let us wear our human reflections of that lightly.

I was wearing all blue last week because it was the beginning of Autism Awareness Month. As a church we need to keep in mind that faith is a very important part of life for so many families in the autism community. Many of these families often feel held back from becoming a part of a religious community because of their child's diagnosis. They might feel excluded, or just assume that they won't be supported or accepted.
Autism Speaks hopes that all families affected by autism may be welcomed in their house of worship, and able to become active participants in their faith community. They have put together a list of resources that families and faith leaders may find helpful. As part of their resource guide they share The Beatitudes of the Exceptional Child by Andre Masse, CSE, that were first published in the NAMR Quarterly, 1968.
The Beatitudes of the Exceptional Child
• Blessed are you who take time to listen to difficult speech for you help us to know that if we persevere we can be understood.
• Blessed are you who walk with us in public places, and ignore the stares of strangers, for in your companionship we find havens of relaxation.
• Blessed are you who never bid us to "hurry up" and more blessed you who do not snatch our tasks from our hands to do them for us, for often we need time rather than help.
• Bless are you who stand beside us as we enter new and untried ventures, for our failures will be outweighed by the time when we surprise ourselves and you.
• Blessed are you who ask for our help, for our greatest need is to be needed.
• Blessed are you who help us with the graciousness of Christ Who did not bruise the reed and quench the flax, for often we need the help we cannot ask for.
• Blessed are you when by all these things you assure us that the thing that makes us individuals is not in our peculiar muscles, not in our wounded nervous system, not in our difficulties in learning but in the God-given self which no infirmity can confine.
• Rejoice and be exceedingly glad and know that you give us reassurances that could never be spoken in words, for you deal with us as Christ deals with all of His Children.
• Blessed are you! Indeed!
Houston is well-known for its multicultural culinary options. It may come as no surprise to you but there are several good places offering German cuisine:

Charivari Restaurant is German style fine-dining. This upscale place offers fantastic cooking classes and seasonal events in a welcoming atmosphere. 2521 Bagby Street, Houston, TX 77006

Rudi Lechner's is home-style cooking. On Wednesday nights they offer a German sampler buffet from 6:00pm until 9:00pm for just $16.95 per person. 2503 S. Gessner Rd, Houston, TX 77063

King's Biergarten & Restaurant is your stereotypical Oktoberfest party place. They offer decent sausages and sauerkraut alongside a good variety of beers. 1329 E Broadway St, Pearland, Texas 77581
All three are good at what they do. At King's you will not find fine dining and at Charivari you will not find Polka music. They all come in their own category. Guten Appetit!