Browsing articles from "September, 2015"
Who is the greatest Christian?
Do we measure that by letter grades or percentage?
Is there a final exam on judgment day or does your Karma count like a GPA spanning all your life?


"Father Abraham had many sons. Many sons had Father Abraham. I am one of them and so are you." Are you humming along yet? Right arm, left foot…
This is not only a nice little children's church song but also a very profound truth that speaks to three major religious events that are all happening today:
1. Pope Francis arrives for his first visit to the US.
2. The Hadjj attracts millions of pilgrims to Mecca.
3. Yom Kippur reminds Jews around the world of God's forgiving grace.
Why should I as a Protestant care about the Pope?
The Bishop of Rome is a fellow Christian! All our denominational split identities mask the truth that there is only the one holy, catholic church. Now in Rome they think they perfectly embody it like nobody else. And as Protestants we cannot recognize that. But the way the Roman Catholic Church symbolizes and lives unity of a global Christian community is a beautiful witness in the body of Christ. As a Protestant I care for the witness of our Catholic brothers and sisters because we are called to work together toward unity in the body of Christ. We share a common Baptism and we are sent by one Lord to serve all God's children. We are called to work together and be one.
Why should I as a Protestant care about the Hajj?
Pilgrimages are one of the oldest and most profound spiritual exercises there are. The once-in-a-lifetime journey to Mecca is a beautiful symbol of people putting a lot of effort into their faith life. Jihad means making effort for God. As Protestants we talk about free grace all the time and that is true. But the huge amounts of time, money and effort every able-bodied Muslim is supposed to invest in this journey is a powerful expression of dedication. Like our Muslim brothers and sisters we are called to make an effort for our spiritual well-being.
Why should I as a Protestant care about Yom Kippur?
The Jewish Day of Atonement has a clear message: People can change. Yom Kippur symbolizes getting rid of our sins and starting afresh. A new start with a clean slate. Our trespasses are forgiven. You think the Reformation invented that? Think again! The power of God's forgiveness has always been important to God's people. When we are reminded that God forgives, then we are free to forgive ourselves and others. The blame game ends: I am okay. You are okay. God loves you. I love you. We can all change for the better. And we will be in need of change again next year for Yom Kippur.
Father Abraham has many sons. Many sons has Father Abraham. The three most important sons of Abraham that we need to understand as siblings in faith are Jacob, Isaac and Ishmael. As Christians we subscribe to the lineage of Isaac. Abraham was almost prepared to give his son's life to honor God. Ultimately the early church saw Jesus' death as a reflection of Isaac's sacrifice. As sons and daughters of Isaac it does not matter whether you are the Bishop of Rome or just a regular Joe. As Christians we are all children of Isaac. The Jewish people are descendants of Israel which is another for name Jacob. And Jacob is Isaac's son. Families are complex: Abraham had another son: Ishmael and eventually Islam develops in his lineage. As Jews, Christians and Muslims not only do we all serve the same God but we are also part of the same family. And when family members have special days you celebrate with them.
Fall in the air. Changing seasons remind us we can change. You decide who you want to be.

— Dave Ramsey (@DaveRamsey) September 13, 2015

Last week I wrote about the concept of time. Let's stick with that another week because fall is in the air! How do I know that: Well, it is cooler and we are in that period between Labor Day and the September equinox both of which are commonly used to determine the beginning of fall. On a personal level people talk about the fall season of their lives either when the kids move out of the house or when they retire.
I like fall because it is easier to spend time outdoors. And the prospect of a quiet house and more free time sounds appealing as well. But in reality retirement is not as calm as people usually expect it to be and an empty nest can feel pretty lonely. Every season has its advantages and downsides. Here is the good news: Every season is just that: a season. This too shall pass. All aspects of life go through cycles: Relationships, finances, and yes, also faith expressions.
A lot of times churches tell themselves that they need to have the biggest and greatest children's ministry because young families are the future of the church. Don't get me wrong here: I am one of the strongest proponents of youth and children's programs, but: I am not interested in a church that focuses on young families. I love the church when it has something for everyone. Here is a radical suggestion for people who are church shopping: Don't look at the congregation that you visit only from the angle of how it fits into your life right now. Also consider how it will serve you in the fall season of your life: Are you confident they will provide the best memorial service at your death?
Yes, I know I am a dinosaur of pastor that actually still believes in this old-fashioned church model of cradle to grave. Only if there is something in it for everyone can it be relevant to all the people in all their ever changing seasons of life. "Here I stand; I can do no other. God help me." as Martin Luther said.
Who is Jesus for you?
Are you suffering from bad behavior and want to change yourself?
Do you want others to change so they fit your standards?
Do you want to keep your compassion alive?


A kiss may still be a kiss as time goes by, but exactly how time goes by has always been up for debate: At sunset on September 13th, our Jewish brothers and sisters will welcome the new year 3776. That is based on a lunar calendar and used to schedule holidays and other religious observances. You may compare it to our liturgical calendar which starts on the first Sunday of Advent. If you are following politics you may be aware that the fiscal year ends on September 30th.
Every entity has its own calendar. The dates that we commonly use nowadays are from the Gregorian calendar. It is named for Pope Gregory XIII, who introduced it in 1582. It replaced the Julian calendar which was introduced by Julius Caesar in 46 BCE. Initially Protestants like us did not want to make the switch because it was imposed by the Pope. Who gets to set the world schedule? Who is in charge here?
And after thousands of years of calendar-making the whole system is still far from perfect. You may think you know how many days there are in a year but reality is that there are 365 days, 5 hours, 49 minutes and 12 seconds. We need a leap year every four years except for years that are exactly divisible by 100, but these centurial years are leap years if they are exactly divisible by 400. Confused yet?
Bottom lime: Time is not real, or at least it's not objective: It's a way in which we tell out stories. Every family has its own time line:
Remember when we moved from that town to this city?
Oh, everything changed after our baby was born!
Those were interesting times when I worked at that place.
Truth is: your time is yours alone and calendars are just attempts to synchronize us together into larger contexts like business schedules or holidays. Time is fundamentally relative, as Albert Einstein put it. Tell your story your way and be aware that everybody else does that, too.
To our Jewish friends: Shanah Tovah!
Here are two things to ponder this Labor Day Weekend:
1. How come women are still paid less than men?

2. What do labels like "employee" and "employer" mean in the sharing economy?

What are your thoughts?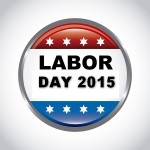 Labor Day started as an important reminder for all the benefits that workers have gained from organizing. These days it seems to have turned into an occasion for mattress sales. The issues of fairness and justice have always been important to God's people. God's law is in large part instructions for social justice like this passage from Deuteronomy 24:14-22
"You shall not withhold the wages of poor and needy laborers, whether other Israelites or aliens who reside in your land in one of your towns. You shall pay them their wages daily before sunset, because they are poor and their livelihood depends on them; otherwise they might cry to the Lord against you, and you would incur guilt. Parents shall not be put to death for their children, nor shall children be put to death for their parents; only for their own crimes may persons be put to death. You shall not deprive a resident alien or an orphan of justice; you shall not take a widow's garment in pledge. Remember that you were a slave in Egypt and the Lord your God redeemed you from there; therefore I command you to do this. When you reap your harvest in your field and forget a sheaf in the field, you shall not go back to get it; it shall be left for the alien, the orphan, and the widow, so that the Lord your God may bless you in all your undertakings. When you beat your olive trees, do not strip what is left; it shall be for the alien, the orphan, and the widow. When you gather the grapes of your vineyard, do not glean what is left; it shall be for the alien, the orphan, and the widow. Remember that you were a slave in the land of Egypt; therefore I am commanding you to do this."
In all aspects of daily life we are trying to optimize the use of resources. We want to get the biggest bang for our buck. We are looking for the very best deal on mattresses as it is. So it is totally counter-cultural to read this biblical mandate of inefficiency:
"When you gather the grapes of your vineyard, do not glean what is left; it shall be for the alien, the orphan, and the widow."
Let me translate that into our reality: When you put together a shift plan be mindful of the single mom who needs to pick up the kids from daycare. The immigrants working in your business deserve a fair wage and you cannot exploit them because they do not have better opportunities. When kids go from foster home to foster home you owe it to them to provide public schools for them that help them get ahead in life.
At first glance all this is not economically efficient: typically you want to reduce labor cost as much as you can. Typically you can tell your workers to show up whenever you need them. Paying higher taxes for other people's children does not directly benefit your own. But God commands inefficiencies like these. Be intentional about it.
Why? Well, you might find yourself in a situation where you require the assistance that only a fair and just society has to offer. Or as spoken to Israel remembering their former yoke :
"Remember that you were a slave in the land of Egypt; therefore I am commanding you to do this."