Yesterday's Reading was 2 Corinthians 13:1-13.
In it Paul asks the Corinthians to "Greet one another with the kiss of peace."
Presently, the greeting is not normally shared as a kiss in English-speaking cultures, but by shaking hands or performing some other greeting gesture (such as an embrace) more in tune with the culture and time.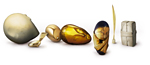 Today would be Romanian-born sculptor Constantin Brancusi's 135th birthday, and the Google logo celebrates his most famous works. His best known piece is the Kiss depicted as Google's E.
The Kiss of peace is in full liturgical use with the Orthodox Churches and Roman Catholics. The French have their own secular version of it, as do many Mediterranean cultures: