Browsing articles tagged with " Psalm"


At least 59 people were killed in Las Vegas on Sunday. The event has been called the biggest mass shooting in modern US history. It is appropriate to pray for the wounded, the families of the dead, and all those who do the hard work of helping the community recover. It is also important to enact measures that reduce the likelihood of mass shootings like this. One response though is not correct: being afraid.
The Jason Aldean concert was a happy time. So were the Eagles of Death Metal show in Paris and the Ariana Grande performance in Manchester. Music is full of blessing and joy. Fear has no room there. As Luke reminds us, "in that region there were shepherds living in the fields, keeping watch over their flock by night. Then an angel of the Lord stood before them, and the glory of the Lord shone around them, and they were terrified. But the angel said to them, 'Do not be afraid; for see — I am bringing you good news of great joy for all the people.'" And from there the choir of the heavenly host proceeded to give a concert of Hallelujahs, "Glory to God in the highest heaven, and on earth peace among those whom he favors!" Where there is singing there cannot be room for fear.
But is the world not getting more dangerous by the minute? All these mass shooting all the time. It seems to be so dangerous in America right now. The reality is that your chance of dying in a mass shooting is smaller than in other Western countries. In the US you are less likely to be injured or killed in a mass shooting than you are in Finland, Norway, or Switzerland. This is obviously a dark moment for everybody involved. But in the midst of this pain the message of the Psalmist is still true, "even though I walk through the darkest valley, I will fear no evil, for you are with me; your rod and your staff they comfort me."
The Bible is full of reminders to fear not:
After these things the word of the Lord came to Abram in a vision, "Do not be afraid, Abram, I am your shield; your reward shall be very great." (Genesis 15:1)
But now, this is what the Lord says – he who created you, Jacob, he who formed you, Israel: 'Do not fear, for I have redeemed you; I have summoned you by name; you are mine.'(Isaiah 43:1)
The angel said to her, "Do not be afraid, Mary, for you have found favor with God. (Luke 1:30)
"Do not be afraid, daughter of Zion. Look, your king is coming, sitting on a donkey's colt!" (John 12:15)
Let that ring true in our time and place as well:
Do not be afraid, Las Vegas!
Do not be afraid, Paris!
Do not be afraid, Manchester!
Do not be afraid!

"I'm single-minded in pursuit of you; don't let me miss the road signs you've posted. (Psalm 119:10, The Message)
When you are texting while driving you are 23 times more likely to cause an accident. While some people may be natural multi-taskers, driving requires single-minded focus. That's why Texas has a new law in place now that bans texting while driving. Sometimes people just need to be reminded to focus.
God has the same problem. Sometimes we miss the road signs God has posted. We get distracted and lose focus. That is true for individuals as they get busy with work and family. The same is also true for the church itself. Sometimes we lose focus. When I browse the websites of the bigger churches in our area I find one thing they have in common. They all have one clear and precise focus. One is all about music. Another is all about changing your life. A third is all about enjoying yourself on Sunday mornings.
What we can learn from that is pretty simple: "Do one thing and do it well!" When you are driving, do just that. When you are focusing on your spiritual life, pay attention to where God is calling you. The church cannot be everything for everybody. Your spiritual life needs a focus. But please remember: There are other drivers sharing the road. They have different goals, they drive different makes, models, and colors. Every journey is different and that is okay. Just make sure that you are intentionally focused in single-minded pursuit of where God is calling you.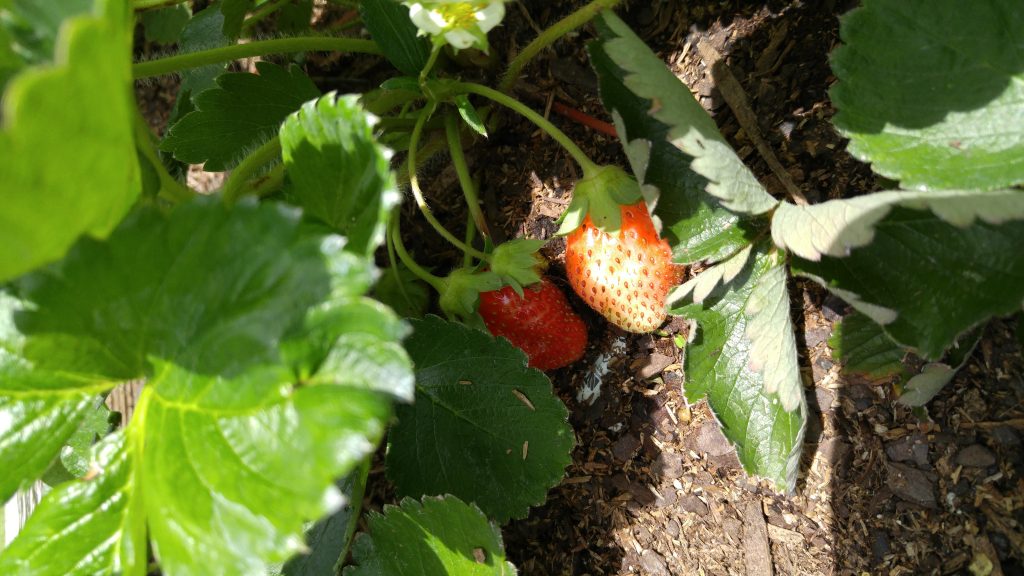 The strawberries are growing just fine. So are the tomatoes. And the carrots. And the peppers. And the flowers. You get the picture. Our garden is almost ripe for the harvest. For that to happen it takes the usual ingredients of sunshine and water. But then our garden plants bring their very own special skill to their growth process: They put down their roots.
To a vagabond like me, that is a pretty impressive feat. I honestly do not know what it feels like to live in one place for most of your life. Our strawberries, vegetables and flowers do, but I don't. In my childhood garden I used to grow all kinds berries and carrots. As a grownup the longest I have ever lived in one place was two years. Our current home holds the record of almost three years. I am turning into a plant that knows how to put down roots again.
The Psalmist knows that putting roots down is an important skill, saying about God's blessed, "They are like trees planted by streams of water, which yield their fruit in its season, and their leaves do not whither. In all they do, they prosper." (Psalm 1:3) The German in me has always imagined this tree to be an Oaktree of at least one hundred years. The Psalmist was most likely thinking of Middle Eastern olive trees. Some of those trees from biblical times are still around today.
There is something to be said for staying put:
– You mature more.
– You wrestle more with yourself and your surroundings.
– You learn to adjust.
– You learn to not just move on when the going gets rough.
– Once you put your roots down far enough the wind can no longer blow you down that easily.
Maybe that is what my garden plants can teach me: Our neighborhood may be as young as 10 or so years but still it is a place worth growing into. There is fertile ground here. Stay and grow.
What is your experience of putting down roots?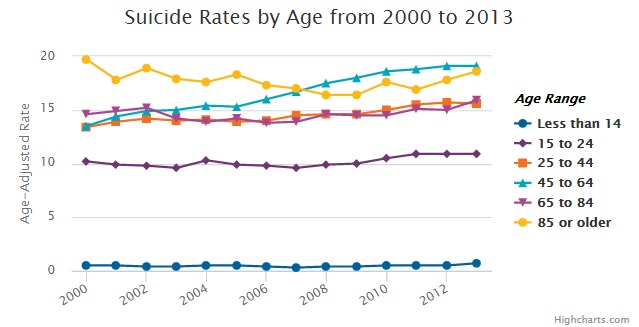 The holiday season is supposed to be jolly and merry. Let me tell you that it does not always work out that way. As a matter of fact there are more deaths this time of year than any other. The sun setting so early leaves us in darkness. And the pressures that come with expectations for the festive season add to the burden.
There is a reason that most major religions have a festival of light in the winter season, because light and hope are in short supply when it is dark and cold all around us. You may call it Hanukkah, Kwanzaa or Christmas. The point all these festivals make is: Light a candle in the darkness.
Dr. Martin Luther King Junior expressed it most beautifully:
Darkness cannot drive out darkness, only light can do that.
In 2015 I have worked on five suicides. On the Army Reserve side of my ministry two Soldiers killed themselves. On the local church side I know of three families who had people commit suicide. The military has an aggressive strategy where us chaplains regularly teach suicide prevention and suicide intervention. In the church we do not have such a thing. But since 2015 has been so deadly I intend to change that. I will speak up about suicide on a regular basis. You may call it my new year resolution: In 2016 I will work harder on training the church in suicide prevention and intervention.
Yes, you read that right: Suicide can be prevented. It is not a tragedy that strikes from the outside but it is human behavior that can be changed. It can be done. It is hard but possible. And to get one thing out of the way: Suicide is not a sin! The person who kills themselves is not bad for doing so. When the Psalmist talks about walking through the darkest valley, that is where that happens. If you cannot find a way out of the dark you may end up killing yourself. Yes, you too, as you read this right now.
If you feel that happening to yourself, please snap out of it and ask for help!
If you see that in a family member, friend or coworker, wake them up and show them the light!
In the epic battle between the empire of darkness and the rebellion of light the good guys always win. The death star will be destroyed. And make no mistake, I am not talking about a galaxy far far away. That struggle is happening right here, right now, in every heart.
Darkness cannot drive out darkness, only light can do that.
What if there is no big difference between the living and the dead? First off: There is a huge difference! If you have ever lost somebody you know the void, you know the pain and you know that nothing can ever fully replace them. When somebody dies life changes for the rest of us in a dramatic and sustained way. The day of their birth or their death will remain special. The holidays make obvious that the seats at the dinner table are now arranged in a different way. Nothing is the same anymore.
But again: What if there is no big difference between the living and the dead? All it takes is a change in perspective. Most people die within a century of their birth. That is our nature. But if we look at death from God's eternal perspective things change dramatically:
"For a thousand years in your sight are like yesterday when it is past, or like a watch in the night." (Psalm 90:4)
What if our lives, what if all of human history, what if all of time and space just last for a blink of God's eye? A few generations up or down the family tree turn into nothing. Ages become seconds. Every person that has ever lived and ever will live can be together in one moment of God's time.
All Saints Day tries to stress that unity of both the living and the dead.
Is that supposed to tell me that my pain is irrelevant?
– No! Grief is our human reality here and now for us who are left behind.
Is that supposed to mean that my parent, spouse or friend is not really gone?
– No! Death is as real as life is. But when we say that we hope for the Resurrection to Eternal Life it is only fair to assume that this is already a reality for some of us.
All Saints Day is an invitation to relate to the ones you have lost both in loving remembrance of a shared past and hope for a future reunion. And maybe in God's eyes both are taking place at the same time: Right now!

A sermon on the joyful and the hardened church, the reality of death and the hope for resurrection. Featuring Lt. Gen. Jim Pillsbury promoting the spirit of acceptance and inclusion. And a look at this year's college freshmen through the lens of the Beloit Mindset List.
"Create in me a clean heart, O God, and put a new and right spirit within me."
(Psalm 51:10 – Watchword for the Week of Sunday 22 March 2015)
Me, me, and me! Unapologetically me! The Psalmist is not afraid in just one verse to three times refer to himself. He doesn't care about the interconncetedness of all beings. He's not worried about the state of the church or the state of the nation. He doesn't want to feed the hungry, to clothe the naked, or to care for the widow, or the alien or the orphan. He prays for his own benefit. He doesn't ask for kingdom come and thy will be done, no, it's all about me, myself, and I!
That's where religion takes place: In an individual's heart. It's a place where God has spoken from the beginning. Individualism is not a bad thing. God calls prophets and apostles, not committees and representatives. No corporation, no institution, no state, no church, can live if it does not have individuals that take care of the logs in their own eyes before getting into everybody else's business. "Create in me a clean heart, O God" also means: I am in desperate need of cleaning because it's not pretty in there. Give me a fresh start this Lent – like a spiritual spring cleaning.
Sometimes the shortest word in a verse has the biggest impact. Here it is certainly the humble a: "put a new and right spirit within me." It implies that there is a multitude of new and right spirits to be had. For me, I need only one of those for myself. My way is not the highway and if I think my path is the straight and narrow I can be certain that the God of hosts has a host of other paths that are just as viable. The me right next to me, the me across the street or on the other side of the globe has their own journey just as I do.
How hot does your faith burn?
Is your sense of calling as strong as Martin Luther King's?

When I drop off the kids at school in the morning I drive past two churches that could not be more different: One has a full fledged sanctuary with educational buildings attached. The second rents a store front in a failing strip mall. And I must admit I am partial. I have a hard time envisioning church life in a store front. I know the church is first and foremost the body of Christ, second the congregation and the people it is comprised of and only in the third place the church is the church building. But in my little thinking all three go hand in hand. I need a sense of sanctuary to connect me to the ancient roots of our faith. I need the sound of the organ to lift up my spirit beyond what I can hear on the radio every day. I need ancient canticles, time-tested rituals and historic places. No, I am not against change. The church has always evolved: From a radical preacher healer whose gang of twelve was persecuted and prosecuted to the established religion of the greatest empire the world has ever known. The house church has been the go to style of worship from the beginning and still has its merits in a variety of settings. But this week's watchword is a nice reminder that God wants a nice place:

"Ascribe to the Lord the glory of his name; worship the Lord in holy splendor."
(Psalm 29:2 – Watchword for the Week of Sunday 11 January 2015)
It makes sense to invest into the church building and put on a new roof. It makes sense to upgrade the Hymnals. It makes sense to tune all the pianos scattered around the buildings. It makes sense to change the paraments and restock candles and tapers. For worship we use things and words and gestures that are not necessarily part of everyday life. They are special, they are set apart, they are holy. I would not want an elaborate candelabrum at home but it serves its purpose in the sanctuary. Are all those bells and whistles really necessary? It depends! Do they prepare our hearts and minds to listen to the still speaking God? That is my litmus test. Tradition only makes sense as long as it accomplishes its mission to make straight the paths of our God.
All this tells you more about me than it tells you about the nature of the church. I hunger for the connection to the ancient roots of our faith and since you all have chosen to worship in this place in this style it is safe to assume that some of my reflections resonate with something inside of you. But how about the storefront worshipers? Their faith journey is just as sacred and valid. God does not need a traditional setting to reach hearts and minds. It just may be the case that people there do not need the deep roots of faith but are better at enjoying the moment and facing the challenges of the here and now. Maybe I envy them after all for being able to live life without the constant reminders that keep me rooted.
According to the latest numbers from the World Health Organization a girl born in the US in 2014 can expect to live an average of 82.2 years. For her twin brother it is 77.4 years. Those are some good numbers yet we all know that averages don't mean a whole lot when you talk to a healthy 101-year-old or when you have a baby die in your arms. The truth of the matter is: Most people I have worked with didn't grow older than 150. That means there is a Psalm in the Bible for every birthday. 150 songs that sing God's praise and each single one has its own focus like this one:
"So teach us, O God, to count our days that we may gain a wise heart."
(Psalm 90:12 – Watchword for the Week of Sunday 16 November 2014)
Age 90 sounds like a good time to see how wise you are. Every age has its own challenges and questions. So a birthday is a good day to grab that old book and flip to the Psalm that matches you new number.
Is there really such a thing as a correlation of age and wisdom?
I asked y'all for brainy quotes on Facebook and here is what I got:
– Old age and experience will always overcome youth and enthusiasm.
– "I was so much older then; I'm younger than that now" Bob Dylan
– The error of youth is to believe that intelligence is a substitution for experience, while the error of age is to believe that experience is the substitute for intelligence
– There is nothing wrong with the younger generation that 20 years won't cure!
– Growing old is not for sissies
– The older I get, the better I was!
– Stay young, stay foolish. -Steve jobs-
– "Do not grow old, no matter how long you live. Never cease to stand like curious children before the Great Mystery into which we were born." ― Albert Einstein