Browsing articles tagged with " Luke"


At least 59 people were killed in Las Vegas on Sunday. The event has been called the biggest mass shooting in modern US history. It is appropriate to pray for the wounded, the families of the dead, and all those who do the hard work of helping the community recover. It is also important to enact measures that reduce the likelihood of mass shootings like this. One response though is not correct: being afraid.
The Jason Aldean concert was a happy time. So were the Eagles of Death Metal show in Paris and the Ariana Grande performance in Manchester. Music is full of blessing and joy. Fear has no room there. As Luke reminds us, "in that region there were shepherds living in the fields, keeping watch over their flock by night. Then an angel of the Lord stood before them, and the glory of the Lord shone around them, and they were terrified. But the angel said to them, 'Do not be afraid; for see — I am bringing you good news of great joy for all the people.'" And from there the choir of the heavenly host proceeded to give a concert of Hallelujahs, "Glory to God in the highest heaven, and on earth peace among those whom he favors!" Where there is singing there cannot be room for fear.
But is the world not getting more dangerous by the minute? All these mass shooting all the time. It seems to be so dangerous in America right now. The reality is that your chance of dying in a mass shooting is smaller than in other Western countries. In the US you are less likely to be injured or killed in a mass shooting than you are in Finland, Norway, or Switzerland. This is obviously a dark moment for everybody involved. But in the midst of this pain the message of the Psalmist is still true, "even though I walk through the darkest valley, I will fear no evil, for you are with me; your rod and your staff they comfort me."
The Bible is full of reminders to fear not:
After these things the word of the Lord came to Abram in a vision, "Do not be afraid, Abram, I am your shield; your reward shall be very great." (Genesis 15:1)
But now, this is what the Lord says – he who created you, Jacob, he who formed you, Israel: 'Do not fear, for I have redeemed you; I have summoned you by name; you are mine.'(Isaiah 43:1)
The angel said to her, "Do not be afraid, Mary, for you have found favor with God. (Luke 1:30)
"Do not be afraid, daughter of Zion. Look, your king is coming, sitting on a donkey's colt!" (John 12:15)
Let that ring true in our time and place as well:
Do not be afraid, Las Vegas!
Do not be afraid, Paris!
Do not be afraid, Manchester!
Do not be afraid!

This is the Nativity Play I wrote for Christmas Eve 2016. It leans heavily on Dr. Seuss's "Oh, the Places You'll Go!". There are two dialoguing shepherds. Children can be invited to join as little shepherd helpers. [SLIDE] marks the cues for a new page from the Dr. Seuss book. Merry Christmas!
Grinch:
"Howdy everyone. So here we have baby Jesus lying in a manger. You may wonder who I am. I am one of the shepherds. My name is Grinch. Mary and Joseph are busy at the tax office. You know, that's why they had to make the trip here to Bethlehem.
Horton:
"And I am Horton. I am a shepherd as well. So Grinch and I, the two of us get to babysit today. But that is a lot of work. So can we please have all the kids come up as shepherds to help us watch the child?"
Grinch:
"Jesus of Nazareth, you are just a little baby boy. You better think small and stay close to your home town. Everybody will call you Jesus of Nazareth all your life anyway."
Horton:
"Well, I found this book of ancient wisdom here and it says something else:
[SLIDE] Congratulations! Today is your day. You're off to Great Places! You're off and away!
[SLIDE] You have brains in your head. You have feet in your shoes. You can steer yourself any direction you choose. You're on your own. And you know what you know. And YOU are the guy who'll decide where to go."
Grinch:
"But look at this little town of Bethlehem. They didn't even have a decent room for your family. You'd better stayed home. That's what we shepherds do. We stay out in the fields, where we belong."
Horton:
"That's true. As you make your way through Bethlehem…
[SLIDE] You'll look up and down streets. Look 'em over with care. About some you will say, "I don't choose to go there." With your head full of brains and your shoes full of feet, you're too smart to go down any not-so-good street. And you may not find any you'll want to go down. In that case, of course, you'll head straight out of town.
Then you get to where we work, the fields and pastures.
[SLIDE] It's opener there in the wide open air.
Grinch:
"Let me tell you one thing baby Jesus: Always make sure you have an extra pair of dry socks. When you work out there like we do your feet can kill you. Always stay on dry land."
Horton:
"Oh, Grinch, you know how kids are. He probably won't listen to us wise shepherds. He'll probably end up hanging around at the beaches of the Sea of Galilee. That's what all the young folk do these days. And Jesus
[SLIDE] But on you will go though the weather be foul. On you will go though your enemies prowl. On you will go though the Hakken-Kraks howl. Onward up many a frightening creek, though your arms may get sore and your sneakers may leak.
But then again: The angel said you are the Son of God. So, who knows, maybe you'll still a storm and walk on water someday."
Grinch:
"Listen up little fella. The angel said you're special. Don't flatter yourself. And be especially careful when you go to the big city. In Jerusalem people will throw you a parade like you're a king, but a few days later they'll drop you like a hot potato."
Horton:
"Oh, Grinch, please don't you always be so negative.
[SLIDE] Out there things can happen and frequently do to people as brainy and footsy as you. And then things start to happen, don't worry. Don't stew. Just go right along. You'll start happening too.
Grinch:
"Hey kids, I see Mary and Joseph are coming back. It's time for you to get lost. I don't want them to see you with all your germs around the precious little one."
Horton:
"Oh, Grinch, please, be nice for a change. Our little shepherd helpers have learned an important lesson today. This baby is special and off to great places. And you know what? He sends us out to follow in his footsteps.
[SLIDE] Congratulations, little shepherd! Today is your day. You're off to Great Places! You're off and away!
And the little shepherds returned, glorifying and praising God for all they had heard and seen, as it had been told them.
Christmas is a highly political story. Remember what triggered Joseph and Mary to go to Bethlehem? – The Roman Emperor had ordered a census so that he could tax all his subjects in their hometown. Herod was a satellite king for the Roman Empire. He governed the Roman province called Syria around the time Jesus was born. The gospel of Matthew tells the story that when Herod saw that he had been tricked by the wise men, he was infuriated, and he sent and killed all the children in and around Bethlehem who were two years old or under, according to the time that he had learned from the wise men. Baby Jesus escaped as a refugee to Egypt. As a grownup he was eventually arrested and crucified. The sign on his cross said what the wise man had been proclaiming at his Birth "Jesus of Nazareth, King of the Jews".
The mighty Roman Empire was afraid of a babe in a manger because people saw him as the king. As a consequence oppression only got harsher. Innocent infants were murdered. Today we call these acts terrorism. Terrorists want to spread terror. That is not the bomb or the killing itself but it is that feeling of not being safe in situations where you are actually supposed to be safe. A baby in crib, like Jesus in his manger is supposed to be safe.
Unfortunately terror never stops. Just over the last 48 hours we have seen events that question a decent sense of safety and security. The Russian ambassador to Turkey was shot to death in an art-gallery opening a photo exhibit. 12 people were killed by a truck plowing through the crowds at a Berlin Christmas Market. Places of art and entertainment are supposed to be fun and safe. That is what terror does: Bringing fear to places where it does not belong.
Christmas is a highly political story. There is much to fear in the world. Some things have always been scary. Other terrors are brought upon the innocent on purpose. But the Christmas story also contains the answer to the fear of terror. It is the proclamation of the angel in the Gospel of Luke: "Do not be afraid!" That is not only an emotional comfort like "Don't feel bad.' It is a profound call to resist the temptation of being terrorized. Baby Jesus will not die today! Working for peace in Syria still makes sense! Creating community in the city is still a beautiful thing! Do not be afraid!
I walked into the living room this morning. This time of year the entire space looks like a winter wonderland. There is not a square inch that is not filled with Christmas decorations: a collection of ten nutcrackers, five Christmas stockings, two trees, hundreds of lights, five advent calendars, and all kinds of knickknacks, wreaths and evergreen everywhere. The one collection that stands out most though are our currently 18 nativity scenes. They range from tiny candle holder to children's toys to finely crafted olive wood straight from the Holy Land. We have amassed them over the years always looking for the perfect one. In the process we found out that there probably is no perfect one because we really love having this museum of variety in our living room.
Remember how I walked into the sanctuary last week?
There you will find a similar collection of nativity scenes. There are 26 of them currently. Some display the stable with child-like naivete. Some create a royal palace around the divine child. They come it all shapes and sizes.

Both at home and at church I am very diligent at making sure to take Jesus out of the scene where possible. The baby simply does not belong in the manger until Christmas. If he is glued in or otherwise attached I will not break the piece but a removable Jesus will be removed. That is good Christian practice to me because it sends a powerful message: Advent is not Christmas!
Advent derives from the latin adventus and means "coming". Christ is still in the process of coming! He is not born yet. Our job is to be here tensely waiting. There is no fulfillment yet. There are no gifts yet. Expectation is building up. Advent wreath and calendar serve as countdown clocks to tell us: It is not Christmas yet! And there is great reward in expectant waiting.
The Stanford marshmallow experiment showed how important delayed gratification really is: Psychologist Walter Mischel placed a marshmallow in front of series of children and left them alone with it for 15 minutes. Before he left he told them that they would get a second marshmallow if they did not eat the first one while he was away. Wait 15 minutes and add 100% – sounds like a great deal. In follow-up studies, the researchers found that children who were able to wait longer for the preferred rewards tended to have better life outcomes, as measured by SAT scores, educational attainment, body mass index, and other life measures.
Christ is in the process of coming. The baby has not hit the hay yet. There are no shortcuts.
This is the last sermon of my three-part series on being church in the great emergence.
Please find parts one and two here.
Jesus tells the parable of the Pharisee and the tax collector. These two men go to the temple to pray. The Pharisee does everything right, all the time, and he prays that way to. The tax collector is really down and with his crushed heart yells out: 'God, be merciful to me, a sinner!'
Be careful with this story. It's a trap! It sets us up for failure. It is written in a way that you can only end up on the wrong side of the story. In very plain terms the obvious good guy is the penitent tax collector. Very clearly we are supposed to identify with him. But when you actually follow the logic of the parable and you want to be the tax collector you end up judging the Pharisee. Identifying with the tax collector we basically pride ourselves to not be like that guy – the Pharisee who thinks so highly of himself. But by doing so we think so incredibly highly of ourselves. So all of sudden as you identify with the tax collector you are turned into the Pharisee. By the way Jesus was a Pharisee, so he is criticizing his own here. And the whole thing revolves around the issue of prayer and the attitude with which you do your praying.
So let's take a look at the two prayer attitudes that are in our story: The Pharisee is well situated: I love my God and I love my life. All is well with my soul! The tax collector is crushed: I hate myself and I hope God does not hate me the way I do! You could say they approach prayer as stereotypes of the optimist and the pessimist: One says the glass half full. For the other one the glass is half empty. But which is true now: Does God want you to feel good about yourself? Or does God want you to feel bad about yourself? The answer is: YES!
Prayer is many things but in its most basic forms it is: mourning one's own misery and praising God's glory. Both is true and both needs to be done. An honest wailing like Job's or the lamentations of Jeremiah is cathartic. A loud and proud Hallelujah like all over the Psalms is uplifting. There are endless modes and attitudes of prayer. With over 3,000 named characters in the Bible you can be sure that they have at least 3,000 very distinct ways to pray.
Let's analyze these two prayers here: 'God, I thank you that I am not like other people: thieves, rogues, adulterers, or even like this tax collector.'
You know who prays that way? – Somebody who was taken advantage of.
He doesn't want to be like a thief: He probably had something stolen from him.
He doesn't want to be like a rogue: He probably was one as a teenager and has outgrown that.
He doesn't want to be like an adulterer: He probably had his dad cheat on his mom and grew up without a father figure.
He doesn't want to be like a tax collector: He is probably still burdened by student loans and is intimidated by wealth.
Is the Pharisee really the bad guy here?
But the tax collector, standing far off, would not even look up to heaven, but was beating his breast and saying, 'God, be merciful to me, a sinner!'
You know who prays that way? – Somebody who wants your sympathy.
He came to the temple to pray. Really? Self-pity and self-loathing he could have done at home as well! He wanted an audience! He's gesturing wildly, beating his chest drawing attention to himself and his own misery. As if God didn't not know of the tax collector's pain. This is certainly a plea for attention directed at the people at the temple. Maybe he doesn't get the attention his soul requires at home. Or maybe he doesn't get the appreciation his soul requires at work. Is the tax collector really the good guy here?
What if both were praying in meaningful ways? Everybody prays in their own way, always have, always will. The prophet Joel says of God: "Then afterward I will pour out my spirit on all flesh." Now, that's a radical notion God's spirit poured out on all flesh includes Pharisees and tax collectors, the hurting and the proud, the pained and the joyful. YES! God wants you to feel good about yourself! YES! God wants you to feel bad about yourself! Your flesh, with all that makes you who you are, is drenched with God's spirit. Your prayer, whatever it may be, is meaningful and true and good.
Welcome to the postmodern era where everybody sets their own standard. If we have learned anything in the postmodern era then it's that: Individuals have the truth in themselves. That's what Joel means when he says the spirit of God is poured out on all flesh. You have the truth! So if and when people go to church in this day and age there is no reason to tell them how to pray the right way. Everybody knows that they can pray however the spirit may give it to them: "Then afterward I will pour out my spirit on all flesh."
That has huge implications for the way we do church because our outward expressions of prayer are transient in nature. And it changes all the time. Jesus and his disciples were good Jews attending the temple with its ancient Hebrew rituals. A generation later Paul and the other Apostles transition to little house churches that are mostly a handful of people gathering in a home for prayer – in the Greek language. Then the church takes over the Roman Empire and starts building cathedrals for the masses to gather for mass. The people turn silent and the priest reads Latin which nobody understands. Since the reformation church is held in every language of every culture. We still have buildings for Sunday use but a lot happens again in house churches. The way the church does its praying is radically changing right before our eyes. With over 300 million people in the US you can be sure that we have at least 300 million very distinct ways to pray.
That's where we are: The truth is in my heart. And nobody can talk to any truth beyond themselves. And the church is still here. And faith is still here. As a matter of fact spirituality is stronger than ever and people have more choices now than they have ever had before. Also prayer is more individualized than ever before. So here is the challenge if we want our Sunday hour to remain relevant: How do we shape our shared worship and corporate prayer in a way that connects with the need for individual devotion? What we do is obviously only compatible with the people who are already here. What we do is not working for most people. That's why they're not here.
I can see three venues where our congregation offers prayer experiences. First, we have corporate prayer in our worship services. Second, we have a list of prayer requests in our newsletter. And third, we open the meetings of our groups, committees and organizations with a prayer. Did I forget anything? Is that supposed to be spiritually fulfilling or filling? Does that really feed a hungry soul?
I know it does not for me. On top of that I have the following prayer practices: We gather as a family at bedtime and say thank you God for all the things we enjoyed over the course of the day. We say grace over every meal at home. I enjoy the set times. It's almost like the ancient monastic prayer times. You see: The church does not have a monopoly on prayer.
In every strip mall there is a shop that offers private meditation classes. For decades the Christian book market has exploded with books for spiritual growth and exploring your inner self in prayer. TV preachers present prayers that are actually more geared towards the people in front of their TVs as opposed to God Almighty. The prayer market is totally saturated yet we as a church decide to not even compete in it in a big way.
Where are places where you can learn to pray? Praying does take practice. It needs to be cultivated. Sometimes prayer is all action that does not require words. Prayer doesn't have to be churchy. But it does require experience. And the most intense prayer experience for me since I have come to Texas are monthly calls that I receive. A Pentecostal part-time preacher who theologically couldn't be farther removed from me, gives me a call every month. I usually let him go to voicemail because what he does is he prays for me and I want to be able to relisten to that when I need a boost later in the month. With his spirit-driven joy and energy he thanks God for my being, my family, my ministry and the work of this church. Then he asks God to continue to bless me and the people around me. Wow! At first I had a hard time accepting that. Now I have come to rely on it. Thank you, my friend.
Maybe that would be a good prayer exercise that I could suggest to all y'all today. We have this wonderful new church directory. The people listed in there agreed to share their contact information with you. Make use of it. I ask you to pray at least twice:
First, ask God who you should pray for.
Second, pray for that person, over the phone or via letter or per email.
You can pray with your own words or find traditional ones.
If you have a hard time coming up with words that seem meaningful don't look any further than your own soul.
Remember the Pharisee?
He didn't want to be like a thief: He probably had something stolen from him.
He din't want to be like a rogue: He probably was one as a teenager and has outgrown that.
He din't want to be like an adulterer: He probably had his dad cheat on his mom and grew up without a father figure.
He din't want to be like a tax collector: He is probably still burdened by student loans and is intimidated by wealth.
The way he talks should give you clues what to pray about.
Remember the tax collector?
Maybe he didn't get the attention his soul requires at home. Or maybe he didn't get the appreciation his soul requires at work.
The way he acts should give you clues what to pray about.
You know, prayer takes practice and you can only get better at it by doing more of it.
Let's practice! Amen!
This is the second sermon of my three-part series on being church in the great emergence.
Please find parts one and three here.
How do I find a loving God? That's a question that people have asked themselves and the world for quite a while. One of the most prominent ones who asked that question was Martin Luther. He was a young man following in his father's trade and he just really wanted to be good with God and the world and justice and all those things. We're in the middle ages here in our little story and this little boy was afraid of going to hell. That's what they did back in the day because the church told him, if you're not a good boy you're going to hell. He thought of God as punishing, judging and putting the bad guys into hell and the good guys into heaven as if God were a machine that judges like, this is right, this is wrong, you're going here, you're going there. Of hell, he had this vision of a place of fire and burning and torture, like they did with the witches because you hurt bad people. That was the plan so God must hurt bad people too because that's what we want. That's our sense of justice. Then, heaven was just a place of fluffiness and love and happiness and light. And the good place is what you wish for your nice grandma.
Luther was really afraid of hell and really wanted to go to heaven and he really wanted God to be just in the middle of all of that. He was afraid and then came a very pivotal moment for him when he was working in the fields and a thunder storm came up. You may have heard that scene or seen it in a movie. A lightning bolt hit the ground right next to him and he's super afraid. It's starts raining and it's dark, lightning and thunder all over the place and he drops on his knees and prays to God and says, "Please God, if I make it through this, I'm going the monastery, I'm becoming a monk, I'm devoting my life to you and we should be good then." Eventually, of course, he makes it through and becomes a monk.
That in itself didn't save him, but it certainly got the world into trouble because as that young boy was looking for a loving God, he then became that monk. Eventually, he learned to read and study scripture and guess what he found? He found that loving God! And in the Bible he learned that there's such a thing as free grace. Free grace means that you're not going to hell. God loves you. God gives you grace for free. That changed his world, that changed everybody's world because all of a sudden this middle age concept that the bad guys are going to hell, the good guys are going to heaven was out of the window. All of a sudden, God was not a judge, but a loving father.
A few centuries later, we also learned that, that is not an easy concept to grasp because if God is really all that all loving, that means that in heaven we are going to see people that we don't want there. The ultimate struggle that people usually quote is, "do you really want to see Hitler in heaven?" You can put any name there you want. That's just a very famous one for being one of the bad guys, but the answer of free grace is: Yeah, that's just how it works. God is that loving. God is that forgiving. Grace is really free.
What if our relationship with God were all good? What if God wouldn't hate us? What if God weren't to judge us anymore because that was already done at the cross? Oh wait, that's exactly what it is. That's exactly what happened. Our relationship with God is good. Nobody goes to hell. Free grace! That's what Martin Luther discovered! That means that you are okay. You'll be good. That also means that all your loved ones that already passed will be good. Everybody's going to be alright. And again, that also applies to the ones where that is hard to believe. That drunkard of a brother that you have. He's going to be alright. God's love and forgiveness are bigger than our failures.
What Martin Luther did here is really turning our sense of justice upside down. He picked up a more ancient theme that was discovered long before him, and that is the concept of passive justice. Justice is not something that is given, passed out, but received. We receive justice from God. God declares us just, we are declared just by God. God says we are just, whether we do it or believe it or not. Justice is not something that we can do, we're pronounced to be just. You cannot work your way to heaven, you cannot work your way to hell either. God calls us just no matter what. God puts justice in our hearts and our minds and declares us just. We are okay. This whole justice thing is not only about the hereafter, it's not only about heaven or hell or whatever happens after here, but justice is also what happens right here, right now already.
Justice is uncomfortable. Justice calls out injustice because when we have the love of God in our hearts the way our scripture told us today, then we also know exactly what's wrong. We can call out injustice and we've got to do that just like prophets always have. Prophets of the Old Testament clashed with the kings all the time over the causes of the widows, the orphans, and the aliens. When you think about it, those categories, we've always struggled with those.
Luther struggled with that, we struggle with them today. Widows, orphans and aliens. Prophets called out their kings like nobody else. In our election cycles speak this year, maybe it's about women rights, funding for social services, and immigration. Maybe that's our 21st century speak for widows, orphans, and aliens. You know what's so remarkable about the widow, the orphan, and the alien? They're the ones that don't have a voice. They can't speak for themselves.
When God puts justice in us, we need to use it. We need to use it to give a voice to those who don't have one for themselves because the widow, the orphan, and the alien in ancient Israel, they were hardly people. A woman was only a full person if she was attached to a man and once that man died, she was a widow. A lost one that was eventually married by a brother if she was lucky, if not she was on her own without any family support. An outcast. Same for the orphans. If you didn't have a family to belong to, you were on the streets. Eat whatever you find in the dirt. If you were an alien, you were not part of God's people. You may not even have been a slave that was at least fed by his owner, but just like a dog in the streets. They couldn't speak for themselves back in ancient Israel and they have a hard time still.
A woman doesn't even need to be a widow to feel disadvantaged. For some reason or another, we still tell girls that they're to dress pretty. As if that matters. We don't tell boys that. We tell them they throw like a girl and by that we teach them how to do that. They don't think about that themselves. We tell them what jobs we wish for them which just happen to be usually inferior to those we suggest to our boys.
When we went through church history in our confirmation class this week, I had three girls there and they rallied around one image, well it's actually just a name on the wall, but that is Antoinette Brown. She was the first woman ordained into Christian ministry in the 1800's. They rallied around that picture because it showcased for them that "yeah, women can really do great things and break through barriers and I want to be like that." You can do anything you set your mind to as a widow, as a woman, as one who doesn't have a voice.
Then in the guild this week, we learned about not the orphans per se, but about foster children. How they're taken out of abusive families, they're being put in the system and even then with all our progress and support they have, they're still somewhat on their own. They still need advocates to speak up for them in court, they still need parents to pick them up out of that situation. They need advocates and resources that stand by them and speak for them, that are their voice because in the system they don't have a voice for themselves. Still, to this very day, ancient problems are very alive.
When we look at the alien, I know that story all that well. I only finished being an alien a couple of years ago. Even getting resident alien status, a green card, that process took us three years and $9,000. Not everybody can do that. Not everybody has that kind of money and time just for a piece of paper that allows you to live the way you need to live. My immigrant story may have been hard and long, but for me it was just an investment. I was okay, but if you don't have that kind of money and you're just stuck and can never get your feet on the ground, always in the shadows, you got to hide in order to stay alive, that's not how immigration is supposed to work.
Our response to the justice that God puts in our hearts by declaring us just, the passive justice that Luther learned, our response needs to be that active justice, that giving out justice, not the one that God has. God has passive justice, declaring us just, giving us justice in our hearts. The active justice that we dish out, where we judge, where we decide, where we do, we're not supposed to use that to send people to heaven or hell with our morals, but to actually live up to the standards that God puts in our hearts. Our job is to live up to the justice that we were given.
Remember, God declared us just without any merit. Now our job is to respond by actively pursuing justice in our society and that is what Christianity in this day, as the emerging Christianity that we've become, does. The emergent church is profoundly shaped by justice work. The church of every age, and this age especially, is in the business of doing good. So the nagging widow that we heard in today's story who keeps nagging the judge until he gives in, that's our prototype for today. How can the church become a louder advocate for those on the margins? How can you learn to make such a noise for those who can't speak for themselves, foster children, women, aliens? The key according to our parable seems to be that you have to be uncomfortable. If you feel good about what you're doing, you're probably not doing it hard enough. If you receive praise for what you're doing, you're not pushing the right buttons. We need to feel uncomfortable with ourselves doing what we do and we need to make others feel uncomfortable when we call out injustice, otherwise we're just pleasing ourselves.
The widow keeps nagging the unjust judge while the judge stands for God. And Jesus says if even that unjust judge helps that widow, how much more will God be on your side? The widow stands for us. Keep nagging, keep scratching your fingernails on that blackboard, make some noise. Wow, that widow could nag God so hard that we are given justice for free. That's how hard we ought to nag the powers that be to show girls and young women that everything is possible, to provide safe and nurturing environments for all children, to provide all immigrants with affordable and speedy options. Let's be loud. Let's be uncomfortable. Let's speak for those who can't speak for themselves. Amen.
This is the first sermon of my three-part series on being church in the great emergence.
Please find parts two and three here.
Who remembers the good ol' days? For one reason or another church people keep telling the story of a glorious past. And then usually follows a horror story of how everything has gone downhill since. Who remembers the good ol' days when the church was at the center of the community? When it was chic to belong? When it was necessary and beneficial to belong?
People used to put down their roots. Nowadays nobody believes it anymore but there was a time when your first job was also your last. Some people stayed with the same company not for years but decades. That meant you either stayed in your hometown for decades or even if you moved somewhere else you usually moved there for an indefinite period of time. You put down your roots. You find a home. You get involved in the community. Back in the day that usually included joining the local congregation of your denomination. You made friends that you could reasonably expect to be around to grow old with. Investing in these kinds of relationships was worth it. Your neighbors, your coworkers, they did not have much turnover. Your church was not only for you but also for your children.
That was also the generation that was great at creating volunteer organizations. Manning a concession stand at a sports game or even the county fair gets harder and harder. Investing in the community is not commonplace anymore. Community is literally not what it used to be. Our congregation used to fire up the BBQ pits for a community meal. Then we had it catered. Now it's just not happening anymore. We used to have a team in the church softball league in town. The whole league is gone. The church used to be at the center of most pastime activities. If you lived in a community you tied into the institutions that were there.
The prophet Jeremiah preached that exact message to the exiles. A whole bunch of Israelites was taken to the Babylonian captivity and Jeremiah tells them to assimilate to the community. "But seek the welfare of the city where I have sent you into exile, and pray to the Lord on its behalf, for in its welfare you will find your welfare." This is the place where you are. Get attuned to it. Work here. Live here. Play here. This area with its culture, with its language, with its political leaning, all that is something people were supposed to assimilate to.
Part of that equation also used to be the church. Even Jesus sent the lepers to the priests. Now, usually Jesus is not a big fan of institutions. He challenges authority and the status quo wherever he can. But with the ten lepers he deals differently. To them he suggests what everybody would say, too: "Go and show yourselves to the priests." Because the temple is the institution in the community where you find healing. Jesus sends the lepers to the religious establishment which later turns against him.
For the longest time church and empire have been walking in lock-step. Ever since the Emperor Constantine made it legal to be a Christian in the Roman Empire, Christendom became the normative power of what we call "Western Civilization". In order to be a member of the greatest civilization the world had ever seen you also had to be a member of the greatest faith community the world had ever seen. Bishops appointed kings, kings appointed bishops. The good-old-boys club ruled the world.
The founding fathers of the United States did not like this accumulation of power and introduced the separation of church and state. But that was on paper only. Still for the longest time, the politics of the town where determined by the gathering that happened in the sanctuary on Sunday. That started to gradually change as diversity came to dilute to Protestant hegemony of the original colonies. Catholics and Jews shook up the mono-culture a little bit. But still the whole was based on Judaeo-Christian tradition.
Then came the 1960s. Here comes the revolution. All of a sudden institutions went out of the window. Here is the individual. All of a sudden Hinduism, Buddhism and Krishna were en vogue. All of a sudden you did not have to go to church anymore in order to be someone in the community. All of a sudden you could fight for all kinds of causes without religious baggage. The days of having to participate in any kind of organization are long gone. Since the sixties we no longer live in institutions but we are really all individuals on our own journeys. Thank God that you can move to an area with its culture, with its language, with its political leaning, and you do not have to assimilate to it but you can transform it.
When the 10 lepers came to Jesus he may have sent them to the temple like everybody else would have. But from that came great transformation. Let's follow the lepers on their journeys. They go to Jesus to ask for help and they actually follow Jesus's advice and go to the priests. As they went, they were made clean. They may or may not have arrived. The arrival is not the point but the going. The going is what the story is all about. All ten were made clean because and as they went. All ten got what they needed.
Only one of the ten went back to Jesus to say thank you. The most interesting point here is what is not said: He is not better than the nine. Jesus does not praise him for coming back. For us, this one leper is where the church is. He comes back to the place where his healing journey started. Jesus for him turns into an institution where you can share faith experience and giving thanks to Jesus. He wants to relive that moment and reconnect to what put him on the right path to begin with.
But he was only 10%. The other nine went their own way. They were healed and moved on. They did not look back. They did not say "Thank you, Jesus." They did not connect with the community but they did their own thing. Again the most interesting point here is what is not said: Jesus does not say they are wrong for doing that. He let's them do what they need to do, no matter who they are, or where they are on life's journey. They don't have to perform a specific thank you ritual.
Thank God that they can move on with their own culture, with their own language, with their own political leaning, and they do not have to assimilate into a certain church culture.
Quite the opposite. As a matter of fact Jesus sends number ten off as well: "Get up and go on your way; your faith has made you well." Do not hang around Jesus! Do not stay inside the sanctuary where your healing came from but move on into your own life! The church is not here to establish itself but to send people on their own way: "Get up and go on your way; your faith has made you well."
The church is no longer at the center of town and that is a wonderful thing. Everybody can pursue their own hobbies. You can play all the sports you want, not only in the leagues the church used to be in. You can eat whatever you want and don't have to sign up for the BBQ pit to volunteer. The church in this day and age is the place where Jesus comes to visit. Ask him where healing can be found! If you want, come back and say thank you. That's it. And if you are one of the nine who did not come back right away, you may still remember down the road where it all started. It's never too late to come. Or you just stay out there doing your own thing. "Get up and go on your way; your faith has made you well."
The games in Rio are still in full swing. China dominates the medal count followed by Great Britain and Ukraine. Team USA currently ranks fourth. Just yesterday U.S. swimmers won three gold medals and smashed two world records.
Wait what? Ukraine in the top three of the medal count? Team USA only on four? Maybe we should take a closer look at our three gold medalists from yesterday:
Rebecca Meyers has Usher syndrome and has been deaf since she was born.
Bradley Snyder was blinded after stepping on an improvised explosive device while serving in the U.S. Navy in Kandahar, Afghanistan.
Michelle Konkoly woke up paralyzed from the waist down after she fell out of her dorm room window at Georgetown University.
By now you may have gathered that I am talking about the Paralympic Games. The first organized athletic day for disabled athletes that coincided with the Olympic Games took place on the day of the opening of the 1948 Summer Olympics in London, United Kingdom. Since 1960 the Paralympic Games have been a world class event in their own right.
Back to Rio: All these athletes perform at levels where regular Joes like me do not even have to think we could compare. What exactly do we mean when we classify them as "disabled"? Obviously they are more able to perform than I would be. So by performance standards I am more disabled. Is it the looks of an amputated leg, mannerisms, or just a random perception of normalcy? In most sports athletes are segregated by gender and / or weight. Why is "disability" a label that totally disqualifies you from the Olympics and puts you in a whole different event? The truth is: There is no normal. Everybody is different and everybody has his or her own level of ability.
You could rudely begin the story about yesterday's gold medalists by saying, "A cripple, a blind, and a deaf jump into a pool." Mainstream culture is so used to treating differently-abled people differently. Unfortunately there are stories where Jesus is used to reinforce a sense of "normal" versus "abnormal". When Jesus heals the blind man in some Gospel stories he does so just because people pointed him in that direction. The blind man was comfortable in his life, had his daily routine down, had everything he needed. He never said we wanted to see. He never said he wanted to "be healed". Why does Jesus impose his sense of normalcy on this poor man? Now he is totally on his own, will no longer receive the support he needs and has to start over in life. He is push into the position of a teenager even though he is a middle-aged man who had life figured out. Now he is truly disabled.
The Gospel authors want Jesus to heal everybody. But when they tell stories like that in effect they make Jesus commit the Sin of Ableism. Then he pretends there is a normal that everybody has to abide by, a standard of health, ability or aesthetics that you just have to match in order to be acceptable. Bekah Anderson warns to not use our Paralympic heroes for Inspiration Porn. Instead she advises to engage with persons beyond labels, "My challenge to the preachers, writers, and storytellers among us, including myself, is this: Stop telling stories for a moment, and listen. Listen, even though the voice speaking to you is slurred. Listen, even though the voice comes through an ASL interpreter or a computer. Listen, even when the voice has been effectively silenced, and honor that loss. Our voices and our silences are sacred. Pray with me that they may all one day find the sacred space they deserve."
I had the nicest sermon planned out for this Sunday. It tied in beautifully with today's passage of the Good Samaritan. It would have been about a neighborhood up in arms because the women's center wants to build a low incoming housing unit in the area. The kids of these battered women would have attended the nice middle class elementary school. I would have compared the women that were beaten by their men to the poor fellow in the ditch that Jesus is talking about. I would have compared various neighbors in their rejection with the priest and the Levite. Their refusal to help comes from a similar place. It would have been a nice, challenging sermon.
But I am not going to talk about that today. It has been almost a month ago that 49 LGBT persons were shot dead in Orlando. Now this week happened: Tuesday morning in Baton Rouge, Louisiana: Alton B. Sterling was shot while being arrested. Wednesday evening in Falcon Heights, Minnesota: Philando Castile was shot during a traffic stop. Thursday night five Dallas police officers, Lorne Ahrens, Michael Krol, Michael J. Smith, Brent Thompson and Patrick Zamarripa, were killed by a sniper.
Jesus tells the story of the Good Samaritan in response to the question: "Who is my neighbor?" That is still a very valid question in our day and age and so I want to take Jesus's lead in telling the story as if it were meant for us, because it is:
A person was mugged in the street and is lying in the ditch, badly wounded. It just so happens that we are talking about a young black man in his early twenties. Now by chance a well-intentioned white person happens to come down that road. Do you even stop your car? After all, this fellow is probably a gang member. Maybe there are still more bad guys around. One of his kind will come and help him for sure, sooner or a later. You may slow down. But the odds are you are not going to stop.
A person was mugged in the street and is lying in the ditch, badly wounded. She is all dressed up: short skirt and high heels. Chin bone and chest give away that this woman was born a man. Here pulls up a minivan with a soccer mom with the kids in the car, doing the right thing for her family. Will you stop? She and her husband are working hard to keep their marriage strong and raise their kids with good values. She wants her kids to be normal, raise a family similar to the one they have now. Being exposed to this trans person would confuse or even scare the precious little ones and mommy herself would be very uncomfortable. The good mother hits the pedal and presses on.
A person was mugged in the street and is lying in the ditch, badly wounded. His uniform is soaked in his own blood. This police officer was certainly trying to do the right thing and keep this community safe. Along comes a young black man in his twenties. Seeing the officer in the ditch he has flashbacks of that horrible night when his nephews were caught in the crossfire and shot by police a few years ago. It feels like yesterday. Actually seeing this bleeding officer it feels like right now. What if they find me bent over his dying body? I better make a run.
A person was mugged in the street and is lying in the ditch, badly wounded. He just came back from the mosque, his stomach full after breaking the Ramadan fast. His long beard is drenched in his own blood. A good Christian man comes by while he is doing a food drive in the neighborhood. You know we need to help those less fortunate than ourselves. We collect canned goods for children in need in our own neighborhood and we send Christmas presents to those kids in Africa with their big teary eyes. I would really like to help that guy in the ditch, because I am a very loving and caring person. But honestly I can do more good by collecting some more cans from my neighbors. And by the way: It was people like him who blew up the World Trade Center and keep killing our Soldiers in the Middle East. Why do we need Muslims in our neighborhood anyway?
There are so many reasons not to help. Life is complicated. Answering the question: "Who is my neighbor?" Jesus yells NO IT'S NOT COMPLICATED! Your neighbor is the person lying in the ditch!
Every day people shoot each other dead. The main reason is fear. Fear what would happen if I were to stop and help that person in the ditch. Making the world a better place involves taking risks. If we allow fear to put a lid on love we will just continue to blow each other up.
In 1963 Martin Luther king said, "Hate cannot drive out hate; only love can do that. Hate multiplies hate, violence multiplies violence, and toughness multiplies toughness in a descending spiral of destruction."
Amen.
(In collaboration with the Rev. Mirjam Haas-Melchior)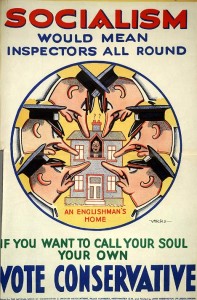 (English poster for the 1929 elections)
Merriam-Webster has picked a word of the year. Actually they did not: they declared 2015 the year of a suffix: -ism.
Since 9/11 the world has been flushed with -isms related to terror-ism. The recent shootings in San Bernardino brought it back to the top of the agenda.
This trend toward -isms gains steam in a presidential election cycle that is fueled by labels: conservatism and liberalism. One candidate gets accused of promoting fascism, another embraces socialism. Pick your label that you like or hate.
In the United Church of Christ we are intentional about exposing and ending the negative labeling of persons: sexism, genderism, ableism, racism. We have consistently stood up for the equal treatment of all God's children. Whenever a group of people has been singled out via an -ism we have stood right there with them.
"You are those who justify yourselves in the sight of others; but God knows your hearts" (Luke 16:15)
It is so tempting to look at people and judge a book by its cover. We slap labels on people so we can categorize them. That is useful to a certain degree in order to find orientation in the world. But throwing -isms around as a method of judgement is just lazy because it cuts short a deeper exploration of a person or idea. We must acknowledge the sin of -ism. Because when we don't we are bound to commit it because it is so convenient.