Browsing articles tagged with " Isaiah"


At least 59 people were killed in Las Vegas on Sunday. The event has been called the biggest mass shooting in modern US history. It is appropriate to pray for the wounded, the families of the dead, and all those who do the hard work of helping the community recover. It is also important to enact measures that reduce the likelihood of mass shootings like this. One response though is not correct: being afraid.
The Jason Aldean concert was a happy time. So were the Eagles of Death Metal show in Paris and the Ariana Grande performance in Manchester. Music is full of blessing and joy. Fear has no room there. As Luke reminds us, "in that region there were shepherds living in the fields, keeping watch over their flock by night. Then an angel of the Lord stood before them, and the glory of the Lord shone around them, and they were terrified. But the angel said to them, 'Do not be afraid; for see — I am bringing you good news of great joy for all the people.'" And from there the choir of the heavenly host proceeded to give a concert of Hallelujahs, "Glory to God in the highest heaven, and on earth peace among those whom he favors!" Where there is singing there cannot be room for fear.
But is the world not getting more dangerous by the minute? All these mass shooting all the time. It seems to be so dangerous in America right now. The reality is that your chance of dying in a mass shooting is smaller than in other Western countries. In the US you are less likely to be injured or killed in a mass shooting than you are in Finland, Norway, or Switzerland. This is obviously a dark moment for everybody involved. But in the midst of this pain the message of the Psalmist is still true, "even though I walk through the darkest valley, I will fear no evil, for you are with me; your rod and your staff they comfort me."
The Bible is full of reminders to fear not:
After these things the word of the Lord came to Abram in a vision, "Do not be afraid, Abram, I am your shield; your reward shall be very great." (Genesis 15:1)
But now, this is what the Lord says – he who created you, Jacob, he who formed you, Israel: 'Do not fear, for I have redeemed you; I have summoned you by name; you are mine.'(Isaiah 43:1)
The angel said to her, "Do not be afraid, Mary, for you have found favor with God. (Luke 1:30)
"Do not be afraid, daughter of Zion. Look, your king is coming, sitting on a donkey's colt!" (John 12:15)
Let that ring true in our time and place as well:
Do not be afraid, Las Vegas!
Do not be afraid, Paris!
Do not be afraid, Manchester!
Do not be afraid!
I walked into the sanctuary this morning. It's Monday morning and I wanted to see how the Advent decorations looked this year. I wasn't around to help set up the afternoon before. But I can tell: Everybody knows exactly what they are doing. Everybody knows exactly where each piece goes. It looks gorgeous – like every year. Then I started checking for the little things that are sometimes off: No, the tree is not crooked. No, the extension cords are in place and actually long enough. All is well. All is as it always has been.
I find that comforting. I like it when tradition keeps me grounded. I think it is healing in an ever more hectic and divided world that there is this bastion of togetherness and grandeur that just falls into place year after year. There is beautiful stability in knowing what's going to happen: The smells, the bells, and all those little things that make the holidays merry and bright.
As I am floating through the sanctuary I lay my eyes on the dozens of nativity scenes that are neatly arranged along the windows. My mood changes. All of a sudden I find myself bored. It is kind of same old same old. How is the gospel of Jesus Christ supposed to come alive for a new generation, for a new day and age when we keep everything exactly the same year after year?

But that's how a liturgical church works. Repeating rhythms come with opportunities and limitations. The paraments are also the same as every year. One shows the Alpha and the Omega, a reference to Revelations where the one who was seated on the throne said, "See, I am making all things new." Wow! There is the promise of newness in the same old same old. That's why we do this: Because the new needs to be birthed out of what came before.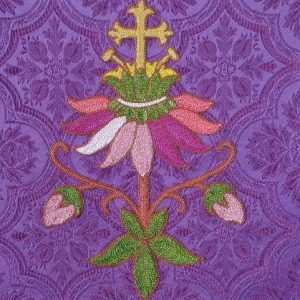 That is also reflected in the other parament with its Isaiah reference: "A shoot shall come out from the stump of Jesse, and a branch shall grow out of his roots." That old kingdom of David is coming to new life and new fruition in an entirely different shape, form and context. Out of an ancient flower grows the cross of Christ. May this Advent season surprise you with its openness to an entirely new future and may its traditional same old symbols guide you into something fresh. It worked for me this morning in the sanctuary.
Who is Jesus for you?
Are you suffering from bad behavior and want to change yourself?
Do you want others to change so they fit your standards?
Do you want to keep your compassion alive?

When we have family and friends visiting we like taking them for a tour of George Ranch Historical Park. Going through the four different residences of this huge complex is a wonderful invitation and introduction to our local history. Right when you come into the welcome center there is a permanent exhibit that blew my mind challenging my perspective of cowboys. I grew up with those classic western movies where cowboys were gun-toting, boot-wearing, white men – like John Wayne, or Clint Eastwood. But here on this most Texan ranch I learned that most cowboys did not look the way I thought they did in the 1800s: It is thought that, on some Texas trails, a third of cowboys were Mexicans and about a quarter of cowboys were former slaves: They were black!
In the ancient Middle East the most prominent livestock was sheep. Now again: My perspective of what shepherding looks like is fundamentally challenged: Who hasn't heard of the good shepherd and Psalm 23 and all that biblical imagery portraying God as a shepherd? Here is another one:
"He will feed his flock like a shepherd; he will gather the lambs in his arms, and carry them in his bosom, and gently lead the mother sheep."
(Isaiah 40:11 – Watchword for the Week of Sunday 7 December 2014)
I always thought the shepherd's crook was used to shove the sheep in the right direction. And I would have never thought that shepherds go around hugging the entire flock maybe exchanging a few friendly words like people whispering words of affection into their pets' ears. We are talking livestock business after all, aren't we? And "leading them gently", really? Isn't it more like unleashing the German Shepherd dogs that bark and bare their teeth in order to get the sheep in line?
Well, it seems like reality is always more complex than anticipated: Those rough tough cowboys were slaves once, just like the Word of God became a lowly human being and has come to us and shared our common lot. Or in biblical context: The shepherd put down his staff, abandoned his power and embraced the power of love because he knows what the whip feels like from own experience.
O Lord, you are my God; I will exalt you, I will praise your name; for you have done wonderful things.
(Isaiah 25:1 – Watchword for the Week of Sunday 12 October 2014)
Isaiah sounds so joyful. He is raising his hands, maybe jumping up and down because he is so happy. He's praising God with all he's got. Maybe a few tears mixed in with that big fat smile on his face. Pure excitement. That is beautiful thing: "I will praise your name; for you have done wonderful things." As long as things are merry and bright that's fine. But what if Isaiah's mood really depended on God's input? What if our feelings depended on other people's actions? It may sound innocent to say: "You make me happy!" But what about: "You make me sad!"?
In reality happiness, sadness, anger, joy, frustration, fear, confidence are not things anyone can give you. They are your reactions to what life throws at you. At the very core everybody is in charge of their own emotions and we all decide which trigger we allow to push our buttons. Nobody can make me mad unless I decide to react to them in a made manner.
Again Isaiah: "I will praise your name; for you have done wonderful things." Here the prophet says: You, God, are allowed to stir up my heart, to shake my soul, to transform the way I look at myself and the world around me. I will allow your actions to have an impact on me.
Whom do you allow to push your buttons like that? The way your parents treated you does not have to determine how you will live your own life. Yet you may embrace what you learned from them and allow them to have an impact on your future. Same with God: Isaiah remembers the wonderful things he has experienced with God in the past and he decides to let that be the guide for a bright future.
Can you join Isaiah in inviting God into your life like that?
My future is determined by Your past!
My actions are consequences of Your actions!
My future is Your praise!
I am hunting the good stuff that You provide!
I hope that the church may be able to look at itself that very same way: That the glorious past of our church is not just our good old days but that they are reasons to celebrate God's past. They don't have to determine what our church's future may look like. No past ever has and ever should be recreated. So let's hunt the good stuff for God's future!
All too often people say: I should read the Bible more. The problem here is expectation management: Reading pages after pages of anything is a time consuming activity which hardly anybody does regularly anyway. Now add the desire for spiritual fulfillment coupled with moral (self-) pressure: That cannot work.
I am glad that since 1731 the Moravians have published the daily watchword as an ecumenical ministry that transcends confessional, political and racial barriers of all kinds. That is a nicely packaged biblical devotional for every day 365. It consists of one verse from the Old Testament, one verse from the New Testament and a prayer. All three follow a common theme and get reflection going by just briefly reading them. You can get the Moravian Daily Texts as a book, per email or on Facebook. They are a very good daily practice.
For church use I like an added feature: the watchword for the week. Going forward I will base this weekly reflection on the watchword and let it speak into our situation at St. John's United Church of Christ. The watch word for July 20th fits the purpose of our congregational meeting:
"Thus says the Lord, the King of Israel, and his Redeemer, the Lord of hosts: I am the first and I am the last; besides me there is no god." (Isaiah 44:6)
Twice a year we get together to learn the state of the church. The mid-year meeting is all about the money: How's the budget doin'? On this occasion Isaiah reminds us that
1. Money is not everything but God is the Alpha and the Omega.
2. Mammon is no God and cannot be worshiped.
That is certainly not limited to our congregational finances: Your own budget at home reflects your values as well. Can God see how good a Bible reader you are based on your bank statement?

Wikipedia
Nonintervention or non-interventionism is a foreign policy which holds that political rulers should avoid alliances with other nations, but still retain diplomacy, and avoid all wars not related to direct self-defense.
Isaiah 7:1-25
King Ahaz of Judah (the Southern Kingdom) fears an attack by Israel (the Northern Kingdom) and Syria. Against Isaiah's advice and despite Isaiah's assurance that Israel and Syria will not pose a threat, Ahaz seeks help from Assyria rather than relying on God.
Switzerland
Traditionally, Switzerland avoids alliances that might entail military, political, or direct economic action and had been neutral since the end of its expansion in 1515. Its policy of neutrality was internationally recognised at the Congress of Vienna in 1815.
US Non-interventionism shortly before WWII
Between 1936 and 1937, much to the dismay of the pro-Britain President Roosevelt, Congress passed the Neutrality Acts. These Acts did everything they could to delay U.S. entry into a European war.
In today's reading Isaiah 62:1-12 the prophet shares God's promise to Israel: "Your grain will no longer be food for your enemies, And foreigners will no longer drink your wine."
For too long America has supported Israel's enemies through a Two-State Fantasy. I have criticized President Obama for this twice. Now I find myself for the second time in one week supporting a position of Newt Gingrich: Yes, Palestinians Are an Invented People.
"I will speak out to encourage Jerusalem; I will not be silent until she is saved, And her victory shines like a torch in the night. Jerusalem, the nations will see you victorious!", writes Isaiah.