Browsing articles tagged with " Deuteronomy"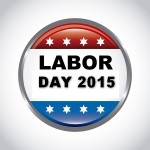 Labor Day started as an important reminder for all the benefits that workers have gained from organizing. These days it seems to have turned into an occasion for mattress sales. The issues of fairness and justice have always been important to God's people. God's law is in large part instructions for social justice like this passage from Deuteronomy 24:14-22
"You shall not withhold the wages of poor and needy laborers, whether other Israelites or aliens who reside in your land in one of your towns. You shall pay them their wages daily before sunset, because they are poor and their livelihood depends on them; otherwise they might cry to the Lord against you, and you would incur guilt. Parents shall not be put to death for their children, nor shall children be put to death for their parents; only for their own crimes may persons be put to death. You shall not deprive a resident alien or an orphan of justice; you shall not take a widow's garment in pledge. Remember that you were a slave in Egypt and the Lord your God redeemed you from there; therefore I command you to do this. When you reap your harvest in your field and forget a sheaf in the field, you shall not go back to get it; it shall be left for the alien, the orphan, and the widow, so that the Lord your God may bless you in all your undertakings. When you beat your olive trees, do not strip what is left; it shall be for the alien, the orphan, and the widow. When you gather the grapes of your vineyard, do not glean what is left; it shall be for the alien, the orphan, and the widow. Remember that you were a slave in the land of Egypt; therefore I am commanding you to do this."
In all aspects of daily life we are trying to optimize the use of resources. We want to get the biggest bang for our buck. We are looking for the very best deal on mattresses as it is. So it is totally counter-cultural to read this biblical mandate of inefficiency:
"When you gather the grapes of your vineyard, do not glean what is left; it shall be for the alien, the orphan, and the widow."
Let me translate that into our reality: When you put together a shift plan be mindful of the single mom who needs to pick up the kids from daycare. The immigrants working in your business deserve a fair wage and you cannot exploit them because they do not have better opportunities. When kids go from foster home to foster home you owe it to them to provide public schools for them that help them get ahead in life.
At first glance all this is not economically efficient: typically you want to reduce labor cost as much as you can. Typically you can tell your workers to show up whenever you need them. Paying higher taxes for other people's children does not directly benefit your own. But God commands inefficiencies like these. Be intentional about it.
Why? Well, you might find yourself in a situation where you require the assistance that only a fair and just society has to offer. Or as spoken to Israel remembering their former yoke :
"Remember that you were a slave in the land of Egypt; therefore I am commanding you to do this."
With father's day coming up soon, here are some biblical thoughts on fathering:
"A wandering Aramean was my ancestor…"
Every family has its own stories. God's people tell the story of being slaves in Egypt and saved from there, please refer to Deuteronomy 26:1-11. The stories we tell make us who we are. What are the stories of your family?
"in you all the families of the earth shall be blessed."
God doesn't care for family values. People of the covenant are mostly called to leave behind their loved ones, please refer to Genesis 12:1-4. Blessing is where the unknown is. Are you willing to leave your comfort zone?
"Then Abraham reached out his hand and took the knife to kill his son."
Isaac's faith was tested big time. He trusted his father with his life – literally, please refer to Genesis 22:1-19. How much do you trust your father?
"Simeon and Levi are brothers; weapons of violence are their swords."
On his death-bed Jacob blesses his sons – each of them with individualized blessings. He is disappointed in some of them and brags about others, please refer to Genesis 49. Does that sound like your family? What kind of child are you?
"Out of Egypt I have called my son."
Can you imagine how tough Joseph's life was, raising the Son of God as his own? That teenager must have been hell to talk to. That's probably why the Bible doesn't contain a single story of Jesus' childhood. A couple of things become clear in Matthew 2:13-15
1. God himself is part of a blended, non-traditional family
2. A wandering Aramean was my ancestor, please refer to the beginning of this article.
Today's Reading is Deuteronomy 6:1-25. In Israel a bus driver once told me that he prays the Shema whenever he sees an ambulance driving by. The beautiful thing about this prayer is that it contains God's name three times:
"Israel, remember this! The LORD — and the LORD alone— is our God. Love the LORD your God with all your heart, with all your soul, and with all your strength."
In English YHWH is transcribed as LORD, which in turn is a translation of Andonai, which is what is said in Hebrew avoiding to use God's name altogether. The bus driver said that by calling on God's name you make the four golden letters יהוה ascend to heaven and eventually intercept and send back the soul that is leaving the person dying in the ambulance thus saving his or her life. That sounded logical to me at the time and I have practiced it ever since. Oh, but there is one catch – you gotta recite it in Hebrew:
Sh'ma Yis-ra-eil, A-do-nai E-lo-hei-nu, A-do-nai E-chad.
V'a-hav-ta eit A-do-nai E-lo-he-cha,
B'chawl l'va-v'cha,
u-v'chawl naf-sh'cha,
u-v'chawl m'o-de-cha.