Browsing articles tagged with " Revelation"
I walked into the sanctuary this morning. It's Monday morning and I wanted to see how the Advent decorations looked this year. I wasn't around to help set up the afternoon before. But I can tell: Everybody knows exactly what they are doing. Everybody knows exactly where each piece goes. It looks gorgeous – like every year. Then I started checking for the little things that are sometimes off: No, the tree is not crooked. No, the extension cords are in place and actually long enough. All is well. All is as it always has been.
I find that comforting. I like it when tradition keeps me grounded. I think it is healing in an ever more hectic and divided world that there is this bastion of togetherness and grandeur that just falls into place year after year. There is beautiful stability in knowing what's going to happen: The smells, the bells, and all those little things that make the holidays merry and bright.
As I am floating through the sanctuary I lay my eyes on the dozens of nativity scenes that are neatly arranged along the windows. My mood changes. All of a sudden I find myself bored. It is kind of same old same old. How is the gospel of Jesus Christ supposed to come alive for a new generation, for a new day and age when we keep everything exactly the same year after year?

But that's how a liturgical church works. Repeating rhythms come with opportunities and limitations. The paraments are also the same as every year. One shows the Alpha and the Omega, a reference to Revelations where the one who was seated on the throne said, "See, I am making all things new." Wow! There is the promise of newness in the same old same old. That's why we do this: Because the new needs to be birthed out of what came before.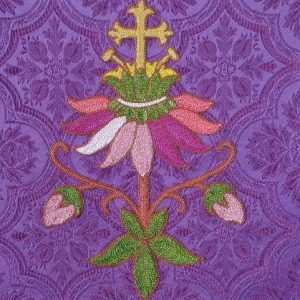 That is also reflected in the other parament with its Isaiah reference: "A shoot shall come out from the stump of Jesse, and a branch shall grow out of his roots." That old kingdom of David is coming to new life and new fruition in an entirely different shape, form and context. Out of an ancient flower grows the cross of Christ. May this Advent season surprise you with its openness to an entirely new future and may its traditional same old symbols guide you into something fresh. It worked for me this morning in the sanctuary.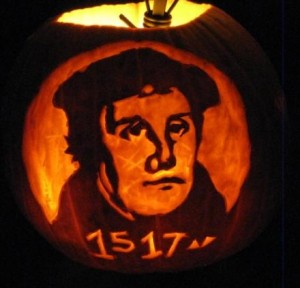 How dare we call ourselves Saints? No, not the New Orleans kind, but the kind of people that strive to be holy because God is holy. Well, the church has consistently done that ever since it started reciting the Apostles' Creed some 1500 years ago:
"I believe […] in the Communion of Saints"
Yeah, from that crying baby in the church nursery to the 101 year-old lady and everybody in between, God considers us all Saints. Now God doesn't do that in a Catholic kind of way:
"In Catholic terminology, the communion of saints is thus said to comprise the church militant (those alive on earth), the church penitent (those undergoing purification in purgatory in preparation for heaven), and the church triumphant (those already in heaven)."
Instead the Reformation has stressed the Priesthood of all believers, which basically means that there are no Saints that are more saintly than any other Saint.
That's why Martin Luther on the occasion of All Hallows Eve (Halloween is the evening before All Saints Day) in the year 1517 made the point that was spelled out in Scripture before:
"Salvation belongs to our God who is seated on the throne, and the Lamb!"
(Revelation 7:10 – Watchword for the Week of Sunday 1 November 2014)
That was revolutionary news back then: In order to graduate from purgatory to heaven your deceased relatives needed your help. Namely the church wanted you to pay cold hard cash for a letter of indulgence to shorten their time of suffering. It was like the church owned a treasure chest of salvation and you had to buy in, for yourself and everyone you cared for. Luther spoke out against the practice of indulgences because: Salvation does not belong to the church but Salvation belongs to our God who is seated on the throne, and the Lamb! God gives salvation for free to everybody!
That still is revolutionary news today: There are churches out there that will tell their people that they have to believe or act or love or be a certain way or they will not get saved. They put pressure on you for not giving enough money, for not following their moral code. They tell you they know how to "get saved".
The Good News of Reformation Day / Halloween / All Saints Day is this:
You are a Saint! You are saved no matter who you are or where you are on life's journey!
My sermon podcast today marked an interesting anniversary. It was blog post number 666 on this blog.
Back in January of 2009 I referred to a 666 workout that sounds really hellish. But when it comes to Biblical studies I want to share my take on Revelation 13:18 as well:
"This calls for wisdom: let anyone with understanding calculate the number of the beast, for it is the number of a person. Its number is six hundred sixty-six."


Hebrew gematria translates the number 666 into Emperor Nero. Now the Gospel of John was written during the reign of Domitian, thirty year's after Nero's death. I think it is an interpretation of the emperor as Nero Redivivus. Basically every generation has to fear the evil spirits of the past keep coming back.
Mythological? – Not really.
Real? – Oh yeah, your past can sure haunt you.