Browsing articles in "FAITH"

The window named "Pentecost" at St. John's United Church of Christ
Last week I made the case that "Jesus is not here!"
This week – leading up to Pentecost – I also need to say the opposite: Jesus is here!
The Jesus story does not end with Ascension Day. A week and a half later, Jesus's presence reappears in his Spirit.
The stain glass window that represents Pentecost in the sanctuary of St. John's United Church of Christ is a reminder that the Holy Spirit is one person of the Trinity and also that it is Jesus's Spirit as well. The Nicene-Constantinopolitan Creed spells it out with authority: "We believe in the Holy Spirit, the Lord, the giver of life, who proceeds from the Father and the Son". The most important word here is "and the son" – "filioque" in the Latin original.
The filioque takes all the fluffiness out of the Holy Spirit. This spirit is not just a mover and shaker before and in creation. Yes, the Holy Spirit is also found in creation, but when the church talks about the Holy Spirit we also mean the spirit who has been through the birth, death and resurrection of Jesus Christ. It is okay to have spiritual experiences on mountaintops, in yoga studios or family gatherings. But Pentecost reminds us that the Holy Spirit is Jesus's presence among us.
The window depicts you and me as well: We are fish flopping aimlessly around. We do not no where to find God's Spirit in Creation. We only know what feels right, what feels good, in short: Naturally we only know what we know. Looking at nature we will remain stuck in our natural self. We are looking for one positive experience after another, an emotional pickup here, some spiritual uplifting there. That is not what the Holy Spirit is about!
Here is the good news of Pentecost: We do not have to be stuck in nature. Jesus's spirit points us floppy fish in certain directions. We may not be able to follow him literally face-to-face. But Jesus is present in the Holy Spirit when two or three fish are called to flop around together. Not aimlessly this time but following directions from above. Come Creator Spirit! Come!

The window named "Ascension" at St. John's United Church of Christ
According to the Apostles' Creed Jesus Christ "was crucified, died, and was buried; he descended to the dead. On the third day he rose again; he ascended into heaven, he is seated at the right hand of the Father". That is the ultimate roller-coaster ride. Raised high to the cross, put in the ground, risen back up to the surface and finally ascended into heaven. That last step is usually not celebrated much which is a shame. On Thursday the church commemorates Ascension Day. The message of that day is pretty simple: "Jesus is not here!"
How would the world be different without this holy day?
Imagine we were still in the situation of Jesus's disciples right after Easter: Jesus had just overcome death. He is back in charge of his revolutionary movement. His power is obviously much bigger than that of the emperor of Rome. The time has come to fight! We have God Almighty on our side and whoever is against anything we think, say or do is obviously wrong. Because: Look at us! Jesus is right here with us. He is our king. We are his people. Everybody else needs to join our movement or be destroyed.
Sadly enough, to many "Christians" feel that way: that they literally have Jesus on their side, that they know what is right and wrong better than anybody else. Sometimes entire churches find themselves in the self-deception that people need them in order to be saved. How liberating the message of Ascension Day rings in that kind of scenario: "Jesus is not here!"
Jesus is not here! The church is not made up of diehards fanatically following the Führer Jesus. Instead the church is made up of regular people, sinners if you will. There is nothing special about us. We do not know what is right or wrong better than anybody else. You can live a full and happy live without our church. We celebrate that Jesus ascended into heaven and is not literally with us. At the same time we pray that "Thy Will be done on Earth as it is in Heaven". Even up there in heaven Jesus Christ is still our Lord and Savior. Christ rules over both Heaven and Earth. So our job as Jesus's disciples is to make this world the best reflection of heaven that we can. And a great starting point would be to recognize that we are not the center of the universe.

Church is not just the particular group of people you meet with in a particular building on a particular day for a particular program. The church as the body of Christ is so much bigger than that. Here is a story that recently happened at St. John's United Church of Christ in Rosenberg, Texas.
One of our members works as a preschool teacher. She feels that the public school system would be a better fit for her skill set. So she digs up her almost 10-year-old education credentials. Now she needs to have her school submit them officially for the credentialing process for teachers in Texas. That should not be too hard from here, right? Well, there are a couple of twists in her journey that complicate the matter:
1. The school was closed down a few years after she graduated there.
2. The school was located in Boppard, Germany, 5,214 miles away from Rosenberg, Texas.
How do you get a school that no longer exists half way around the world to send a certificate on your behalf? – That's where the Wider Church comes in!
As a United Church of Christ congregation we are in full church communion with the Union of Evangelical Churches in Germany. One of their denominational bodies sponsored the school in question. The Diakonische Werk Rheinland-Westfalen-Lippe still keeps the archive of the long closed Janusz-Borczak-Schule Boppard. Since their pastor for public relations has been a long-time acquaintance of mine it was easy to explore options. And indeed, my friend Ulrich Christenn was able to climb into the basement of the administrative offices in Düsseldorf and locate her diploma.
The lesson learned here is:
The larger the body of Christ is, the smaller the world becomes!
It is crucial for the church to work together in all its structural forms on all levels.
It literally pays off to be involved in the wider church, not just your local congregation.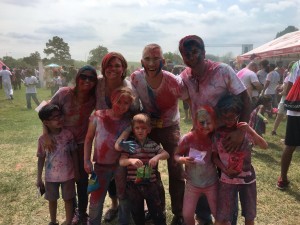 Over one billion persons in the world are Hindus. We have wonderful friends right in our neighborhood who came to the US from India. This past weekend we joined them at the Houston Holi. Holi means "colors" and that is what this festival is best known for: People throwing colored cornstarch at each other. It is great fun and like any other festival it has stage performances, vending booths and bounce houses for the kids. What makes it unique are the colors: They are everywhere, the air is filled with colorful dust, every square inch of clothing and skin is covered. Family, friends, and total strangers throw handfuls of color at each other recreating the entire rainbow.
In the religious background of the Festival of Colors, there are two legends that are very fitting for the Easter Weekend:
1. Prahlad is a saintly boy who was challenged by the demoness Holika. After a lot of temptation Prahlad was supposed to be killed but through divine intervention death loses to life. Holi is the celebration of life overcoming death.
2. Krishna is an ancient deity that is usually depicted with dark skin. Eventually he married Radha, a goddess with "fair skin". Holi is the celebration of color covering everyone's face so the color of your skin does not separate person from person.
Just like Easter, Holi is tied to the spring equinox and this season comes with life starting to spring, blooming with hope and bringing out more colors. I am going to crack open a wonderfully colored Easter egg now.
We have been strolling through Lent by walking at different venues for the past six weeks. The final of our strolls will take place during church on Palm Sunday. This Sunday is truly all about walking. It marks Jesus' entry into Jerusalem, that is: it marks the transition of the Jesus movement from Galilee (northern Israel) to Judea (southern Israel). Google maps shows that the most direct route for a walk from the Sea of Galilee to Jerusalem takes about 30 hours of constant walking. I have done this trip multiple times by bus and honestly I cannot imagine walking it.
But according to biblical tradition the Son of David had to enter the city of David as the king that he was. It is this royal entry that makes Palm Sunday special. People got a sense of David's kingdom being restored with peace and prosperity for all, getting rid of the Roman occupiers. Hope for heaven on Earth. They spread their cloaks to line the streets for his donkey and welcomed him with joyful shouts of "Hosanna!" The lesson here is that as Christians we celebrate the king of Israel. At its core the church is nothing but a Jewish sect. The king of the world came as the king of the Jews and will draw all God's children to the heavenly Jerusalem.
The entirety of Holy Week follows the Middle Eastern background of our faith: Maundy Thursday reminds us of Jesus and his disciples celebrating the Passover, on Good Friday the curtain of the temple was torn in two, opening the Holy of Holies. And finally Easter is a reflection of the Exodus out of death into resurrection, from Egypt into the promised land. Jesus spent 40 days in the desert just like Israel spent 40 years in the desert. Our Lent season reflects all that and brings the hope of eternal life to all the people. Hosanna!
As an Army Chaplain I do not have a choice: When we conduct chapel services in the field there are weapons all around us. Force protection never stops. In the Army everybody with the exception of the Chaplain is in charge of protecting themselves, the team, the nation, the world.
As a local church pastor I cannot imagine people bringing firearms to church. Jesus is so loud and clear in his call for non-violence that the threat or application of force cannot be part of the church's culture. When the church blesses arms that leads to crusades and bloodshed in the name of Christ.
But the question that my military ministry poses is a valid one in the local church also: How do we best protect the safety and health, ultimately the life of our people at church? For the longest time the two-fold answer was simple enough:
1. We trust law-enforcement officials to keep us safe.
2. The church just like a school, a polling location, a racetrack or an airport is not a place for taking the law into your own hands.
Everyone I have spoken to, seems to join in a clear consensus, that we do not want to see firearms in the sanctuary. How do we go about doing that?
It appears that we have the following options:
1. Do nothing and let common sense and common courtesy rule our behavior towards one another.
2. Hand out a card or other document on which is written language identical to the following: "Pursuant to Section 30.07, Penal Code (trespass by license holder with an openly carried handgun), a person licensed under Subchapter H, Chapter 411, Government Code (handgun licensing law), may not enter this property with a handgun that is carried openly" and "Pursuant to Section 30.06, Penal Code (trespass by license holder with a concealed handgun), a person licensed under Subchapter H, Chapter 411, Government Code (handgun licensing law), may not enter this property with a concealed handgun"
3. Post signs with the same text in both English and Spanish on every entrance to our buildings with each letter at least one inch in height.
The church council has wrestled with this issue since late last year and had not been able to reach a conclusion when the new Texas laws went into effect on January 1st. So on Sunday, March 13th, we have scheduled a table talk after church to address this issue. We need your input on the question of how do we make our people feel safe in the sanctuary?

I cast my ballot today and I encourage you to do the same. I have my fair share of experience in politics and policy-making. In college I served as a staffer to a first-term member of the Bundestag who later went on to becoming Germany's Minister of Economic Cooperation and Development. I ran campaigns and chaired political organizations in different states. Since I was naturalized as an American citizen in 2014 this is my first go-around in primaries of a presidential election cycle in this country.
As a pastor I cannot tell you who to vote for. Like everybody else I have strong opinions about topics and persons. The political arena is competitive. Ideas and personalities are supposed to wash out the best through the process of competition. As a Christian I recognize that Pontius Pilate hit the nail on the head when he asked: "What is wisdom?" – There is not the one "Christian answer" or the best "Christian candidate". There is not the one wisdom!
In the church we have millionaires and homeless. We have persons paying social security tax and persons receiving social security benefits. We have immigrants and life-long residents. We have liberals and conservatives. We have gun rights supporters and gun control supporters. We have women who had abortions and persons who oppose that option. We are a reflection of society.
The body of Christ is not a political party and it must not act like one. There is no Christian party that is better than another. Christians support and serve in different parties. And members of different parties live together in the church. When I walked into the county annex to vote this morning the first question they asked was: "What party?" – After my response I proceeded to one of the booths. And guess what: Those booths are the same for everybody. There is only one booth for all. Nobody is better here than anybody else.
Church and voting booth have a lot in common after all. God calls us to live responsibly the life we have been given. Part of that responsibility is to take part in the political process. Let your voice be heard and make your vote count.

Persons with Roman Catholic background are the majority of new members we receive into our congregation. St. John's United Church of Christ is normal in that regard. Throughout our denomination around 40% of newcomers were raised Catholic, according to "Catholics in the United Church of Christ", a booklet composed by two former Catholics who became UCC clergy. Our church council has a significant portion of former Catholics as well.
In that sense it strikes me as odd that we avoid the term "catholic" when we recite the Apostles' Creed. We need to fix that. As a united and uniting church our main goal is to bring the body of Christ closer to oneness and that is what "catholic" means: the ecumenical church universal. From now on we will go back to the traditional wording as printed in the hymnal.
The experiences of being Catholic are at least as diverse as they are in Protestantism. Whether you received your education before or after Vatican II makes the world of a difference. Whether your weekly CCD classes were top notch or you hardly ever went, determines how familiar you are with the church's traditions.
Many Catholics, as Mary Luti and Andrew Warner describe it, "would have stayed in the Church 'if only…' If only it were okay to be gay, or for priests to marry, or for women to be ordained, or for divorced and remarried people to receive Holy Communion." These Exiles usually remain Catholics with Mary and the Saints in their hearts. Who can blame them? Complex spiritual journeys are always welcome in the United Church of Christ.
Culturally they are easy to spot. Sometimes a Freudian slip will have them talk about mass, parish, or priest. Please remember: A Catholic priest typically covers a flock of 1,600 whereas the average UCC pastor only shepherds 200. You have more and easier access to your pastor in our tradition. Make use of that!
When we receive new members we celebrate their journey of faith that has brought them to where they are. The book of worship provides beautiful words for the occasion:
"By your baptism you were made one with us in the body of Christ, the church. Today we rejoice in your pilgrimage of faith which has brought you to this time and place. We give thanks for every community of faith that has been your spiritual home, and we celebrate your presence in this household of faith."
If you want to learn more about "Catholics in the United Church of Christ" the 32 page pamphlet can be ordered here.
The traditional period in the northern hemisphere for the Week of Prayer for Christian Unity is 18-25 January. Those dates were proposed in 1908 by Paul Wattson to cover the days between the feasts of St Peter and St Paul, and therefore have a symbolic significance. In the southern hemisphere where January is a vacation time churches often find other days to celebrate the week of prayer, for example around Pentecost (suggested by the Faith and Order movement in 1926), which is also a symbolic date for the unity of the Church.
In Houston our 3rd Annual Ecumenical Prayer Service during the Week of Prayer for Christian Unity will be held on Friday, January 22, 2016, starting at 7pm. The 2016 host is Pleasant Hill Baptist Church at 1510 Pannell St., Houston, TX 77020. All are welcome!

The oldest baptismal font in Latvia dates from the time of the great evangeliser of Latvia, St Meinhard. It was originally located in his Cathedral in Ikšķile. Today it stands at the very centre of the Lutheran Cathedral in the country's capital, Rīga. The placement of the font so near to the Cathedral's ornate pulpit speaks eloquently of the relationship between baptism and proclamation, and the calling shared by all the baptised to proclaim the mighty acts of the Lord. This calling forms the theme of the Week of Prayer for Christian Unity for 2016. Inspired by two verses from the First Letter of St Peter, members of different churches in Latvia prepared the resources for the week:
"But you are a chosen race, a royal priesthood, a holy nation, God's own people, in order that you may proclaim the mighty acts of him who called you out of darkness into his marvellous light. Once you were not a people, but now you are God's people; once you had not received mercy, but now you have received mercy." (1 Peter 2:9-10)
Archaeological evidence suggests that Christianity was first brought to Eastern Latvia in the 10th century by Byzantine missionaries. However, most accounts date Latvia's Christian origins to the 12th and 13th centuries, and the evangelising mission of St Meinhard, and later of other German missionaries. The capital, Rīga, was one of the first cities to adopt Luther's ideas in the 16th century, and in the 18th century, Moravian missionaries (Herrnhut Brethren) revived and deepened Christian faith throughout the country. Their descendants were to play a central role in laying the foundations for national independence in 1918.
However, the totalitarian darkness of the 20th century estranged many people from the truth about God the Father, his self-revelation in Jesus Christ and the life-giving power of the Holy Spirit. Thankfully, the post-Soviet period has been one of renewal for the churches. Many Christians come together for prayer in small groups and at ecumenical services. Conscious that the light and grace of Christ have not penetrated and transformed all the people of Latvia, they want to work and pray together so that the historical, ethnic and ideological wounds which still disfigure Latvian society may be healed.
I hope you will come and attend this most marvelous service on Friday, January 22, 2016, when the Rev. Joshua Lawrence will represent the Houston Association of the United Church of Christ.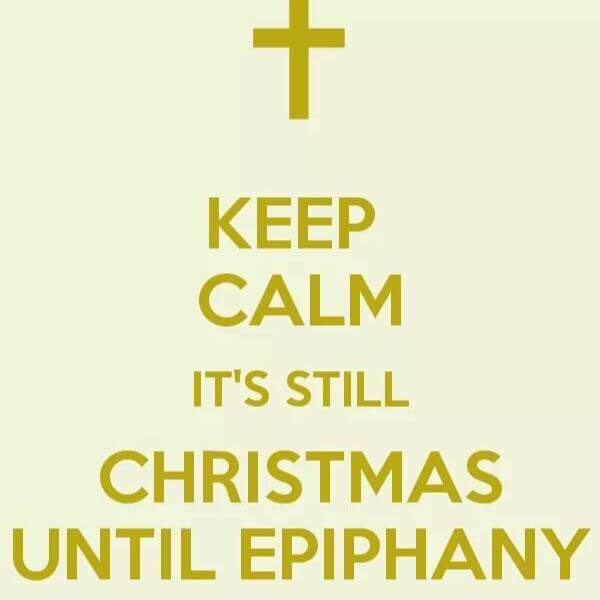 Yes, Virginia, there is a war on Christmas.
No, it is not happening right after Halloween when the self righteous do not like the design of disposable coffee cups. By that they only admit not to prepare for their coffee runs by bringing a reusable travel mug. No, the actual war on Christmas is going on right now, between Christmas and Epiphany. Most of our neighbors had their decorations down by December 27th. The Christmas radio station disappears as soon as Christmas begins. Virginia, that is where the war on Christmas is real.
In America there is confusion to when Christmas is happening. Many people and businesses confuse the holiday season with the Christmas season. Christmas is a church service: It is the Mass celebrating the Birth of Christ, short Christ-Mass. Since the 5th century Christians have celebrated the birth of Christ this time of year. Leading up to Christmas is the liturgical season of Advent. Christmas does not start until after Christmas and it goes on for 12 days all the way through Epiphany on January 6th. Whoever insists on saying "Merry Christmas" before then is waging war against one of Christianity's most important holidays.
How did all of this come about? Well, in America we have a thing called the holiday season. It is the period of time from Thanksgiving until New Year, including such festivals as Christmas, Hanukkah, and Kwanzaa. That is where misunderstandings happen: Most major religions have their festival of light this time of year from Hindu to Jewish and Christian. And the retail industry loves this time of year. The cultural commercial holiday season is there to lead up to and support people in celebrating whatever their faith holds dear. The greeting for the season is "Happy Holidays" because it celebrates a variety of wonderful occasions.
As a Christian I indulge in both, the civil holiday season and the liturgical Christmas season. Not everybody knows that they are distinctly separate things and you will always find the terms used interchangeably. But it is my job as pastor and teacher to remind myself and my readers that, yes Virginia, please leave your lights and decorations up until Epiphany. And you, FM 99.1, please play Christmas music not only during Advent but also during Christmas!
Popular Posts
Sorry. No data so far.