Browsing articles in "FAITH"
As a pastor I usually only get to attend church when I am on vacation. But last Sunday I was lucky because Pinecrest Presbyterian Church in Houston hosted a Martin Luther King Jr. Day Service. There is no better way to commemorate this anniversary than worshiping in a black church. But I must admit that I became uncomfortable on two occasions:
First, when the service starts the sanctuary is about half full. About thirty minutes into this two hour service, it is packed. Part of the crowd that comes late is a huge white man: tall and strong, a true Viking type. In most situations I would not notice him much but he stands out because he comes late, he comes all by himself, and he just does not fit in. I find myself conducting racial profiling. I keep watching him for a few minutes. Is he going to be like the crazy person who killed the worshipers at Mother Emmanuel AME church in Charleston? Am I the only one thinking and feeling this way? And what would it feel like to worship with this fear every Sunday?
Second, as the service continues and I eventually overcome my wrong suspicions that are based on outward appearance. The music is really energetic. Everybody jumps up and claps their hands for a song of joy. I just go with the flow of the moment and pick up my son and put him on my shoulders, bouncing up and down to the rhythm. And again it strikes me. Now I am that white man. Or actually the little white boy above them all, tall and higher than everyone else. My poor little son has no idea but in my mind, in that moment he was white privilege incorporated. I dance him down without making a scene and make sure to blend in better.
A band comes up to lead us in "Let it shine! Let it shine!". We are asked to use the flashlights of our cell phones. So once I have permission to play with my phone during church I cannot resist to check my emails. I come about the invitation to be on stage at the 4th Annual Ecumenical Prayer Service during the Week of Prayer for Christian Unity. Of course I say yes, since I have been on their planning committee for years. This year I was even able to secure the participation of our UCC Conference Minister. And here it strikes me. This is where God calls me to action in the spirit of Martin Luther King Junior: We are two white men. That does totally not represent what this evening or the United Church of Christ are all about. So I decide to step back and invite our Association Minister to be on stage, a black woman. This is what the people of God look and act like in truth and in spirit.
The service continues and I finally put my phone away. A high school student reads the "I have a dream" speech. I have loved this piece since I went to high school in Germany. As a matter of fact it may be one of the main reasons I fell in love with the USA. MLK's speech truly represents America at its best. The way this young man recites it, sends shivers down my spine.
I hope you had a similarly meaningful experience this MLK weekend. And if you want to expand on it please make sure to join Houston denominational leaders from across the city for an evening of music, worship and prayer as ecumenical groups gather to pray for Christian Unity in Houston and around the world. It happens Wednesday, January 18, 2017 6:30 PM, hosted by Christ Church Cathedral, 1117 Texas Ave, Houston TX 77002.

This is the Nativity Play I wrote for Christmas Eve 2016. It leans heavily on Dr. Seuss's "Oh, the Places You'll Go!". There are two dialoguing shepherds. Children can be invited to join as little shepherd helpers. [SLIDE] marks the cues for a new page from the Dr. Seuss book. Merry Christmas!
Grinch:
"Howdy everyone. So here we have baby Jesus lying in a manger. You may wonder who I am. I am one of the shepherds. My name is Grinch. Mary and Joseph are busy at the tax office. You know, that's why they had to make the trip here to Bethlehem.
Horton:
"And I am Horton. I am a shepherd as well. So Grinch and I, the two of us get to babysit today. But that is a lot of work. So can we please have all the kids come up as shepherds to help us watch the child?"
Grinch:
"Jesus of Nazareth, you are just a little baby boy. You better think small and stay close to your home town. Everybody will call you Jesus of Nazareth all your life anyway."
Horton:
"Well, I found this book of ancient wisdom here and it says something else:
[SLIDE] Congratulations! Today is your day. You're off to Great Places! You're off and away!
[SLIDE] You have brains in your head. You have feet in your shoes. You can steer yourself any direction you choose. You're on your own. And you know what you know. And YOU are the guy who'll decide where to go."
Grinch:
"But look at this little town of Bethlehem. They didn't even have a decent room for your family. You'd better stayed home. That's what we shepherds do. We stay out in the fields, where we belong."
Horton:
"That's true. As you make your way through Bethlehem…
[SLIDE] You'll look up and down streets. Look 'em over with care. About some you will say, "I don't choose to go there." With your head full of brains and your shoes full of feet, you're too smart to go down any not-so-good street. And you may not find any you'll want to go down. In that case, of course, you'll head straight out of town.
Then you get to where we work, the fields and pastures.
[SLIDE] It's opener there in the wide open air.
Grinch:
"Let me tell you one thing baby Jesus: Always make sure you have an extra pair of dry socks. When you work out there like we do your feet can kill you. Always stay on dry land."
Horton:
"Oh, Grinch, you know how kids are. He probably won't listen to us wise shepherds. He'll probably end up hanging around at the beaches of the Sea of Galilee. That's what all the young folk do these days. And Jesus
[SLIDE] But on you will go though the weather be foul. On you will go though your enemies prowl. On you will go though the Hakken-Kraks howl. Onward up many a frightening creek, though your arms may get sore and your sneakers may leak.
But then again: The angel said you are the Son of God. So, who knows, maybe you'll still a storm and walk on water someday."
Grinch:
"Listen up little fella. The angel said you're special. Don't flatter yourself. And be especially careful when you go to the big city. In Jerusalem people will throw you a parade like you're a king, but a few days later they'll drop you like a hot potato."
Horton:
"Oh, Grinch, please don't you always be so negative.
[SLIDE] Out there things can happen and frequently do to people as brainy and footsy as you. And then things start to happen, don't worry. Don't stew. Just go right along. You'll start happening too.
Grinch:
"Hey kids, I see Mary and Joseph are coming back. It's time for you to get lost. I don't want them to see you with all your germs around the precious little one."
Horton:
"Oh, Grinch, please, be nice for a change. Our little shepherd helpers have learned an important lesson today. This baby is special and off to great places. And you know what? He sends us out to follow in his footsteps.
[SLIDE] Congratulations, little shepherd! Today is your day. You're off to Great Places! You're off and away!
And the little shepherds returned, glorifying and praising God for all they had heard and seen, as it had been told them.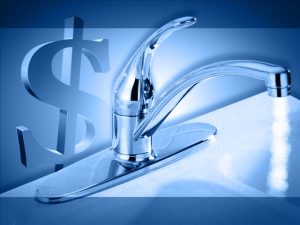 I know a good deal when I see one. Today I want to share a well kept secret with you. It costs $76.44 per member per month to run our congregation. That is if the 2017 proposed budget finds approval on Sunday. Now, obviously not all members contribute. Those who do give, give a lot more. Then there are quite a few non-members who give very generously. $76.44 is just an average that is more the exception than the rule, but it is a good reference point. As I look at out family budget at home, $76.44 is roughly what we pay for our monthly water bill. So the church costs as much as your water at home. What do you get for that? Browsing through our proposed budget for Sunday I find a lot of value:
– The church keeps up a cemetery that is available to you and your loved ones at a low cost.
– We support three musical professionals who provide choir leadership and instrumental accompaniment, as well as concert series.
– Youth get instructed in the Christian faith in a year-long confirmation class.
– We provide meeting spaces not only for worship and education, but private parties, community events, and social groups.
– Your children and grandchildren get to participate in children's church, vacation bible school, and seasonal programs at no extra cost.
– You get to join Bible Studies, and special devotional and service opportunities.
– Pastoral care is available to the home-bound and hospitalized, and those dealing with loss, or those fixin' to get married.
– Our church office is open every weekday to provide the communication and coordination that we need in order to do God's work together.
– If you want to be a delegate to regional and national gatherings of our denomination, we will pay your travel so we stay well connected and resourced.
– In all we do we worship God, not only that one hour on Sunday morning but literally 24/7 in various missions and ministries.
Now, I am a theologian, not a mathematician. But in my humble opinion we offer all this and much more in a very cost-efficient manner. Don't get me wrong, I really appreciate that I have safe and reliable water at home. But I do think the church offers more bang for the buck.
I walked into the living room this morning. This time of year the entire space looks like a winter wonderland. There is not a square inch that is not filled with Christmas decorations: a collection of ten nutcrackers, five Christmas stockings, two trees, hundreds of lights, five advent calendars, and all kinds of knickknacks, wreaths and evergreen everywhere. The one collection that stands out most though are our currently 18 nativity scenes. They range from tiny candle holder to children's toys to finely crafted olive wood straight from the Holy Land. We have amassed them over the years always looking for the perfect one. In the process we found out that there probably is no perfect one because we really love having this museum of variety in our living room.
Remember how I walked into the sanctuary last week?
There you will find a similar collection of nativity scenes. There are 26 of them currently. Some display the stable with child-like naivete. Some create a royal palace around the divine child. They come it all shapes and sizes.

Both at home and at church I am very diligent at making sure to take Jesus out of the scene where possible. The baby simply does not belong in the manger until Christmas. If he is glued in or otherwise attached I will not break the piece but a removable Jesus will be removed. That is good Christian practice to me because it sends a powerful message: Advent is not Christmas!
Advent derives from the latin adventus and means "coming". Christ is still in the process of coming! He is not born yet. Our job is to be here tensely waiting. There is no fulfillment yet. There are no gifts yet. Expectation is building up. Advent wreath and calendar serve as countdown clocks to tell us: It is not Christmas yet! And there is great reward in expectant waiting.
The Stanford marshmallow experiment showed how important delayed gratification really is: Psychologist Walter Mischel placed a marshmallow in front of series of children and left them alone with it for 15 minutes. Before he left he told them that they would get a second marshmallow if they did not eat the first one while he was away. Wait 15 minutes and add 100% – sounds like a great deal. In follow-up studies, the researchers found that children who were able to wait longer for the preferred rewards tended to have better life outcomes, as measured by SAT scores, educational attainment, body mass index, and other life measures.
Christ is in the process of coming. The baby has not hit the hay yet. There are no shortcuts.

The Holiday Season is in full swing and it comes with extreme expectations. We are supposed to connect with a big group of relatives that are hardly familiar on a very intimate level very quickly. Who does not have family around will experience loneliness and disconnect even more brutally. And then there is the obvious food trap.
I want to use the turkey as an allegory for the time between Thanksgiving and New Year's. In November the turkey is all about overeating and overdoing all kinds of indulgences. Come January most people go cold turkey and forbid themselves pleasures via new year's resolutions.
Please be conscious of these traps and treat your emotions like your glucose level. Do not get drawn into the emotional and relational expectations more than necessary. Do not submit your body and soul to a too harsh drop from feast to famine. Avoid the extremes this holiday season.
I walked into the sanctuary this morning. It's Monday morning and I wanted to see how the Advent decorations looked this year. I wasn't around to help set up the afternoon before. But I can tell: Everybody knows exactly what they are doing. Everybody knows exactly where each piece goes. It looks gorgeous – like every year. Then I started checking for the little things that are sometimes off: No, the tree is not crooked. No, the extension cords are in place and actually long enough. All is well. All is as it always has been.
I find that comforting. I like it when tradition keeps me grounded. I think it is healing in an ever more hectic and divided world that there is this bastion of togetherness and grandeur that just falls into place year after year. There is beautiful stability in knowing what's going to happen: The smells, the bells, and all those little things that make the holidays merry and bright.
As I am floating through the sanctuary I lay my eyes on the dozens of nativity scenes that are neatly arranged along the windows. My mood changes. All of a sudden I find myself bored. It is kind of same old same old. How is the gospel of Jesus Christ supposed to come alive for a new generation, for a new day and age when we keep everything exactly the same year after year?

But that's how a liturgical church works. Repeating rhythms come with opportunities and limitations. The paraments are also the same as every year. One shows the Alpha and the Omega, a reference to Revelations where the one who was seated on the throne said, "See, I am making all things new." Wow! There is the promise of newness in the same old same old. That's why we do this: Because the new needs to be birthed out of what came before.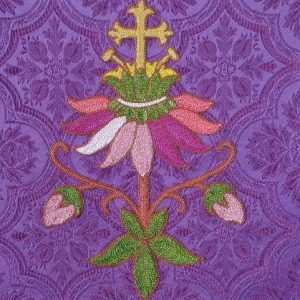 That is also reflected in the other parament with its Isaiah reference: "A shoot shall come out from the stump of Jesse, and a branch shall grow out of his roots." That old kingdom of David is coming to new life and new fruition in an entirely different shape, form and context. Out of an ancient flower grows the cross of Christ. May this Advent season surprise you with its openness to an entirely new future and may its traditional same old symbols guide you into something fresh. It worked for me this morning in the sanctuary.
Thanksgiving is right around the corner. The story goes that the pilgrims thanked God for sustaining them in a strange and dangerous land. They had just escaped another grave set of dangers from their nemesis King James of England. Walking through the four centuries since then we discover a few kings that did not turn out so well.

1600s
King James is not the king. The pilgrims sure did not want to live under him. These separatists did not want to be a part of the king's church so they preferred to risk the journey across the Atlantic instead.

1700s
King George III is not the king. The american colonies declared boldly: "The history of the present King of Great Britain is a history of repeated injuries and usurpations, all having in direct object the establishment of an absolute Tyranny over these States."

1800s
Prince Carl of Solms-Braunfels is not the king. He may have brought the first German settlers to Texas but along with the Adelsverein he did not make good on many of his promises: free land, safety and plenty of opportunities. A lot of it did not come to pass for many early settlers.

1900s
Adolf Hitler is not the king. He demanded worship for himself but the confessing church denounced him declaring: "We reject the false doctrine that beyond its special commission the State should and could become the sole and total order of human life and so fulfill the vocation of the Church as well."

Jesus Christ is the king. This week the church celebrates Christ the King Sunday. The last Sunday of the liturgical calendar puts all of creation, including all of history under the lordship of Jesus Christ. No matter how terrific or horrific our leaders, past or present or future may be, their reign is subject to Christ's reign. And their service will not be judged by how great they are but by how humble they are: "But it is not so among you; but whoever wishes to become great among you must be your servant, and whoever wishes to be first among you must be slave of all." (Mark 10:43-44)
Are you in Christ? Do you want to be in Christ?
You are and it does not matter if you want that!
Paul informed the Corinthians and by extension us: "Everything old has passed away; see everything has become new!"
Through the death and resurrection of Jesus Christ our death and resurrection are in God's past!
We are in Christ not because we choose that or want that but because in Christ the whole world is a new creation.
Paul does not speak about an individual soul. Paul speaks about the whole cosmos: All times and all places are in Christ.
There is nothing and nobody that is not in Christ.
When Paul says Christ, Paul means Christ! This is not about people professing their faith. This is not about people joining a church. This is not at all about what people do. Reconciliation is an act of God. It may or may not show in a person's life here on Earth. Again: Paul speaks about the whole cosmos: All times and places are in Christ. It does not matter for a person's relationship with God whether they come to Jesus in this life. They are in Christ anyway, just because the death and resurrection of Jesus Christ are big enough to blanket-cover all persons of all walks of life, no matter their faith or lack of faith. You don't have to be a good Christian in order to be reconciled to God. God does the reconciling no matter what.
This is what this day is all about. Today we combine two observations: All Saints Day and Reformation Day. And Jesus Christ is where they come together: Martin Luther started the Reformation based on his discoveries that that we are pardoned sinners and God's grace is indeed free. And All Saints Day is when the church remembers that all God's children – living or dead – are in God's hands.
Now let that one sink in: Paul goes even further and states: "God does not count their trespasses against them". The free grace that God gives to the living and the dead applies to your friends and loved ones who are already dead: You may unearth the most horrific stories about your ancestors: God's love is stronger than their sin. God will not count their sins against them because in Christ reconciliation has already happened. Again: Everything is done, taken care off. All sins are forgiven we owe God nothing, God owes us nothing. We're even. All is well.
There is a problem though: Not everybody knows that. Maybe everybody has heard the message of free grace by now. Maybe everybody has some sort of hope for their deceased friends and relatives. But actually finding the peace in your heart that only full reconciliation brings is elusive. We forget. And doubt creeps in: "But God can't be that good. But I messed up really bad." Well, that's where we come in. That's what the church does. Each and everyone of us is an ambassador for Christ.
Even though this world is reconciled with God, we are not reconciled with one another. As ambassadors for Christ we have the ministry of reconciliation. That means we need to model and teach reconciliation: Now, how do you do that?
See yourself as reconciled with God.
See everyone as reconciled with God.
Act as if God were okay with you.
Act as if you were okay with yourself.
Act as if God were okay with everybody.
Act as if you were okay with everybody.
Those things are hard to do. On one hand we need to remind ourselves of God's free grace and then we need to model what reconciliation looks like for the world. Looking at my own soul is not enough. Looking at the souls of my family and friends is not enough. As ambassadors of Christ our ministry does not stop at individual souls. One soul may be a starting point but the goal is to model and teach reconciliation to the whole cosmos. As ambassadors of Christ our job is to bring reconciliation
between Democrats and Republicans after the election,
between police and the communities they serve,
between black and white,
between gay and straight,
between men and women,
and between those who are not easily defined along those binaries.
Now, how do you do that?
The magic formula is to not compare your strengths with their weakness. Everyone can take what they are best at and compare it to another person's weak spot. Now when groups, parties, ethnicities start doing that, reconciliation goes out the window. We need to remind them that we are all made new. We need to regard no one from a human point of view because the separations and distinctions of this world are fleeting and don't count with God. It's so easy to make others look bad. The challenge of reconciliation is to accept that God is okay with everybody.
There is another problem though:
The hardest part is to accept that God is okay with me.
I keep messing up.
I keep beating myself up.
But God doesn't seem to get it because God keeps telling me I am okay.
I cannot forgive myself and keep hurting myself and those most dear to my heart.
But God doesn't seem to get it because God keeps telling me I am okay.
I cannot believe that.
The only way I can stop hurting myself and those most dear to my heart is to believe that I am okay.
I must change!
I must be okay!
I can't do that on my own accord.
God does that. It is the love of Christ that compels us.
Reconciliation takes a changed perspective and maybe it's minimal.
God offers reconciliation no matter what. So the message of All Saints Day and Reformation Day is in a nutshell:

Amen.
This is the last sermon of my three-part series on being church in the great emergence.
Please find parts one and two here.
Jesus tells the parable of the Pharisee and the tax collector. These two men go to the temple to pray. The Pharisee does everything right, all the time, and he prays that way to. The tax collector is really down and with his crushed heart yells out: 'God, be merciful to me, a sinner!'
Be careful with this story. It's a trap! It sets us up for failure. It is written in a way that you can only end up on the wrong side of the story. In very plain terms the obvious good guy is the penitent tax collector. Very clearly we are supposed to identify with him. But when you actually follow the logic of the parable and you want to be the tax collector you end up judging the Pharisee. Identifying with the tax collector we basically pride ourselves to not be like that guy – the Pharisee who thinks so highly of himself. But by doing so we think so incredibly highly of ourselves. So all of sudden as you identify with the tax collector you are turned into the Pharisee. By the way Jesus was a Pharisee, so he is criticizing his own here. And the whole thing revolves around the issue of prayer and the attitude with which you do your praying.
So let's take a look at the two prayer attitudes that are in our story: The Pharisee is well situated: I love my God and I love my life. All is well with my soul! The tax collector is crushed: I hate myself and I hope God does not hate me the way I do! You could say they approach prayer as stereotypes of the optimist and the pessimist: One says the glass half full. For the other one the glass is half empty. But which is true now: Does God want you to feel good about yourself? Or does God want you to feel bad about yourself? The answer is: YES!
Prayer is many things but in its most basic forms it is: mourning one's own misery and praising God's glory. Both is true and both needs to be done. An honest wailing like Job's or the lamentations of Jeremiah is cathartic. A loud and proud Hallelujah like all over the Psalms is uplifting. There are endless modes and attitudes of prayer. With over 3,000 named characters in the Bible you can be sure that they have at least 3,000 very distinct ways to pray.
Let's analyze these two prayers here: 'God, I thank you that I am not like other people: thieves, rogues, adulterers, or even like this tax collector.'
You know who prays that way? – Somebody who was taken advantage of.
He doesn't want to be like a thief: He probably had something stolen from him.
He doesn't want to be like a rogue: He probably was one as a teenager and has outgrown that.
He doesn't want to be like an adulterer: He probably had his dad cheat on his mom and grew up without a father figure.
He doesn't want to be like a tax collector: He is probably still burdened by student loans and is intimidated by wealth.
Is the Pharisee really the bad guy here?
But the tax collector, standing far off, would not even look up to heaven, but was beating his breast and saying, 'God, be merciful to me, a sinner!'
You know who prays that way? – Somebody who wants your sympathy.
He came to the temple to pray. Really? Self-pity and self-loathing he could have done at home as well! He wanted an audience! He's gesturing wildly, beating his chest drawing attention to himself and his own misery. As if God didn't not know of the tax collector's pain. This is certainly a plea for attention directed at the people at the temple. Maybe he doesn't get the attention his soul requires at home. Or maybe he doesn't get the appreciation his soul requires at work. Is the tax collector really the good guy here?
What if both were praying in meaningful ways? Everybody prays in their own way, always have, always will. The prophet Joel says of God: "Then afterward I will pour out my spirit on all flesh." Now, that's a radical notion God's spirit poured out on all flesh includes Pharisees and tax collectors, the hurting and the proud, the pained and the joyful. YES! God wants you to feel good about yourself! YES! God wants you to feel bad about yourself! Your flesh, with all that makes you who you are, is drenched with God's spirit. Your prayer, whatever it may be, is meaningful and true and good.
Welcome to the postmodern era where everybody sets their own standard. If we have learned anything in the postmodern era then it's that: Individuals have the truth in themselves. That's what Joel means when he says the spirit of God is poured out on all flesh. You have the truth! So if and when people go to church in this day and age there is no reason to tell them how to pray the right way. Everybody knows that they can pray however the spirit may give it to them: "Then afterward I will pour out my spirit on all flesh."
That has huge implications for the way we do church because our outward expressions of prayer are transient in nature. And it changes all the time. Jesus and his disciples were good Jews attending the temple with its ancient Hebrew rituals. A generation later Paul and the other Apostles transition to little house churches that are mostly a handful of people gathering in a home for prayer – in the Greek language. Then the church takes over the Roman Empire and starts building cathedrals for the masses to gather for mass. The people turn silent and the priest reads Latin which nobody understands. Since the reformation church is held in every language of every culture. We still have buildings for Sunday use but a lot happens again in house churches. The way the church does its praying is radically changing right before our eyes. With over 300 million people in the US you can be sure that we have at least 300 million very distinct ways to pray.
That's where we are: The truth is in my heart. And nobody can talk to any truth beyond themselves. And the church is still here. And faith is still here. As a matter of fact spirituality is stronger than ever and people have more choices now than they have ever had before. Also prayer is more individualized than ever before. So here is the challenge if we want our Sunday hour to remain relevant: How do we shape our shared worship and corporate prayer in a way that connects with the need for individual devotion? What we do is obviously only compatible with the people who are already here. What we do is not working for most people. That's why they're not here.
I can see three venues where our congregation offers prayer experiences. First, we have corporate prayer in our worship services. Second, we have a list of prayer requests in our newsletter. And third, we open the meetings of our groups, committees and organizations with a prayer. Did I forget anything? Is that supposed to be spiritually fulfilling or filling? Does that really feed a hungry soul?
I know it does not for me. On top of that I have the following prayer practices: We gather as a family at bedtime and say thank you God for all the things we enjoyed over the course of the day. We say grace over every meal at home. I enjoy the set times. It's almost like the ancient monastic prayer times. You see: The church does not have a monopoly on prayer.
In every strip mall there is a shop that offers private meditation classes. For decades the Christian book market has exploded with books for spiritual growth and exploring your inner self in prayer. TV preachers present prayers that are actually more geared towards the people in front of their TVs as opposed to God Almighty. The prayer market is totally saturated yet we as a church decide to not even compete in it in a big way.
Where are places where you can learn to pray? Praying does take practice. It needs to be cultivated. Sometimes prayer is all action that does not require words. Prayer doesn't have to be churchy. But it does require experience. And the most intense prayer experience for me since I have come to Texas are monthly calls that I receive. A Pentecostal part-time preacher who theologically couldn't be farther removed from me, gives me a call every month. I usually let him go to voicemail because what he does is he prays for me and I want to be able to relisten to that when I need a boost later in the month. With his spirit-driven joy and energy he thanks God for my being, my family, my ministry and the work of this church. Then he asks God to continue to bless me and the people around me. Wow! At first I had a hard time accepting that. Now I have come to rely on it. Thank you, my friend.
Maybe that would be a good prayer exercise that I could suggest to all y'all today. We have this wonderful new church directory. The people listed in there agreed to share their contact information with you. Make use of it. I ask you to pray at least twice:
First, ask God who you should pray for.
Second, pray for that person, over the phone or via letter or per email.
You can pray with your own words or find traditional ones.
If you have a hard time coming up with words that seem meaningful don't look any further than your own soul.
Remember the Pharisee?
He didn't want to be like a thief: He probably had something stolen from him.
He din't want to be like a rogue: He probably was one as a teenager and has outgrown that.
He din't want to be like an adulterer: He probably had his dad cheat on his mom and grew up without a father figure.
He din't want to be like a tax collector: He is probably still burdened by student loans and is intimidated by wealth.
The way he talks should give you clues what to pray about.
Remember the tax collector?
Maybe he didn't get the attention his soul requires at home. Or maybe he didn't get the appreciation his soul requires at work.
The way he acts should give you clues what to pray about.
You know, prayer takes practice and you can only get better at it by doing more of it.
Let's practice! Amen!
2017 marks the 500th anniversary of the church. If you want to catch up with the latest app to go with the event check out these two:
Luther's Small Catechism
This new app brings Luther's Small Catechism to Android and iPhone for free. My favorite is that with one touch of the screen I can pull up the morning and evening blessings. What's your favorite chapter?
2017 Luther Bible
The Deutsche Bibelgesellschaft just released a brand new revision of Luther's iconic Bible translation. Until Reformation Day, October 31st, you can download it as a free app for Android and iPhone. This German edition allows bookmarks as well as notes. Grab it while it's free.