Browsing articles in "FAITH"
As an Army Reserve Chaplain I am but a small wheel in the big machinery of the Big Army. But I am posting this to support you today. For years you have had to live in hiding. Just over the last year you were finally officially recognized as valid members of the Army Family. All echelons have undergone training to implement full integration. The trainings that I have helped facilitate showed some of the expected reservations especially around shower questions. This can and will be worked out as it is in militaries around the world.
Today you are under attack again and that is by your boss, our commander-in-chief:
After consultation with my Generals and military experts, please be advised that the United States Government will not accept or allow……

— Donald J. Trump (@realDonaldTrump) July 26, 2017
….Transgender individuals to serve in any capacity in the U.S. Military. Our military must be focused on decisive and overwhelming…..

— Donald J. Trump (@realDonaldTrump) July 26, 2017
Now to be clear: No policy changes were officially published. So far this is just an individual expressing their opinion. Don't lose hope! As Soldiers you have memorized the Soldier's Creed that reminds you, "I will never accept defeat. I will never quit."
Most importantly: don't quit on life! Too many allies have approached me sharing stories of their transgender battle buddies dying from suicide during or shortly after basic training. The President of the United States telling a group of Soldiers that they are unwanted or somehow deficient endangers lives and undermines military readiness.
If you need somebody to process your reactions to today's attack on you, please reach out to your chain of command and your chaplain. Your command is trained to be helpful in the transition process. Your chaplain is there to provide you with the spiritual support that you need. For my tradition I may boldly proclaim that you you were created very good. God affirms your true identity.
#Brexit1776
Well-meaning, patriotic, happy American friends share this meme a lot these days. There are indeed a couple of things that the American Declaration of Independence and the British vote to leave the European Union have in common:
1. People want to rid themselves of perceived oppression.
In 1776 the thirteen colonies made their case against King George: "He has abdicated Government here, by declaring us out of his Protection and waging War against us. He has plundered our seas, ravaged our Coasts, burnt our towns, and destroyed the lives of our people. He is at this time transporting large Armies of foreign Mercenaries to compleat the works of death, desolation and tyranny, already begun with circumstances of Cruelty & perfidy scarcely paralleled in the most barbarous ages, and totally unworthy the Head of a civilized nation."
In 2016 the British electorate did not really know why they did not want to be part of the European Union anymore. As a matter of fact it wasn't until after the vote that Brits started googling "What Is The EU?".
2. People are concerned about the status of migrants
In 1776 the biggest concern for America was and ought to be: How can we get the most people here and make them citizens as quickly and as smoothly as possible? The king of England is hurting us by putting up a fence around our borders: "He has endeavoured to prevent the population of these States; for that purpose obstructing the Laws for Naturalization of Foreigners; refusing to pass others to encourage their migrations hither, and raising the conditions of new Appropriations of Lands."
In 2016 the overall British sentiment was: "We don't want no refugees!"
If you have to parallel the Brexit of 2016 to an event in American history, I propose 1620. The pilgrims were one group of migrants who formed what later became the United Church of Christ. They declared their #Brexit1620 by leaving Britain and finding a new home in America.
In 2017 the United Church of Christ declared itself an Immigrant Welcoming Church. At #UCCGS the pilgrims' sons and daughters remember what it means to be a refugee.
July 4th is not a Brexit but opening your welcoming arms to those oppressed by ruthless empires: "Come to me, all you that are weary and are carrying heavy burdens, and I will give you rest." (Matthew 11:28)
June is LGBT pride month. It stems from protests against the injustice and violence that patrons of the Stonewall Inn had to endure in 1969. We have achieved a lot of progress since. But even in 2017 it still makes sense to wave the rainbow flag boldly. Throughout history its message has been violated. Nazi Germany marked gender-nonconforming people with a pink triangle and gassed them to death alongside the Jews with the star of David on their chest.
The Bible knows the rainbow to be a symbol that God will sustain all of creation no matter what:
"When the bow is in the clouds, I will see it and remember the everlasting covenant between God and every living creature of all flesh that is on the earth." (Genesis 9:16)
It just so happens that among God's creatures are also human beings. It also just so happens that 3.8% of the US population identify as LGBT. Now mind you, these are only the people who have had their "coming out". God's covenant extends to 100% of living creatures.
For the sake of stability and orientation we make our lives easier by grouping people into certain categories: Nazis labeled Jews, Communists and Perverts. Now we know that gender identity is not as easily labelled as we once thought. What does it mean to be a woman or a man? One is strong, the other is weak? One goes to work, the other stays home? One is emotional, the other is rational? One cooks, the other watches TV? One cleans house, the other mows the yard? One manages the kids' activities, the other has a hard time remembering what grade they're in? Wow, my wife is a great man, and I am great woman, or vice versa! Life is much more complex than black or white, male of female, liberal or conservative. Life is a rainbow. There are all kinds of creatures in God's world. All were made beautiful and "very good." We may give them labels like Straight or Lesbian, Gay, Bisexual or Transgender. Or they may not fit any category and be truly Queer.
That's what the rainbow is all about. We are not all the same. We are all different. We all have a unique color. We all belong in a particular stripe of the rainbow. But then these stripes overlap. Pure red overlaps with yellow and forms orange between them. Yellow overlaps with blue on the other side to form green. Purple combines red and blue. Where do you fall on the rainbow? What does it mean to be a man or a woman for you?
The Department of Defense recognizes June as Pride Month. The month of June was chosen for LGBT Pride Month to commemorate the Stonewall riots, which occurred at the end of June 1969. Since then our country has made lots of progress. So:

Today is a Ascension Day. Most of the time, churches will push the observance to the following Sunday, so more people have a chance to attend. Why should Ascension Day matter to you?
1. If you have a German background you would be pleased to learn that Ascension Day doubles as Father's Day. Also it comes as a national holiday that is traditionally celebrated with lots of day-drinking.
2. The theological message of Ascension Day is that the resurrected Jesus went back to heaven. On a practically level that means that Jesus is not here! There is Good News in the fact that the church cannot engage in a Führer cult following a person here on Earth.
This week will you find a church that celebrates this important holiday?
Some weeks in the life of the church look so unassuming. What could possibly be special about this week? Well, as pastor I am obliged to give you three perspectives on the next few days that you may otherwise have missed:

The window named "Ascension" at St. John's United Church of Christ
Thursday, May 25, is Ascension Day. It is a major holiday in the Christian tradition. Everybody remembers how Jesus was born on Christmas and was resurrected on Easter. But the final step of the Jesus story is just as important: his ascension into heaven. Luckily for you we will focus on that story next Sunday at St. John's United Church of Christ so you won't miss a thing. Yes, a pastor is a teacher and I am obliged to remind you of the things you need to know about the Christian faith.
Friday, May 26, is the beginning of Ramadan. It is a major holiday in the Muslim tradition. Now you may say that as church that's none of our business, but it is. Because let's be honest here: How seriously have you been taking the Lenten fast really? I shared my struggles with breaking my caffeine habit. But can you even imagine what it would be like to not eat between sunrise and sunset for an entire month? Our Muslim brothers and sisters live powerful examples of a spiritual practice that we need to get better at again. Yes, a pastor is a spiritual leader and I am obliged to connect you with practices you need to consider.
Monday May 29, is Memorial Day. It is a major holiday in the United States. Now you may say that as church that's none of our business. And to a certain extent that is true. Most Christians in the world have never been to the United States and don't know what this country celebrates on that day. But for people who live here it plays on an important theme that the Christian tradition has also: Reconciliation! After the Civil War both North and South had regional observances for their own war heroes. By the end of the 19th century a nationwide day had reconciled the memorial into one day for all. That is also what our church's message is in a nutshell: "That they may all be one" (John 17:21) Yes, a pastor is preacher and I am obliged to find the Good News in all places.
This week I challenge you to look for Christ in the heavens above, try a new spiritual practice for yourself, and work towards reconciliation in our country and around the world.
Dr. James Emery White warns against "The Great Danger of Orthodoxy". Basically the point he is making is that Christians are too concerned with their focus on the presumable "right believes". Instead he proposes a balance of Orthodoxy (believing the right thing) and Orthopraxy (doing the right thing).
Now, let me be clear: I claim orthodoxy for my faith. My theology is rooted in the ancient ecumenical creeds of the church. It matters to me that there is a path to reconciliation after reformation era condemnations. And yes, especially in American culture I can see how overzealous orthodoxy can be a problem.
But can too much Orthopraxy really be a problem, too?
Let me explain. One of the fundamental splits that the church has suffered, the Great Schism of 1054 is still in full effect. It practically cuts Christianity in half: East and West. From a standpoint of Orthodoxy I am all Western, meaning I firmly stand by the filioque as an important matter of believing correctly. But that is not really what was at stake at the time.In reality it came down to a political power struggle over who ruled the Roman Empire. This supposed question of Orthodoxy was really a failure in Orthopraxy.
Christians have not sufficiently practiced Jesus's dictum "Love your neighbor as yourself". As matter of fact I think Jesus dismissed Orthodoxy over and over again: When some said you could not feed your friends on the Sabbath, he told them to set their priorities straight. When a man asked him, "what must I do to go to heaven?" Jesus's answer is always: "Practice love!"
Yes, too much Orthodoxy can cause problems. But how can too much Orthopraxy cause problems? What are minimum standards of thinking and believing that make a person Orthodox? Because here is the real crux of the matter: If you tell somebody they believe the wrong thing or the wrong way, you are not practicing love. If anyone wants to impose their Orthodoxy on another person they are neglecting their Orthopraxy.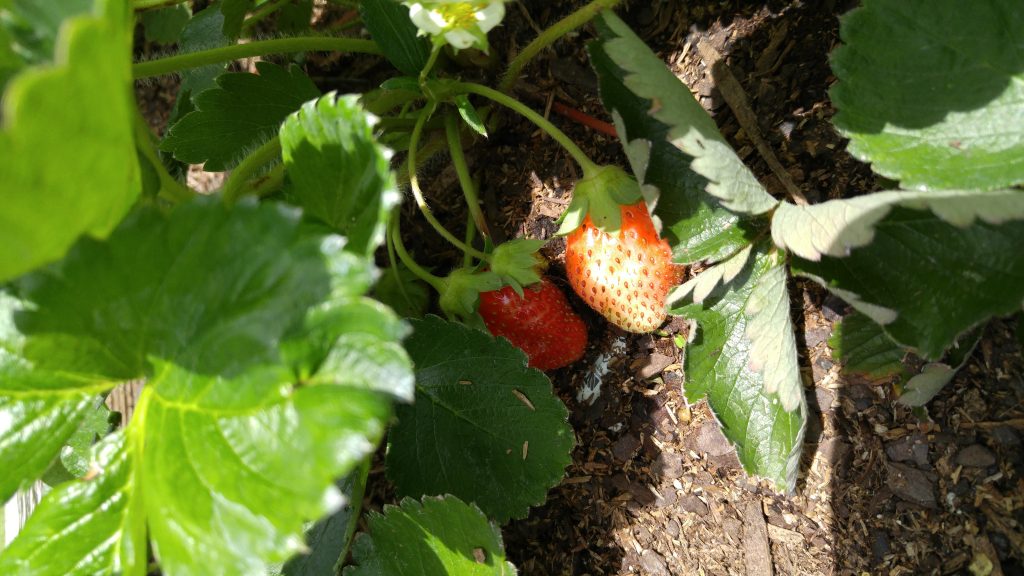 The strawberries are growing just fine. So are the tomatoes. And the carrots. And the peppers. And the flowers. You get the picture. Our garden is almost ripe for the harvest. For that to happen it takes the usual ingredients of sunshine and water. But then our garden plants bring their very own special skill to their growth process: They put down their roots.
To a vagabond like me, that is a pretty impressive feat. I honestly do not know what it feels like to live in one place for most of your life. Our strawberries, vegetables and flowers do, but I don't. In my childhood garden I used to grow all kinds berries and carrots. As a grownup the longest I have ever lived in one place was two years. Our current home holds the record of almost three years. I am turning into a plant that knows how to put down roots again.
The Psalmist knows that putting roots down is an important skill, saying about God's blessed, "They are like trees planted by streams of water, which yield their fruit in its season, and their leaves do not whither. In all they do, they prosper." (Psalm 1:3) The German in me has always imagined this tree to be an Oaktree of at least one hundred years. The Psalmist was most likely thinking of Middle Eastern olive trees. Some of those trees from biblical times are still around today.
There is something to be said for staying put:
– You mature more.
– You wrestle more with yourself and your surroundings.
– You learn to adjust.
– You learn to not just move on when the going gets rough.
– Once you put your roots down far enough the wind can no longer blow you down that easily.
Maybe that is what my garden plants can teach me: Our neighborhood may be as young as 10 or so years but still it is a place worth growing into. There is fertile ground here. Stay and grow.
What is your experience of putting down roots?
CROP Hunger Walks are community-wide events sponsored by Church World Service and organized by local congregations or groups to raise funds to end hunger at home and around the world. Our CROP Walk for West Fort Bend County will be held on Saturday, April 29th at George Ranch. Registration opens at 07;30. The walk begins at 08:00.
Background
With its inception in 1969, CROP Hunger Walks are "viewed by many as the granddaddy of charity walks," notes the Los Angeles Times (Oct. 26, 2009). On October 17, 1969, a thousand people in Bismarck, ND, walked in what may have been the start of the hunger walks related to CROP – and raised $25,000 to help stop hunger. As far as we know, York County, Penn., was the first walk officially called the CROP Walk for the Hungry – and that event has been continuous since 1970. For West Fort Bend County we started the CROP in 1972. Currently, well over 2,000 communities across the U.S. join in more than 1,000 CROP Hunger Walks each year. More than five million CROP Hunger Walkers have participated in more than 36,000 CROP Hunger Walks in the last two decades alone. Last year, St. John's United Church of Christ contributed 37 out of 118 walkers and $2801 out of $12038 total.
What does CROP stand for?
When CROP began in 1947 (under the wing of Church World Service, which was founded in 1946), CROP was an acronym for the Christian Rural Overseas Program. Its primary mission was to help Midwest farm families to share their grain with hungry neighbors in post-World War II Europe and Asia. Today, we've outgrown the acronym but we retain it as the historic name of the program.
Where do CROP Hunger Walk funds go?
CROP Hunger Walks help to support the overall work of Church World Service, particularly grassroots development efforts around the world. In addition, 25 percent of the funds raised remain in Fort Bend County and go directly to Helping Hands, our local food-bank in Richmond. CROP Hunger Walks help to provide food and water, as well as resources that empower people to meet their own needs. From seeds and tools to wells and water systems, the key is people working together to identify their own development priorities, their strengths and their needs – something CWS has learned through 70 years of working in partnership around the world.
I recently had a chance to connect back with the Italian side of my family. We had not spoken in over 20 years. But now passageways into a new connection have opened up. That is my current experience with what the month of April is all about. The name April comes from the Latin aperire, aprire in Italian, abrir in Spanish, which in English means "to open". It probably comes from the flowers opening up as they start blossoming in the spring. For me connections to extended family are starting to spring up. With April drill weekend upon us in which ways are you willing to open up and start blossoming?