Browsing articles in "BLOGGING"
Two impressions from a very special day:
Marie's first day of Skiing at 3 years and 5 days old.
The Federal Republic of Germany sent their official welcome present to Phoebe:
A germany.info coffee mug. Love it!

Filled with gratefulness and joy we announce our daughter's birth:
Phoebe Katharina Haas was delivered by cesarean on August 22 2009 at 3:47 pm.
She was 21 in tall and weighed 7 lbs 12 oz. Mother and child are in good health.
Now Marie is a proud and loving big sister!

The WZ wrote a nice farewell article in Wuppertal – now the Daily Herald says welcome.
We have arrived!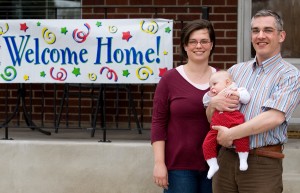 Early times email provider m@il.com finally meets today's standards. They have always been great in offering over 250 choices in domain names for your email adress. The Faith / Philosphies Category alone accounts for 11 choices:
angelic.com
atheist.com
minister.com
muslim.com
oath.com
orthodox.com
priest.com
protestant.com
reborn.com
religious.com
saintly.com
Not included are all the fan names they offer via NHL Email.
This week they increased storage from 100MB to a 3 Gigabytes for free accounts.


We are still relocating both offline and online.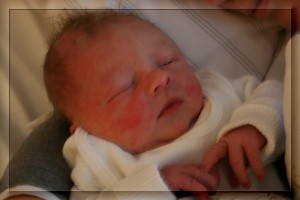 Full of gratefulness and joy we are announcing our daughter's birth:
Marie Sophie Haas was delivered by cesarean on January 9 2008 at 4:55 am.
She was 20.47 in tall and weighed 122.40 oz.
Mother and child are in good health.
lemon from Church 2.0 – the blog is reminded that there are still a number of folks who don't share appreciation of the medium "weblog" and thus recomends watching "Blogs in Plain English".
With the help of blogs, "a sports star can share news with fans". That's Church 2.0 at its best.

In his fascinating latest movie "I Am Legend" Will Smith is the last man on earth. His routine of the day begins with exercise: treadmill and pull-ups.
Later on a Judeo-Christian theme gets introduced, the creatures lay siege to the townhouse, and Robert discovers the antidote for the plague.
This is post # 101 on PlayersPrayers.com.
Time to celebrate by looking back and forth.
First let's look back to about half a year ago when we had our first social bookmarking test. When you say social bookmarking you bet delicious is to win the game. Not here: it was furl.
But since delicious celebrated their 4th birthday not long ago and has announced a major redesign, it is time now to redo our test.
What's the most useful social bookmarking site for PlayersPrayers readers?
– A test on "sport and spirituality":
#1 Furl with 777 results
#2 del.icio.us with 49 results
#4 simpy with 4 results
#4 mister-wong with 1 result
Still delicious is only number two when it comes to highly specific bookmarks. Yet it is still number one as size matters.
Now let's take a look deeper in the past: PlayersPrayers started on March 30th in 2004. Since then there have been 423 posts. On December 28th 2006 we launched this international edition you are now reading. Over the last few weeks it became clear that PlayersPrayers' future is not in Germany. With the death of NFL Europa the end of German PlayersPrayers has begun.
Now it's time to focus on future: The readers of PlayersPrayers.de are encouraged to follow us to PlayersPrayers.com. The feedburner redirect is set to do that for you automatically. Thanks go our to our partners and friends, especially at sportrevue and FIVE for supporting our mission.
Thanks and stay tuned on PlayersPrayers.com.