Browsing articles in "BLOGGING"
Fall in the air. Changing seasons remind us we can change. You decide who you want to be.

— Dave Ramsey (@DaveRamsey) September 13, 2015

Last week I wrote about the concept of time. Let's stick with that another week because fall is in the air! How do I know that: Well, it is cooler and we are in that period between Labor Day and the September equinox both of which are commonly used to determine the beginning of fall. On a personal level people talk about the fall season of their lives either when the kids move out of the house or when they retire.
I like fall because it is easier to spend time outdoors. And the prospect of a quiet house and more free time sounds appealing as well. But in reality retirement is not as calm as people usually expect it to be and an empty nest can feel pretty lonely. Every season has its advantages and downsides. Here is the good news: Every season is just that: a season. This too shall pass. All aspects of life go through cycles: Relationships, finances, and yes, also faith expressions.
A lot of times churches tell themselves that they need to have the biggest and greatest children's ministry because young families are the future of the church. Don't get me wrong here: I am one of the strongest proponents of youth and children's programs, but: I am not interested in a church that focuses on young families. I love the church when it has something for everyone. Here is a radical suggestion for people who are church shopping: Don't look at the congregation that you visit only from the angle of how it fits into your life right now. Also consider how it will serve you in the fall season of your life: Are you confident they will provide the best memorial service at your death?
Yes, I know I am a dinosaur of pastor that actually still believes in this old-fashioned church model of cradle to grave. Only if there is something in it for everyone can it be relevant to all the people in all their ever changing seasons of life. "Here I stand; I can do no other. God help me." as Martin Luther said.

A kiss may still be a kiss as time goes by, but exactly how time goes by has always been up for debate: At sunset on September 13th, our Jewish brothers and sisters will welcome the new year 3776. That is based on a lunar calendar and used to schedule holidays and other religious observances. You may compare it to our liturgical calendar which starts on the first Sunday of Advent. If you are following politics you may be aware that the fiscal year ends on September 30th.
Every entity has its own calendar. The dates that we commonly use nowadays are from the Gregorian calendar. It is named for Pope Gregory XIII, who introduced it in 1582. It replaced the Julian calendar which was introduced by Julius Caesar in 46 BCE. Initially Protestants like us did not want to make the switch because it was imposed by the Pope. Who gets to set the world schedule? Who is in charge here?
And after thousands of years of calendar-making the whole system is still far from perfect. You may think you know how many days there are in a year but reality is that there are 365 days, 5 hours, 49 minutes and 12 seconds. We need a leap year every four years except for years that are exactly divisible by 100, but these centurial years are leap years if they are exactly divisible by 400. Confused yet?
Bottom lime: Time is not real, or at least it's not objective: It's a way in which we tell out stories. Every family has its own time line:
Remember when we moved from that town to this city?
Oh, everything changed after our baby was born!
Those were interesting times when I worked at that place.
Truth is: your time is yours alone and calendars are just attempts to synchronize us together into larger contexts like business schedules or holidays. Time is fundamentally relative, as Albert Einstein put it. Tell your story your way and be aware that everybody else does that, too.
To our Jewish friends: Shanah Tovah!
Here are two things to ponder this Labor Day Weekend:
1. How come women are still paid less than men?

2. What do labels like "employee" and "employer" mean in the sharing economy?

What are your thoughts?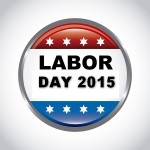 Labor Day started as an important reminder for all the benefits that workers have gained from organizing. These days it seems to have turned into an occasion for mattress sales. The issues of fairness and justice have always been important to God's people. God's law is in large part instructions for social justice like this passage from Deuteronomy 24:14-22
"You shall not withhold the wages of poor and needy laborers, whether other Israelites or aliens who reside in your land in one of your towns. You shall pay them their wages daily before sunset, because they are poor and their livelihood depends on them; otherwise they might cry to the Lord against you, and you would incur guilt. Parents shall not be put to death for their children, nor shall children be put to death for their parents; only for their own crimes may persons be put to death. You shall not deprive a resident alien or an orphan of justice; you shall not take a widow's garment in pledge. Remember that you were a slave in Egypt and the Lord your God redeemed you from there; therefore I command you to do this. When you reap your harvest in your field and forget a sheaf in the field, you shall not go back to get it; it shall be left for the alien, the orphan, and the widow, so that the Lord your God may bless you in all your undertakings. When you beat your olive trees, do not strip what is left; it shall be for the alien, the orphan, and the widow. When you gather the grapes of your vineyard, do not glean what is left; it shall be for the alien, the orphan, and the widow. Remember that you were a slave in the land of Egypt; therefore I am commanding you to do this."
In all aspects of daily life we are trying to optimize the use of resources. We want to get the biggest bang for our buck. We are looking for the very best deal on mattresses as it is. So it is totally counter-cultural to read this biblical mandate of inefficiency:
"When you gather the grapes of your vineyard, do not glean what is left; it shall be for the alien, the orphan, and the widow."
Let me translate that into our reality: When you put together a shift plan be mindful of the single mom who needs to pick up the kids from daycare. The immigrants working in your business deserve a fair wage and you cannot exploit them because they do not have better opportunities. When kids go from foster home to foster home you owe it to them to provide public schools for them that help them get ahead in life.
At first glance all this is not economically efficient: typically you want to reduce labor cost as much as you can. Typically you can tell your workers to show up whenever you need them. Paying higher taxes for other people's children does not directly benefit your own. But God commands inefficiencies like these. Be intentional about it.
Why? Well, you might find yourself in a situation where you require the assistance that only a fair and just society has to offer. Or as spoken to Israel remembering their former yoke :
"Remember that you were a slave in the land of Egypt; therefore I am commanding you to do this."
For my ministry I have two different uniforms: My Prussian robe is my Sunday best that connects me to the deep and rich roots of our tradition. One weekend per month I change after church to put on my uniform as a United States Army Reserve Chaplain. It may look like two separate ministries that are at odds every now and then. In reality though it is one ministry, endorsed by one body. The United Church of Christ connects me with my congregation and endorses me for military chaplaincy. Serving in two worlds comes with a unique set of challenges and benefits:
It is challenging for me: Last year I had to miss my wife's and our middle daughter's birthday. Besides the monthly drill, reservists also have annual training during the summer which lasts from two to three weeks. This year I missed our big family trip to Germany because of it. It is a big commitment that cuts substantially into family time.
It is challenging for the congregation: Some things can be scheduled well in advance like finding supply preachers to fill the pulpit while I am gone. But then there are pastoral needs when people need a visit and they know it is not going to happen. Or when someone dies and the memorial has to be conducted by another supply preacher.
It is beneficial for me: Serving in the military besides full-time church ministry keeps me on my toes. It makes me more efficient in my planning and I welcome the change of pace that comes with serving in different settings. It makes me a better pastor since serving both uniforms offers unique experiences that you cannot get anywhere else.
It is beneficial for the church: My congregation views its support of my military ministry as a service to our service members. They take pride in the fact that they allow me to be there for our Soldiers in need. The large veteran population in our church finds it easier to open up about the time when they served and oftentimes I see men in their 80s revisit their Korean war demons for the first time. When budget time comes the board members are appreciative of the fact that the Army provides me with continuing education and a comprehensive benefit package which equals added benefits for the church.
Serving both as a local church pastor and an Army Reserve Chaplain is something God calls me to do and by entering a covenant with me the church has agreed to make it their call as well. In return they get a well-balanced pastor.
Agreement is a step away from specter of conflict, towards possibility of peace. This is the good deal we have sought pic.twitter.com/JY9YSZrPQs

— John Kerry (@JohnKerry) July 14, 2015

The so-called Iran nuclear deal is a good deal. For years I have retweeted President Netanyahu's calls for tougher negotiations. He is still not content but I am. Here is why:
Time: In almost all provisions the Joint Comprehensive Plan of Action will be in effective for at least ten years. While some critics call that too short let's be honest: What in life last longer than ten years? Just compare your own life to where you were ten years ago. In my estimation that is a significant amount of time.
Inspections: They will be ubiquitous and very thorough. Hiding a nuclear arms program will no longer be possible.
Sanctions: Lifting sanctions at the front end instead after good behavior is a classic carrot and stick approach: You behave, you can keep your carrots but once you start cheating we will get the stick out again in no time. That builds positive incentives.
Use of force: If all fails the international community now actually has a tool in its hand that allows for military action. Judging from the experience with Iraq and its non-compliance in the years leading up to Operation Iraqi Freedom it seems wise to have that stick available. Should inspections not be satisfactory Annex I, para. 78 states:
"If the absence of undeclared nuclear materials and activities or activities
inconsistent with the JCPOA cannot be verified after the implementation of the
alternative arrangements agreed by Iran and the IAEA, or if the two sides are
unable to reach satisfactory arrangements to verify the absence of undeclared
nuclear materials and activities or activities inconsistent with the JCPOA at the
specified locations within 14 days of the IAEA's original request for access, Iran,
in consultation with the members of the Joint Commission, would resolve the
IAEA's concerns through necessary means agreed between Iran and the IAEA. In
the absence of an agreement, the members of the Joint Commission, by consensus
or by a vote of 5 or more of its 8 members, would advise on the necessary means
to resolve the IAEA's concerns. The process of consultation with, and any action
by, the members of the Joint Commission would not exceed 7 days, and Iran
would implement the necessary means within 3 additional days."
Politics: Now the real good news is in the composition of the Joint Commission: Outside of the Joint Comprehensive Plan of Action every step would require the UN security council to come to an agreement that would not be vetoed by China or Russia. According to Annex IV, para. 1.2:
"The Joint Commission is comprised of representatives of Iran and the E3/EU+3
(China, France, Germany, the Russian Federation, the United Kingdom, and the United
States, with the High Representative of the Union for Foreign Affairs and Security
Policy), together, the JCPOA participants."
That means in order to establish non-compliance it only takes an agreement between the EU, France, Germany, UK and US. This majority is what makes me most confident in the JCPOA.
You can find all the documents of the agreement with the High Representative of the Union for Foreign Affairs and SecurityPolicy.

Healing in American Christianity has a somewhat bitter flavor in my mind. The stereotypical TV preacher was perfectly depicted and ridiculed by Genesis in their 1991 music video "Jesus he knows me". A sad affair where show and business mingle. That said there is room for healing services in the church. The United Church of Christ even has an Order for Healing for Congregational Use. Our next healing service will be held on August 9, 2015. Here is an introduction, taken from the Book of Worship with a local Rosenberg twist:
Services of healing have a biblical heritage appropriate for the full life of a local church. Anointing and the laying on of hands are acts closely related to the covenant of faithful love between God and Israel and between God and the church. In scripture, monarchs are anointed, prophets commissioned, the Holy Spirit conferred, the sick healed, and the dead raised in acts of faith accompanied by anointing with oil, the laying on of hands, or touch in another form. The symbolism of touch has survived almost universally among churches in the laying on of hands at confirmation and ordination. The power of touch in healing is finding renewed acceptance as is the unity of the total person.
In the New Testament, faith, forgiveness of sins, and healing are frequently inseparable but distinct aspects of one experience. Out of mercy and compassion, God works to bring about reconciliation that restores peace between God and humanity, among individuals and communities, within each person, and between humankind and the creation. Guilt, anxiety, fear, broken relationships, and the loneliness of alienation all contribute to human sickness. Healing, in the Christian sense, is the reintegration of body, mind, emotions, and spirit that permits people, in community, to live life fully in a creation honored by prudent and respectful use.
In this healing service, four themes are intertwined: God's word, growth in faith, forgiveness of sin, human touch.
At St. John's United Church of Christ our healing service is part of Holy Communion: Together with the confession of sin and the assurance of pardon the whole person is strengthened to approach the Lord's table with a sense of integrity.
In scripture, God's word reassures us of the Creator's love and compassion. Jesus' acts of healing, the healing ministry of the New Testament church, and contemporary experiences of healing all testify to the health and fullness God makes possible in human life.
Faith in the inclusive sense of trust and belief in God's unmerited goodness is an integral cornerstone of the New Testament understanding of healing. Individuals and communities of believers nurture each other in their mutual growth in faith. God does not promise that we will be spared suffering, but does promise to be with us in our suffering. Trusting that promise, we are enabled to bear the unbearable and recognize God's sustaining nearness in pain, in sickness, and in injury.
Forgiveness of sin is often closely associated with healing in the New Testament. The connection of forgiveness and healing affirms the psychosomatic unity of individuals recognized by modern health sciences. It admits the importance of openness and honesty to every relationship of love. It sets health in the context of relationships restored by confession and forgiveness.
In the New Testament, touch plays a central role in the healing ministry. The power of touch is recognized, whether in the anointing with oil, the laying on of hands, or the less formal gesture of holding someone's hand or touching a wound. Jesus frequently touched others: blessing children, washing feet, healing injuries or disease, and raising people from death. Jesus also allowed himself to be touched, washed, embraced, anointed. To allow oneself to be touched is an act of openness. To touch another is an act of acceptance in which a person transfers something of oneself to another: love, affection, protection, strength, power, acceptance. Touch in the healing ministry embodies the embrace of God for the redeemed creation when in the mystery of last things God will make all things new.

I am grateful for the opportunity to be once again invited to lead the Rosenberg City Council in a prayer of invocation tonight. As always you have a full agenda and tonight you are making two presentations that I want to reflect on for a moment: Our Lady of Guadelupe Catholic Church is being recognized for the beautification of their property and the month of July is recognized as Parks and Recreation month in the City of Rosenberg. The Bishop of Rome just a few weeks ago released his ENCYCLICAL LETTER LAUDATO SI' celebrating the beauty of mother Earth in a similar attempt. Let me share the first couple of paragraphs with y'all and then lead into Francis' prayer that can be found at the end of his encyclical ON CARE FOR OUR COMMON HOME:
1. "LAUDATO SI', mi' Signore" – "Praise be to you, my Lord". In the words of this beautiful canticle, Saint Francis of Assisi reminds us that our common home is like a sister with whom we share our life and a beautiful mother who opens her arms to embrace us. "Praise be to you, my Lord, through our Sister, Mother Earth, who sustains and governs us, and who produces various fruit with coloured flowers and herbs".
2. This sister now cries out to us because of the harm we have inflicted on her by our irresponsible use and abuse of the goods with which God has endowed her. We have come to see ourselves as her lords and masters, entitled to plunder her at will. The violence present in our hearts, wounded by sin, is also reflected in the symptoms of sickness evident in the soil, in the water, in the air and in all forms of life. This is why the earth herself, burdened and laid waste, is among the most abandoned and maltreated of our poor; she "groans in travail" (Rom 8:22). We have forgotten that we ourselves are dust of the earth (cf. Gen 2:7); our very bodies are made up of her elements, we breathe her air and we receive life and refreshment from her waters.
Remembering our beautiful city parks that survived recent flooding and celebrating America's independence with a fun filled evening at Seabourne Creek Park, let us pray:
"All-powerful God, you are present in the whole universe
and in the smallest of your creatures.
You embrace with your tenderness all that exists.
Pour out upon us the power of your love,
that we may protect life and beauty.
Fill us with peace, that we may live
as brothers and sisters, harming no one.
O God of the poor,
help us to rescue the abandoned and forgotten of this earth,
so precious in your eyes.
Bring healing to our lives,
that we may protect the world and not prey on it,
that we may sow beauty, not pollution and destruction.
Touch the hearts
of those who look only for gain
at the expense of the poor and the earth.
Teach us to discover the worth of each thing,
to be filled with awe and contemplation,
to recognize that we are profoundly united
with every creature
as we journey towards your infinite light.
We thank you for being with us each day.
Encourage us, we pray, in our struggle
for justice, love and peace."
Amen.
"Human dignity has long been understood in this country to be innate. When the Framers proclaimed in the Declaration of Independence that 'all men are created equal' and 'endowed by their Creator with certain unalienable Rights,' they referred to a vision of mankind in which all humans are created in the image of God and therefore of inherent worth. That vision is the foundation upon which this Nation was built."
In his dissent to the Supreme Court Decision to establish marriage equality in the entire United States, Justice Thomas quotes the Declaration of Independence. How, from that quote he comes to opposing equality is beyond me and the majority of the people in this country as well as its Supreme Court Justices.
I have made it my habit to read the Declaration of Independence on the Fourth of July. Usually this old document has something to say that is relevant today:
In 2012 pushing for immigration
In 2014 keeping Texas clean.
In 2015 celebrating marriage equality.
What exactly are those rights again that all men are equally created with?
Life, Liberty and the pursuit of Happiness!
Who are those men that were created equally?
"Men" have been substantially redefined since 1776: The term now is understood to mean women and people of color as well.
How does one pursue happiness?
Marriage is one way in which my wife and I pursue happiness. All Americans have had that right since 1776.
I am fixin' to attend the United Church of Christ General Synod 2015 in Cleveland, Ohio, June 26-30. Every two years delegates and visitors from all over the country convene for the business and celebration of our wider church family. A reunion of sorts representing 1,000,000 people. Like many attendees I will post regular updates using the hashtag #GS2015. Back in Germany the national setting of the church has a similar event that just concluded a couple of weeks ago. Here is a report that has been shared via the World Council of Churches:

Tens of thousands of people from Germany and beyond have converged on the city of Stuttgart for a five-day festival of faith, debates, music, worship and culture. Open-air services in different parts of the city marked the start of the German Protestant Kirchentag, or church convention, which began on 3 June and continues until 7 June.
The event is Germany's biggest Protestant gathering, taking place every two years in a different German city. It brings together tens of thousands of participants, including personalities from political, economic and national life. The Kirchentag was founded in 1949 by Protestant lay people to strengthen democratic culture after the Nazi dictatorship and the Second World War. The Kirchentag also serves as a major forum for debates on such matters as nuclear power, climate change, and the financial crisis. Alongside such discussions, it offers opportunities for worship, music and culture. The event features 2500 individual events in Stuttgart.
Speaking at the opening ceremony, German President Joachim Gauck underlined the role of the Kirchentag in motivating people to tackle the major issues of the time. "Poverty, injustice, lack of peace, intolerance and environmental degradation affect people in many parts of the world," said Gauck. "Those who live by faith do not want only to be spectators in the face of such developments. They are looking for responses that will help them to act." Gauck was a Protestant pastor in the former East Germany and became active in the 1989 protests against communist rule that led to the unification of Germany the following year. Alongside Gauck, Chancellor Angela Merkel and former United Nations Secretary-General Kofi Annan are scheduled to address the gathering.
Almost 100,000 people are registered for the whole of the five-day meeting. The assembly takes place this year under the biblical theme "That we may become wise," based on a verse from the book of Psalms (90:12). The president of the 2015 Kirchentag, Andreas Barner, underlined the need for wisdom in "how we deal with each other, how we deal with our natural resources, and with our world." At the same time, he said, "The sustainability of our society depends on the extent to which we develop the ability to create and to preserve peace." Barner, a Protestant layperson and business leader, referred in particular to the continuing reports of people drowning in the Mediterranean as they try to reach Europe from North Africa. Such deaths must come to an immediate end, he said.
The Kirchentag has strong ecumenical links in Germany and beyond, with more than 5000 international guests at the Stuttgart meeting. They include a high-level delegation from Korea and large groups of participants from Indonesia and Nigeria. On 6 June, the general secretary of the World Council of Churches, the Rev. Dr Olav Fykse Tveit, will take part in a day of events linked to the Pilgrimage of Justice and Peace, launched by the WCC following its 2013 assembly.