Browsing articles in "BLOGGING"

This is my Swiss Army Knife. There are many like it but this is mine. It says Porsche on one side because the car dealership my dad used to work for sold cars of that make. Also it has a bad dent in it so I can't get the toothpick out anymore. I have had it for most of my life and that's what happens. Along life's journey we get dinged and bruised and move on regardless. This is my Swiss Army Knife.

This is Apollo 11. Around this time of year in 1969 they took off to humanity's first mission to the moon. They had with them all the tools they needed to be successful. Buzz Aldrin even brought along a communion set and celebrated the Lord's Supper on the Moon. What tools would you need to sustain yourself spiritually for a trip to the moon? What skills would you need to stay in touch with the Divine if you were to spend a whole year on the International Space Station like Scott Kelly did from 2015 until 2016? Going forward this question will only grow bigger: What source of strength do you find in yourself that keeps you sane on a one-way trip to Mars?
Most of us don't have to plan for extended trips to space. But the question remains: What tools do you need in your pocket to make it through the day? What kind of spiritual Swiss Army Knife do you need in your heart and mind?
For a long time Christians have found it helpful to memorize the Lord's Prayer. I think of it as the long blade of my spiritual Swiss Army Knife. I can carry it with me wherever I am on life's journey. It is helpful in many different situations. But then it's only one piece of equipment among many others that I need in order to make it through the day or all the way to Mars.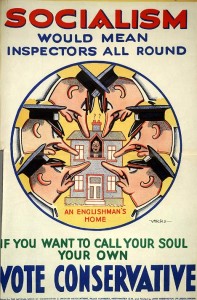 (English poster for the 1929 elections)
Merriam-Webster has picked a word of the year. Actually they did not: they declared 2015 the year of a suffix: -ism.
Since 9/11 the world has been flushed with -isms related to terror-ism. The recent shootings in San Bernardino brought it back to the top of the agenda.
This trend toward -isms gains steam in a presidential election cycle that is fueled by labels: conservatism and liberalism. One candidate gets accused of promoting fascism, another embraces socialism. Pick your label that you like or hate.
In the United Church of Christ we are intentional about exposing and ending the negative labeling of persons: sexism, genderism, ableism, racism. We have consistently stood up for the equal treatment of all God's children. Whenever a group of people has been singled out via an -ism we have stood right there with them.
"You are those who justify yourselves in the sight of others; but God knows your hearts" (Luke 16:15)
It is so tempting to look at people and judge a book by its cover. We slap labels on people so we can categorize them. That is useful to a certain degree in order to find orientation in the world. But throwing -isms around as a method of judgement is just lazy because it cuts short a deeper exploration of a person or idea. We must acknowledge the sin of -ism. Because when we don't we are bound to commit it because it is so convenient.
I have read two pastoral autobiographies lately. You would say they could not be any more different:
1. Eugene Peterson's The Pastor is about him starting a family-oriented home town church in suburbia at a time when his baby boomer generation was just moving into their starter homes.
2. Nadia Bolz-Weber found her call to ministry later in life and is kind of a poster child for the postmodern, meaning-making, downtown hipster church culture.
To me the secret to their successes in ministries has more in common than meets the eye. Behind the obvious cultural differences they do the exact same thing: They open their lives not only to friends and parishioners but the broader public. They are low-boundary people.
I cringe when church functions are invited into their homes. I get uncomfortable when the privacy of church members is at risk when pastor talks too much. I worry about the example they set for colleagues to the left and to the right. If this model of doing pastoral ministry were the norm most pastors, including myself, would not be any good. People who open up that much intimidate me.

Wow, did you see what just happened? I opened up! All I set out to do was to write a book review for Accidental Saints by Nadia Bolz-Weber. And now here I am becoming more like her. At first I was appalled by the book, but reading what I write about it, I must admit: You cannot argue with its transformational power. I guess I am one of those Accidental Saints, too. I guess everybody is to a certain extent.
Disclaimer: I received this book from Blogging for Books for this review.
With our St. Martin's Day Celebration fast approaching it is time to get your supplies ready to build your lanterns. We will gather on November 12th at 5pm to build them. Then it's stew supper at 6:30 followed by a skit and finally our lantern procession. Please RSVP on Facebook.
The most common one is based on a box of Brie cheese. Detailed instructions are over at UK-German Connection.

Another easy way is to use a two-liter soda bottle or a milk jug as your body. Since it's transparent to light all it needs is stickers as decoration or like this found on Pinterest.

A word on lighting: We will have several pre-lit handles available. But please plan to bring electric tealights or glow-sticks in case we run out.

A great source for more lantern patterns and craft suggestions is Heiliger-Martin.de It has instructions with images so don't let the German language deter you.

Fall in the air. Changing seasons remind us we can change. You decide who you want to be.

— Dave Ramsey (@DaveRamsey) September 13, 2015

Last week I wrote about the concept of time. Let's stick with that another week because fall is in the air! How do I know that: Well, it is cooler and we are in that period between Labor Day and the September equinox both of which are commonly used to determine the beginning of fall. On a personal level people talk about the fall season of their lives either when the kids move out of the house or when they retire.
I like fall because it is easier to spend time outdoors. And the prospect of a quiet house and more free time sounds appealing as well. But in reality retirement is not as calm as people usually expect it to be and an empty nest can feel pretty lonely. Every season has its advantages and downsides. Here is the good news: Every season is just that: a season. This too shall pass. All aspects of life go through cycles: Relationships, finances, and yes, also faith expressions.
A lot of times churches tell themselves that they need to have the biggest and greatest children's ministry because young families are the future of the church. Don't get me wrong here: I am one of the strongest proponents of youth and children's programs, but: I am not interested in a church that focuses on young families. I love the church when it has something for everyone. Here is a radical suggestion for people who are church shopping: Don't look at the congregation that you visit only from the angle of how it fits into your life right now. Also consider how it will serve you in the fall season of your life: Are you confident they will provide the best memorial service at your death?
Yes, I know I am a dinosaur of pastor that actually still believes in this old-fashioned church model of cradle to grave. Only if there is something in it for everyone can it be relevant to all the people in all their ever changing seasons of life. "Here I stand; I can do no other. God help me." as Martin Luther said.

A kiss may still be a kiss as time goes by, but exactly how time goes by has always been up for debate: At sunset on September 13th, our Jewish brothers and sisters will welcome the new year 3776. That is based on a lunar calendar and used to schedule holidays and other religious observances. You may compare it to our liturgical calendar which starts on the first Sunday of Advent. If you are following politics you may be aware that the fiscal year ends on September 30th.
Every entity has its own calendar. The dates that we commonly use nowadays are from the Gregorian calendar. It is named for Pope Gregory XIII, who introduced it in 1582. It replaced the Julian calendar which was introduced by Julius Caesar in 46 BCE. Initially Protestants like us did not want to make the switch because it was imposed by the Pope. Who gets to set the world schedule? Who is in charge here?
And after thousands of years of calendar-making the whole system is still far from perfect. You may think you know how many days there are in a year but reality is that there are 365 days, 5 hours, 49 minutes and 12 seconds. We need a leap year every four years except for years that are exactly divisible by 100, but these centurial years are leap years if they are exactly divisible by 400. Confused yet?
Bottom lime: Time is not real, or at least it's not objective: It's a way in which we tell out stories. Every family has its own time line:
Remember when we moved from that town to this city?
Oh, everything changed after our baby was born!
Those were interesting times when I worked at that place.
Truth is: your time is yours alone and calendars are just attempts to synchronize us together into larger contexts like business schedules or holidays. Time is fundamentally relative, as Albert Einstein put it. Tell your story your way and be aware that everybody else does that, too.
To our Jewish friends: Shanah Tovah!
Last weekend they announced the concert lineup for the Rodeo Houston. Brad Paisley is going to perform. That is big for Mirjam and I for we really admire his work. On Saturday the tickets will go on sale and you have to pre-register and wait for an hour in an online waiting room before even being considered for the privilege to fork over your money. Can you tell it's our first year at Rodeo Houston? – Very exciting times.
I need to share this this week for two reasons:
a) I don't want you to miss your opportunity to get your tickets. Think of this as a public service announcement or a friendly reminder.
b) Next Monday is Martin Luther King Junior Day. And it is so easy and pleasant to remind ourselves of great thoughts from the past: "I have a dream". But who is brave enough to tell a story of racial injustice that has happened in your own backyard? Well, Brad Paisley is one of those people who dare to share in his song "Welcome to the future":
From this musical excursion let's go to the cold hard facts of demographics. According to solid projections there will be fewer blacks and hispanics in Fort Bend County in five years. Whites are the only ethnical group with substantial growth:

Did you have a spontaneous gut reaction to those numbers?
What do those feelings tell you about race relations in America 2015?
"I call heaven and earth to witness against you today that I have set before you life and death, blessings and curses. Choose life so that you and your descendants may live, loving the Lord your God." (Deuteronomy 30:19)
Independence Day is all about making your own choices. As a country we have decided that we want to have a say on how to govern ourselves. As individuals we have decided that we want a liberty that sets us free but also enables us to mutually pledge to each other our Lives, our Fortunes and our sacred Honor. I have made it my habit to actually read the Declaration of Independence to commemorate July 4th. And every year this old document manages to shed some light on a thing or two that I am witnessing right here right now. This year it made me look at the choices we make. Deuteronomy calls that blessing and curse.
Picture this: My family and I we are very outdoorsy, having enjoyed the awe-inspiring Rocky Mountains for the past six years. Now we are down here at the Gulf Coast and loving it. One big thing for us this summer is going to the beach. That's where it gets messy – literally. A huge number of people just don't seem to be able to manage living in freedom. They just dump there garbage all over the beach, the parking lot, you name it. Honoring God's advise to make good choices and managing our liberties in a healthy way to me means: Don't mess with Texas! There is no freedom to litter just as it is not free speech to yell "Fire!" in a crowded theater.
If you want to live by the Declaration of Independence and pledge your sacred Honor to your neighbors here are a couple of suggestions for you: When you go to the park, to the beach or a Fourth of July Parade…
… Put your trash in the trash can!
… Pick up extra trash to leave the place in better condition than you found it!
… Report a Litterer: When you see litter thrown out of a vehicle take down license plate number, make and color of vehicle, date and time, location, who tossed the litter, and what was tossed. Then fill in this form.
TxDOT will send the litterer a Don't mess with Texas litterbag along with a letter reminding them to keep their trash off of our roads.
Some people just need official reminders to manage their freedom more responsibly.
Happy Fourth Y'All!
Just as I was finishing up this article I came across the following picture of Franklin, Adams, and Jefferson working on the Declaration. Look at the floor!

Happy Easter!
Today St. John's United Church of Christ in Rosenberg, TX, voted unanimously to have me as their new pastor starting 1 June 2014.
Also I serve as an Army Reserve Chaplain with the 450th Chemical Battalion in Houston, TX.
"I hereby declare, on oath, that I absolutely and entirely renounce and abjure all allegiance and fidelity to any foreign prince, potentate, state, or sovereignty, of whom or which I have heretofore been a subject or citizen; that I will support and defend the Constitution and laws of the United States of America against all enemies, foreign and domestic; that I will bear true faith and allegiance to the same; that I will bear arms on behalf of the United States when required by the law; that I will perform noncombatant service in the Armed Forces of the United States when required by the law; that I will perform work of national importance under civilian direction when required by the law; and that I take this obligation freely, without any mental reservation or purpose of evasion; so help me God."