Browsing articles in "BLOGGING"
I burned my right thumb pretty bad preparing our Christmas dinner. I poured water in a hot frying pan only to have the steam peel my skin off. Not that my mother told me a thousand times that the stove was hot. Growing up I knew better and touched it and got burnt, and touched it and got burnt, and touched it and got burnt anyway. There is a simple truth: When you touch a hot stove you get burnt. Problem is the world is not that simple anymore.
Oxford dictionaries named "post-truth" Word of the Year 2016. The choice speaks to a crisis of mutual understanding of the world. There used to be a shared acceptance of truth. That meant that an overwhelming majority of people agreed on what used to be called "facts". The truth has not changed. Overwhelming majorities may have shifted but they are still there. What has changed is that every opinion is now valued as much as the next one. That means that in the USA with our over 300 million people we have over 300 million truths. Everybody is free to make their own meaning regardless of the underlying hard facts of reality. What matters is what you think, not what is, or so we tell ourselves.
Obama founded ISIS. George Bush was behind 9/11. Welcome to post-truth politics https://t.co/QYrx76krF0

— The Economist (@TheEconomist) November 1, 2016
Since the world is growing ever more complex and complicated, the majority of people seems to throw the hands in the air and give up on facts altogether. People share on social media what feels right, or looks pleasant to them. With the power of Google, Snopes, and the like, fact-checking is so easy but why bother? That's nothing new by the way. When Pontius Pilate sentenced Jesus to death he could only ask, "What is truth?" (John 18:38). Everybody told him Jesus needed to be killed, yet he couldn't find a crime. A few chapters earlier Jesus states: "I am the way, and the truth, and the life." (John 14:6). Now that would be easy. What if the truth were just walking around for everybody to see, as a person of flesh and blood? While Christ is the truth we do have the problem that he ascended to heaven and we cannot see the truth born in flesh walk among us.
The challenge comes from Christ who is the truth. There is objective truth. When you touch a hot stove you get burnt. Not caring about facts does not make the blisters go away. But probably 2016 was the year of emotional backlash. We have been governed by reason for a long time. Eventually the pendulum will swing back to the golden median where facts are facts, and opinions are opinions, and feelings are feelings. In the meantime: May God grant me the serenity to accept people within the context of their own realities, the courage to stand for the truth where I can, and the wisdom to strike the right balance.
Christmas is a highly political story. Remember what triggered Joseph and Mary to go to Bethlehem? – The Roman Emperor had ordered a census so that he could tax all his subjects in their hometown. Herod was a satellite king for the Roman Empire. He governed the Roman province called Syria around the time Jesus was born. The gospel of Matthew tells the story that when Herod saw that he had been tricked by the wise men, he was infuriated, and he sent and killed all the children in and around Bethlehem who were two years old or under, according to the time that he had learned from the wise men. Baby Jesus escaped as a refugee to Egypt. As a grownup he was eventually arrested and crucified. The sign on his cross said what the wise man had been proclaiming at his Birth "Jesus of Nazareth, King of the Jews".
The mighty Roman Empire was afraid of a babe in a manger because people saw him as the king. As a consequence oppression only got harsher. Innocent infants were murdered. Today we call these acts terrorism. Terrorists want to spread terror. That is not the bomb or the killing itself but it is that feeling of not being safe in situations where you are actually supposed to be safe. A baby in crib, like Jesus in his manger is supposed to be safe.
Unfortunately terror never stops. Just over the last 48 hours we have seen events that question a decent sense of safety and security. The Russian ambassador to Turkey was shot to death in an art-gallery opening a photo exhibit. 12 people were killed by a truck plowing through the crowds at a Berlin Christmas Market. Places of art and entertainment are supposed to be fun and safe. That is what terror does: Bringing fear to places where it does not belong.
Christmas is a highly political story. There is much to fear in the world. Some things have always been scary. Other terrors are brought upon the innocent on purpose. But the Christmas story also contains the answer to the fear of terror. It is the proclamation of the angel in the Gospel of Luke: "Do not be afraid!" That is not only an emotional comfort like "Don't feel bad.' It is a profound call to resist the temptation of being terrorized. Baby Jesus will not die today! Working for peace in Syria still makes sense! Creating community in the city is still a beautiful thing! Do not be afraid!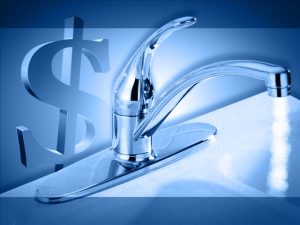 I know a good deal when I see one. Today I want to share a well kept secret with you. It costs $76.44 per member per month to run our congregation. That is if the 2017 proposed budget finds approval on Sunday. Now, obviously not all members contribute. Those who do give, give a lot more. Then there are quite a few non-members who give very generously. $76.44 is just an average that is more the exception than the rule, but it is a good reference point. As I look at out family budget at home, $76.44 is roughly what we pay for our monthly water bill. So the church costs as much as your water at home. What do you get for that? Browsing through our proposed budget for Sunday I find a lot of value:
– The church keeps up a cemetery that is available to you and your loved ones at a low cost.
– We support three musical professionals who provide choir leadership and instrumental accompaniment, as well as concert series.
– Youth get instructed in the Christian faith in a year-long confirmation class.
– We provide meeting spaces not only for worship and education, but private parties, community events, and social groups.
– Your children and grandchildren get to participate in children's church, vacation bible school, and seasonal programs at no extra cost.
– You get to join Bible Studies, and special devotional and service opportunities.
– Pastoral care is available to the home-bound and hospitalized, and those dealing with loss, or those fixin' to get married.
– Our church office is open every weekday to provide the communication and coordination that we need in order to do God's work together.
– If you want to be a delegate to regional and national gatherings of our denomination, we will pay your travel so we stay well connected and resourced.
– In all we do we worship God, not only that one hour on Sunday morning but literally 24/7 in various missions and ministries.
Now, I am a theologian, not a mathematician. But in my humble opinion we offer all this and much more in a very cost-efficient manner. Don't get me wrong, I really appreciate that I have safe and reliable water at home. But I do think the church offers more bang for the buck.
I walked into the living room this morning. This time of year the entire space looks like a winter wonderland. There is not a square inch that is not filled with Christmas decorations: a collection of ten nutcrackers, five Christmas stockings, two trees, hundreds of lights, five advent calendars, and all kinds of knickknacks, wreaths and evergreen everywhere. The one collection that stands out most though are our currently 18 nativity scenes. They range from tiny candle holder to children's toys to finely crafted olive wood straight from the Holy Land. We have amassed them over the years always looking for the perfect one. In the process we found out that there probably is no perfect one because we really love having this museum of variety in our living room.
Remember how I walked into the sanctuary last week?
There you will find a similar collection of nativity scenes. There are 26 of them currently. Some display the stable with child-like naivete. Some create a royal palace around the divine child. They come it all shapes and sizes.

Both at home and at church I am very diligent at making sure to take Jesus out of the scene where possible. The baby simply does not belong in the manger until Christmas. If he is glued in or otherwise attached I will not break the piece but a removable Jesus will be removed. That is good Christian practice to me because it sends a powerful message: Advent is not Christmas!
Advent derives from the latin adventus and means "coming". Christ is still in the process of coming! He is not born yet. Our job is to be here tensely waiting. There is no fulfillment yet. There are no gifts yet. Expectation is building up. Advent wreath and calendar serve as countdown clocks to tell us: It is not Christmas yet! And there is great reward in expectant waiting.
The Stanford marshmallow experiment showed how important delayed gratification really is: Psychologist Walter Mischel placed a marshmallow in front of series of children and left them alone with it for 15 minutes. Before he left he told them that they would get a second marshmallow if they did not eat the first one while he was away. Wait 15 minutes and add 100% – sounds like a great deal. In follow-up studies, the researchers found that children who were able to wait longer for the preferred rewards tended to have better life outcomes, as measured by SAT scores, educational attainment, body mass index, and other life measures.
Christ is in the process of coming. The baby has not hit the hay yet. There are no shortcuts.

The Holiday Season is in full swing and it comes with extreme expectations. We are supposed to connect with a big group of relatives that are hardly familiar on a very intimate level very quickly. Who does not have family around will experience loneliness and disconnect even more brutally. And then there is the obvious food trap.
I want to use the turkey as an allegory for the time between Thanksgiving and New Year's. In November the turkey is all about overeating and overdoing all kinds of indulgences. Come January most people go cold turkey and forbid themselves pleasures via new year's resolutions.
Please be conscious of these traps and treat your emotions like your glucose level. Do not get drawn into the emotional and relational expectations more than necessary. Do not submit your body and soul to a too harsh drop from feast to famine. Avoid the extremes this holiday season.
I walked into the sanctuary this morning. It's Monday morning and I wanted to see how the Advent decorations looked this year. I wasn't around to help set up the afternoon before. But I can tell: Everybody knows exactly what they are doing. Everybody knows exactly where each piece goes. It looks gorgeous – like every year. Then I started checking for the little things that are sometimes off: No, the tree is not crooked. No, the extension cords are in place and actually long enough. All is well. All is as it always has been.
I find that comforting. I like it when tradition keeps me grounded. I think it is healing in an ever more hectic and divided world that there is this bastion of togetherness and grandeur that just falls into place year after year. There is beautiful stability in knowing what's going to happen: The smells, the bells, and all those little things that make the holidays merry and bright.
As I am floating through the sanctuary I lay my eyes on the dozens of nativity scenes that are neatly arranged along the windows. My mood changes. All of a sudden I find myself bored. It is kind of same old same old. How is the gospel of Jesus Christ supposed to come alive for a new generation, for a new day and age when we keep everything exactly the same year after year?

But that's how a liturgical church works. Repeating rhythms come with opportunities and limitations. The paraments are also the same as every year. One shows the Alpha and the Omega, a reference to Revelations where the one who was seated on the throne said, "See, I am making all things new." Wow! There is the promise of newness in the same old same old. That's why we do this: Because the new needs to be birthed out of what came before.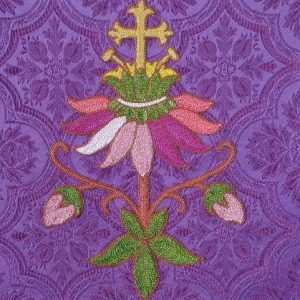 That is also reflected in the other parament with its Isaiah reference: "A shoot shall come out from the stump of Jesse, and a branch shall grow out of his roots." That old kingdom of David is coming to new life and new fruition in an entirely different shape, form and context. Out of an ancient flower grows the cross of Christ. May this Advent season surprise you with its openness to an entirely new future and may its traditional same old symbols guide you into something fresh. It worked for me this morning in the sanctuary.
Thanksgiving is right around the corner. The story goes that the pilgrims thanked God for sustaining them in a strange and dangerous land. They had just escaped another grave set of dangers from their nemesis King James of England. Walking through the four centuries since then we discover a few kings that did not turn out so well.

1600s
King James is not the king. The pilgrims sure did not want to live under him. These separatists did not want to be a part of the king's church so they preferred to risk the journey across the Atlantic instead.

1700s
King George III is not the king. The american colonies declared boldly: "The history of the present King of Great Britain is a history of repeated injuries and usurpations, all having in direct object the establishment of an absolute Tyranny over these States."

1800s
Prince Carl of Solms-Braunfels is not the king. He may have brought the first German settlers to Texas but along with the Adelsverein he did not make good on many of his promises: free land, safety and plenty of opportunities. A lot of it did not come to pass for many early settlers.

1900s
Adolf Hitler is not the king. He demanded worship for himself but the confessing church denounced him declaring: "We reject the false doctrine that beyond its special commission the State should and could become the sole and total order of human life and so fulfill the vocation of the Church as well."

Jesus Christ is the king. This week the church celebrates Christ the King Sunday. The last Sunday of the liturgical calendar puts all of creation, including all of history under the lordship of Jesus Christ. No matter how terrific or horrific our leaders, past or present or future may be, their reign is subject to Christ's reign. And their service will not be judged by how great they are but by how humble they are: "But it is not so among you; but whoever wishes to become great among you must be your servant, and whoever wishes to be first among you must be slave of all." (Mark 10:43-44)
2017 marks the 500th anniversary of the church. If you want to catch up with the latest app to go with the event check out these two:
Luther's Small Catechism
This new app brings Luther's Small Catechism to Android and iPhone for free. My favorite is that with one touch of the screen I can pull up the morning and evening blessings. What's your favorite chapter?
2017 Luther Bible
The Deutsche Bibelgesellschaft just released a brand new revision of Luther's iconic Bible translation. Until Reformation Day, October 31st, you can download it as a free app for Android and iPhone. This German edition allows bookmarks as well as notes. Grab it while it's free.
Banner in the sanctuary of St. Paul's UCC
Long before my family considered a move to Texas we were looking at options for beach vacations. Corpus Christi made the top of the list. A couple of years later I accepted the call to St. John's United Church of Christ in Rosenberg, Texas. We were still living in Utah at the time. Our family of five used the occasion of the move for an epic road trip of the American Southwest. We came down through New Mexico. Before finally pulling into Rosenberg we spend a week at the beach in Corpus Christi, just like we had wanted for years.
This coming weekend I get to go back there. Not necessarily for the beach, the epic U.S.S. Lexington, or the Texas State Aquarium, but this time for the fall meeting of the Houston Association of the United Church of Christ. The various levels of our denominational structure remind us that the Body of Christ is much larger than just the local congregation. After all that is what Corpus Christi literally means: Body of Christ.
The name was given to the settlement and surrounding bay by Spanish explorer Alonso Álvarez de Pineda in 1519, as he discovered the lush semitropical bay on the Catholic feast day of Corpus Christi. Corpus Christi is a day of catholic processions carrying the consecrated communion elements through town. Especially after the Protestant Reformation, Corpus Christi has become a demonstration of Catholic domination and power: We own the living body of Christ. We are exclusively the one true body of Christ. All you Protestant heretics who are not in our procession are not the true church.
That could of course not continue without significant backlash. In one of his homilies Martin Luther wrote, "I am to no festival more hostile than this one. Because it is the most shameful festival. At no festival are God and his Christ more blasphemed, than on this day, and particularly by the procession. For then people are treating the Blessed Sacrament with such ignominy that it becomes only play-acting and is just vain idolatry. With its cosmetics and false holiness it conflicts with Christ's order and establishment. Because He never commanded us to carry on like this. Therefore beware of such worship!"
It is kind of ironic that the Houston Association of the United Church of Christ meets in Corpus Christi. In the United Church of Christ we are all about unity in the body of Christ, yet this town was founded on the premise of the separation of true and false religion. Maybe that's exactly why we need to gather there: To bring unity and healing. Our sister church St. Paul's United Church of Christ in Corpus Christi has provided a continuous presence there for over 100 years now. They make a point of celebrating Holy Communion every Sunday. Their town needs that: A reminder that Christ's table is open for all. Or, as the Reverend Burton Bagby-Grose puts it: "I'm passionate about sharing with people that God loves everyone, gay, straight, pink or purple."
"History repeats itself", says a comforting adage. It means that what we do and what we don't do, how we vote or speak really doesn't matter in the long run. Things will sort themselves out like they always have. Sounds nice, right?
Phyllis Tickle challenged that view. She discovered a pattern in history, or at least in the history of the church that does not repeat but progress. Roughly every 500 years or so happens a major milestone that fundamentally changes how we do church and how we see the world. A good starting point is the year 1,000 BCE. Around that period the united kingdom of Israel and Judah experienced its peak consolidation of power under king David. Up to that point tribes had been fighting each other but now there is unity in the land. 500 years later, the people of God found themselves in the Babylonian exile. Here they learned to live their faith without any institutions: No king, no temple, just shared practice of Sabbath and circumcision. Again 500 years later came Jesus Christ and the beginning of the church. Now emerges a new community that is no longer from one ethnicand cultural group but spreads to the Gentiles as well. Around 500 CE the church has taken hold of the Roman Empire and ultimately shapes the thinking and culture of the "Western World". 500 years later the Roman Catholic and Eastern Orthodox split in the Great Schism, separating the church into warring factions. The Protestant Reformation starts around 1500 CE and challenges the institutional church by stressing the Bible as the ultimate authority for the teaching and practice of the church.
Around the year 2,000 CE, we are living through what Tickle calls "The Great Emergence". Once again, everything is challenged, nothing stays the same. At the end of our 500-year-cycle the church will be vastly different from what it was before. For three Sundays in October I will explore three themes that deal with being the church in the Great Emergence:
October 9th, 2016: The Decline of Christendom. The church is once again not at the center of political and cultural power and influence. We have to grapple with our existence on the fringe of postmodern society. We have been there many times before. How is this one different?
Oct 16th, 2016: The Emergence of Justice
Emergent Christianity is profoundly shaped by justice work. The church of this age is in the business of doing good. How can the church become a louder advocate for those on the margins? How can you learn to make noise for those who cannot speak for themselves?
Oct 23rd, 2016: Postmodern Prayer
Spirituality is stronger than ever and people have more choices now than they have ever had before. Also prayer is more individualized than ever before. How do we shape our shared worship and corporate prayer in a way that connects with the need for individual devotion?
There ain't no turning the clock back. We are emgerging. Let's make the best of if!