Browsing articles in "BLOGGING"
I walked into the living room this morning. This time of year the entire space looks like a winter wonderland. There is not a square inch that is not filled with Christmas decorations: a collection of ten nutcrackers, five Christmas stockings, two trees, hundreds of lights, five advent calendars, and all kinds of knickknacks, wreaths and evergreen everywhere. The one collection that stands out most though are our currently 18 nativity scenes. They range from tiny candle holder to children's toys to finely crafted olive wood straight from the Holy Land. We have amassed them over the years always looking for the perfect one. In the process we found out that there probably is no perfect one because we really love having this museum of variety in our living room.
Remember how I walked into the sanctuary last week?
There you will find a similar collection of nativity scenes. There are 26 of them currently. Some display the stable with child-like naivete. Some create a royal palace around the divine child. They come it all shapes and sizes.

Both at home and at church I am very diligent at making sure to take Jesus out of the scene where possible. The baby simply does not belong in the manger until Christmas. If he is glued in or otherwise attached I will not break the piece but a removable Jesus will be removed. That is good Christian practice to me because it sends a powerful message: Advent is not Christmas!
Advent derives from the latin adventus and means "coming". Christ is still in the process of coming! He is not born yet. Our job is to be here tensely waiting. There is no fulfillment yet. There are no gifts yet. Expectation is building up. Advent wreath and calendar serve as countdown clocks to tell us: It is not Christmas yet! And there is great reward in expectant waiting.
The Stanford marshmallow experiment showed how important delayed gratification really is: Psychologist Walter Mischel placed a marshmallow in front of series of children and left them alone with it for 15 minutes. Before he left he told them that they would get a second marshmallow if they did not eat the first one while he was away. Wait 15 minutes and add 100% – sounds like a great deal. In follow-up studies, the researchers found that children who were able to wait longer for the preferred rewards tended to have better life outcomes, as measured by SAT scores, educational attainment, body mass index, and other life measures.
Christ is in the process of coming. The baby has not hit the hay yet. There are no shortcuts.

The Holiday Season is in full swing and it comes with extreme expectations. We are supposed to connect with a big group of relatives that are hardly familiar on a very intimate level very quickly. Who does not have family around will experience loneliness and disconnect even more brutally. And then there is the obvious food trap.
I want to use the turkey as an allegory for the time between Thanksgiving and New Year's. In November the turkey is all about overeating and overdoing all kinds of indulgences. Come January most people go cold turkey and forbid themselves pleasures via new year's resolutions.
Please be conscious of these traps and treat your emotions like your glucose level. Do not get drawn into the emotional and relational expectations more than necessary. Do not submit your body and soul to a too harsh drop from feast to famine. Avoid the extremes this holiday season.
I walked into the sanctuary this morning. It's Monday morning and I wanted to see how the Advent decorations looked this year. I wasn't around to help set up the afternoon before. But I can tell: Everybody knows exactly what they are doing. Everybody knows exactly where each piece goes. It looks gorgeous – like every year. Then I started checking for the little things that are sometimes off: No, the tree is not crooked. No, the extension cords are in place and actually long enough. All is well. All is as it always has been.
I find that comforting. I like it when tradition keeps me grounded. I think it is healing in an ever more hectic and divided world that there is this bastion of togetherness and grandeur that just falls into place year after year. There is beautiful stability in knowing what's going to happen: The smells, the bells, and all those little things that make the holidays merry and bright.
As I am floating through the sanctuary I lay my eyes on the dozens of nativity scenes that are neatly arranged along the windows. My mood changes. All of a sudden I find myself bored. It is kind of same old same old. How is the gospel of Jesus Christ supposed to come alive for a new generation, for a new day and age when we keep everything exactly the same year after year?

But that's how a liturgical church works. Repeating rhythms come with opportunities and limitations. The paraments are also the same as every year. One shows the Alpha and the Omega, a reference to Revelations where the one who was seated on the throne said, "See, I am making all things new." Wow! There is the promise of newness in the same old same old. That's why we do this: Because the new needs to be birthed out of what came before.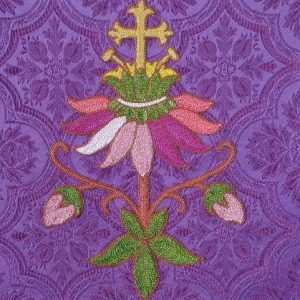 That is also reflected in the other parament with its Isaiah reference: "A shoot shall come out from the stump of Jesse, and a branch shall grow out of his roots." That old kingdom of David is coming to new life and new fruition in an entirely different shape, form and context. Out of an ancient flower grows the cross of Christ. May this Advent season surprise you with its openness to an entirely new future and may its traditional same old symbols guide you into something fresh. It worked for me this morning in the sanctuary.
Thanksgiving is right around the corner. The story goes that the pilgrims thanked God for sustaining them in a strange and dangerous land. They had just escaped another grave set of dangers from their nemesis King James of England. Walking through the four centuries since then we discover a few kings that did not turn out so well.

1600s
King James is not the king. The pilgrims sure did not want to live under him. These separatists did not want to be a part of the king's church so they preferred to risk the journey across the Atlantic instead.

1700s
King George III is not the king. The american colonies declared boldly: "The history of the present King of Great Britain is a history of repeated injuries and usurpations, all having in direct object the establishment of an absolute Tyranny over these States."

1800s
Prince Carl of Solms-Braunfels is not the king. He may have brought the first German settlers to Texas but along with the Adelsverein he did not make good on many of his promises: free land, safety and plenty of opportunities. A lot of it did not come to pass for many early settlers.

1900s
Adolf Hitler is not the king. He demanded worship for himself but the confessing church denounced him declaring: "We reject the false doctrine that beyond its special commission the State should and could become the sole and total order of human life and so fulfill the vocation of the Church as well."

Jesus Christ is the king. This week the church celebrates Christ the King Sunday. The last Sunday of the liturgical calendar puts all of creation, including all of history under the lordship of Jesus Christ. No matter how terrific or horrific our leaders, past or present or future may be, their reign is subject to Christ's reign. And their service will not be judged by how great they are but by how humble they are: "But it is not so among you; but whoever wishes to become great among you must be your servant, and whoever wishes to be first among you must be slave of all." (Mark 10:43-44)
2017 marks the 500th anniversary of the church. If you want to catch up with the latest app to go with the event check out these two:
Luther's Small Catechism
This new app brings Luther's Small Catechism to Android and iPhone for free. My favorite is that with one touch of the screen I can pull up the morning and evening blessings. What's your favorite chapter?
2017 Luther Bible
The Deutsche Bibelgesellschaft just released a brand new revision of Luther's iconic Bible translation. Until Reformation Day, October 31st, you can download it as a free app for Android and iPhone. This German edition allows bookmarks as well as notes. Grab it while it's free.
Banner in the sanctuary of St. Paul's UCC
Long before my family considered a move to Texas we were looking at options for beach vacations. Corpus Christi made the top of the list. A couple of years later I accepted the call to St. John's United Church of Christ in Rosenberg, Texas. We were still living in Utah at the time. Our family of five used the occasion of the move for an epic road trip of the American Southwest. We came down through New Mexico. Before finally pulling into Rosenberg we spend a week at the beach in Corpus Christi, just like we had wanted for years.
This coming weekend I get to go back there. Not necessarily for the beach, the epic U.S.S. Lexington, or the Texas State Aquarium, but this time for the fall meeting of the Houston Association of the United Church of Christ. The various levels of our denominational structure remind us that the Body of Christ is much larger than just the local congregation. After all that is what Corpus Christi literally means: Body of Christ.
The name was given to the settlement and surrounding bay by Spanish explorer Alonso Álvarez de Pineda in 1519, as he discovered the lush semitropical bay on the Catholic feast day of Corpus Christi. Corpus Christi is a day of catholic processions carrying the consecrated communion elements through town. Especially after the Protestant Reformation, Corpus Christi has become a demonstration of Catholic domination and power: We own the living body of Christ. We are exclusively the one true body of Christ. All you Protestant heretics who are not in our procession are not the true church.
That could of course not continue without significant backlash. In one of his homilies Martin Luther wrote, "I am to no festival more hostile than this one. Because it is the most shameful festival. At no festival are God and his Christ more blasphemed, than on this day, and particularly by the procession. For then people are treating the Blessed Sacrament with such ignominy that it becomes only play-acting and is just vain idolatry. With its cosmetics and false holiness it conflicts with Christ's order and establishment. Because He never commanded us to carry on like this. Therefore beware of such worship!"
It is kind of ironic that the Houston Association of the United Church of Christ meets in Corpus Christi. In the United Church of Christ we are all about unity in the body of Christ, yet this town was founded on the premise of the separation of true and false religion. Maybe that's exactly why we need to gather there: To bring unity and healing. Our sister church St. Paul's United Church of Christ in Corpus Christi has provided a continuous presence there for over 100 years now. They make a point of celebrating Holy Communion every Sunday. Their town needs that: A reminder that Christ's table is open for all. Or, as the Reverend Burton Bagby-Grose puts it: "I'm passionate about sharing with people that God loves everyone, gay, straight, pink or purple."
"History repeats itself", says a comforting adage. It means that what we do and what we don't do, how we vote or speak really doesn't matter in the long run. Things will sort themselves out like they always have. Sounds nice, right?
Phyllis Tickle challenged that view. She discovered a pattern in history, or at least in the history of the church that does not repeat but progress. Roughly every 500 years or so happens a major milestone that fundamentally changes how we do church and how we see the world. A good starting point is the year 1,000 BCE. Around that period the united kingdom of Israel and Judah experienced its peak consolidation of power under king David. Up to that point tribes had been fighting each other but now there is unity in the land. 500 years later, the people of God found themselves in the Babylonian exile. Here they learned to live their faith without any institutions: No king, no temple, just shared practice of Sabbath and circumcision. Again 500 years later came Jesus Christ and the beginning of the church. Now emerges a new community that is no longer from one ethnicand cultural group but spreads to the Gentiles as well. Around 500 CE the church has taken hold of the Roman Empire and ultimately shapes the thinking and culture of the "Western World". 500 years later the Roman Catholic and Eastern Orthodox split in the Great Schism, separating the church into warring factions. The Protestant Reformation starts around 1500 CE and challenges the institutional church by stressing the Bible as the ultimate authority for the teaching and practice of the church.
Around the year 2,000 CE, we are living through what Tickle calls "The Great Emergence". Once again, everything is challenged, nothing stays the same. At the end of our 500-year-cycle the church will be vastly different from what it was before. For three Sundays in October I will explore three themes that deal with being the church in the Great Emergence:
October 9th, 2016: The Decline of Christendom. The church is once again not at the center of political and cultural power and influence. We have to grapple with our existence on the fringe of postmodern society. We have been there many times before. How is this one different?
Oct 16th, 2016: The Emergence of Justice
Emergent Christianity is profoundly shaped by justice work. The church of this age is in the business of doing good. How can the church become a louder advocate for those on the margins? How can you learn to make noise for those who cannot speak for themselves?
Oct 23rd, 2016: Postmodern Prayer
Spirituality is stronger than ever and people have more choices now than they have ever had before. Also prayer is more individualized than ever before. How do we shape our shared worship and corporate prayer in a way that connects with the need for individual devotion?
There ain't no turning the clock back. We are emgerging. Let's make the best of if!
This is not my story. It is a generic, aggregate story that includes aspects of my own and that of many colleagues. I am writing this because over the course of my ministry experience I have trained pastoral interns and helped people pursue their calls to ministry. Currently I am working with a couple of people who are on the edge between step 1 and 2 and another in the middle of 3. Whatever you are looking for in ministry, do not look for certainty. A lot of different folks become pastors for a lot of different reasons. I can only speak for my little corner of the world of mainline Protestantism. Our formation to ministry works something like this:
First, you feel called by God.
That can be because of your upbringing in church. You came up the ranks form Sunday school kid to youth leader. and you just stuck with it because church feels good. A lot of times feeling the call happens in defiance of your church experience. Your church rejected you for you who are and you thought God was as cruel as they were. But then you discovered God to be different.
Second, you feel a good about that call.
You get excited and you start the official discernment process. You learn about educational requirements and church requirements. Eventually you decide to tackle the biggest hurdle and pick a school to obtain your Master of Divinity degree.
Third, your whole world comes tumbling down.
In seminary everything you believed in, everything you thought was right or wrong is turned upside down. You may have been a practical Saint like mother Teresa and in Step 1 and you felt the call to be just that for the rest of your professional life. Or you may have been a righteous thinker who can tell right from wrong and protect the truth and values of the Christian faith against heretics and atheists. Serious graduate level work will show you that your orthodoxy is worthless without a similar passion for orthopraxy. Whatever you came in as, you will come out changed and hopefully more balanced.
Fourth, you get your first call.
Usually you start out as somebody else's associate pastor. The greatest danger here is a feel-good-experience. You may be sent to do children and youth ministry. That way you feel like you did when you first felt the call. You fall back into old uneducated patterns and have a jolly good time. You love your job and everybody loves you.
Fifth, it is time to grow up.
Eventually you will have to step up and become your own pastoral self. All of a sudden you are "the pastor". The first year or so feels really good. In this honeymoon period you do everything for the first time. Your congregation feels the excitement of having your new energy among them. You learn to figure out who you are as a pastor. Roughly 10 years into the process you start to learn who you want to be when you grow up.
Sixth, ministry is hard.
On a practical level serving in ministry means working for a non-profit organization. If they are large, they may have a lot of politics going on, staffing issues, policies and procedures. If they are small, they may lack a clear vision of their mission, they may be happy with maintaining the status quo, or they simply do not feel strong enough to do anything meaningful at all.
Seventh, you succeed and fail.
In some ministry settings you may be able to leave a lasting legacy or make a big impact. Some you may have sustained for a few years and then moved on. Others again you may have profoundly hurt.
It is okay and necessary to be excited about the initial call.
It is okay to explore faith practices that have sustained you in different periods of your formation.
It is okay to be constantly evolving.
Just make sure to keep an open mind for the next step of the wild ride that God is sending you on. It never looks like anything you could have ever imagined.
The games in Rio are still in full swing. China dominates the medal count followed by Great Britain and Ukraine. Team USA currently ranks fourth. Just yesterday U.S. swimmers won three gold medals and smashed two world records.
Wait what? Ukraine in the top three of the medal count? Team USA only on four? Maybe we should take a closer look at our three gold medalists from yesterday:
Rebecca Meyers has Usher syndrome and has been deaf since she was born.
Bradley Snyder was blinded after stepping on an improvised explosive device while serving in the U.S. Navy in Kandahar, Afghanistan.
Michelle Konkoly woke up paralyzed from the waist down after she fell out of her dorm room window at Georgetown University.
By now you may have gathered that I am talking about the Paralympic Games. The first organized athletic day for disabled athletes that coincided with the Olympic Games took place on the day of the opening of the 1948 Summer Olympics in London, United Kingdom. Since 1960 the Paralympic Games have been a world class event in their own right.
Back to Rio: All these athletes perform at levels where regular Joes like me do not even have to think we could compare. What exactly do we mean when we classify them as "disabled"? Obviously they are more able to perform than I would be. So by performance standards I am more disabled. Is it the looks of an amputated leg, mannerisms, or just a random perception of normalcy? In most sports athletes are segregated by gender and / or weight. Why is "disability" a label that totally disqualifies you from the Olympics and puts you in a whole different event? The truth is: There is no normal. Everybody is different and everybody has his or her own level of ability.
You could rudely begin the story about yesterday's gold medalists by saying, "A cripple, a blind, and a deaf jump into a pool." Mainstream culture is so used to treating differently-abled people differently. Unfortunately there are stories where Jesus is used to reinforce a sense of "normal" versus "abnormal". When Jesus heals the blind man in some Gospel stories he does so just because people pointed him in that direction. The blind man was comfortable in his life, had his daily routine down, had everything he needed. He never said we wanted to see. He never said he wanted to "be healed". Why does Jesus impose his sense of normalcy on this poor man? Now he is totally on his own, will no longer receive the support he needs and has to start over in life. He is push into the position of a teenager even though he is a middle-aged man who had life figured out. Now he is truly disabled.
The Gospel authors want Jesus to heal everybody. But when they tell stories like that in effect they make Jesus commit the Sin of Ableism. Then he pretends there is a normal that everybody has to abide by, a standard of health, ability or aesthetics that you just have to match in order to be acceptable. Bekah Anderson warns to not use our Paralympic heroes for Inspiration Porn. Instead she advises to engage with persons beyond labels, "My challenge to the preachers, writers, and storytellers among us, including myself, is this: Stop telling stories for a moment, and listen. Listen, even though the voice speaking to you is slurred. Listen, even though the voice comes through an ASL interpreter or a computer. Listen, even when the voice has been effectively silenced, and honor that loss. Our voices and our silences are sacred. Pray with me that they may all one day find the sacred space they deserve."

Mother Teresa has always been a saint, that is in the public opinion. Her selfless service to the least of these has inspired generations. The world officially granted her the status of a "civil saint" when she received the Nobel Peace Prize in 1979. It does not get better than that. In the truest, most literal church-sense of the word, as Protestants, we would have to say she received her saint status at Baptism. That was the day after she was born. She had not helped anyone then. Sainthood is not something we can earn but a gift from God. Saints are those called by God to be God's people.
Imagine the world had no images of her with suffering little children. What remains of Mother Teresa, when you take away the millions of dollars raised over the course of her career? What if her wealthy father had not died when she was only eight years old? She may have stayed in her native Balkan region, never even making a trip to India. But he did, and she did, and that changed the world. Mother Teresa has been celebrated – maybe even venerated – by people of all faiths or no faith at all. She served as a perfect example of faith bearing fruit.
But then she also ran an international organization – Missionaries of Charity – with various clinics, hospitals and hospices. As of 2012 more than 4,500 nuns worked in 133 countries supporting 710 facilities. The moment you get involved in an organization of that size you lose the innocence of just gathering a handful of faithful around you. Every saint is always also a sinner. Mother Teresa is no different. There has been constant criticism of sanitary conditions and religious practices. Where two or three are gathered in Christ's name they are bound to mess up. That is the risk you have to take whenever you do something significant or holy.
So last Sunday it happened that the Bishop of Rome agreed with the world and finally called Teresa a Saint, almost 20 years after her death. There is a lesson to be learned from that process: Do not wait to understand yourself as a saint. You are a saint right now. You can go out and do good right now. You do not need to wait for any authority's approval or recognition. You may just gather a few people and do a one time project, or you may establish a world-wide network impacting millions. Whatever you do: Do not delay and do not wait for the approval of some perceived authority. You will mess up. You will be criticized. You will be a sinner. That is what being a saint is all about.