Browsing articles in "BLOG"
Dr. James Emery White warns against "The Great Danger of Orthodoxy". Basically the point he is making is that Christians are too concerned with their focus on the presumable "right believes". Instead he proposes a balance of Orthodoxy (believing the right thing) and Orthopraxy (doing the right thing).
Now, let me be clear: I claim orthodoxy for my faith. My theology is rooted in the ancient ecumenical creeds of the church. It matters to me that there is a path to reconciliation after reformation era condemnations. And yes, especially in American culture I can see how overzealous orthodoxy can be a problem.
But can too much Orthopraxy really be a problem, too?
Let me explain. One of the fundamental splits that the church has suffered, the Great Schism of 1054 is still in full effect. It practically cuts Christianity in half: East and West. From a standpoint of Orthodoxy I am all Western, meaning I firmly stand by the filioque as an important matter of believing correctly. But that is not really what was at stake at the time.In reality it came down to a political power struggle over who ruled the Roman Empire. This supposed question of Orthodoxy was really a failure in Orthopraxy.
Christians have not sufficiently practiced Jesus's dictum "Love your neighbor as yourself". As matter of fact I think Jesus dismissed Orthodoxy over and over again: When some said you could not feed your friends on the Sabbath, he told them to set their priorities straight. When a man asked him, "what must I do to go to heaven?" Jesus's answer is always: "Practice love!"
Yes, too much Orthodoxy can cause problems. But how can too much Orthopraxy cause problems? What are minimum standards of thinking and believing that make a person Orthodox? Because here is the real crux of the matter: If you tell somebody they believe the wrong thing or the wrong way, you are not practicing love. If anyone wants to impose their Orthodoxy on another person they are neglecting their Orthopraxy.
The first official trailer for the new Star Trek series is out. I skipped Enterprise. So Discovery will be my first Star Trek experience on TV since Voyager. Here are a few observations:
1. They lead with a female Captain.
That is a genius move considering how well it worked with Voyager. Since Discover is set 10 years before Kirk, it is good to have a female lead before the macho takes over.
2. The Klingons look different again.
Klingons have seen several reboots in their appearance. But Trekkies raise all the right questions when it comes to the canon of the original timeline. On reddit they discuss theories of ancient Klingons, of the augment virus, or just a simple redo. Ultimately we will all get over the fact that the Klingons got a new look once again.
3. The uniforms are anachronistic.
Whenever you mess with the original timeline inevitably nerds like me will find the technology not representing the right time period. MegaBearsFan points out another important flaw: "In the Original Series, each ship, starbase, or installation had its own unique mission badges, similar to contemporary NASA missions. This was a detail that even Star Trek: Enterprise got right! But the Abrams reboot, and now the new Discovery series have broken with this detail, making the uniforms anachronistic within established series' canon."
4. Sign me up, CBS.
Of course, I will subscribe to CBS All Access just so I get to watch the latest in Star Trek. If you are that passionate about details you don't want to miss a minute of it, right? Unfortunately there is still no firm star date. All CBS says is "coming this fall."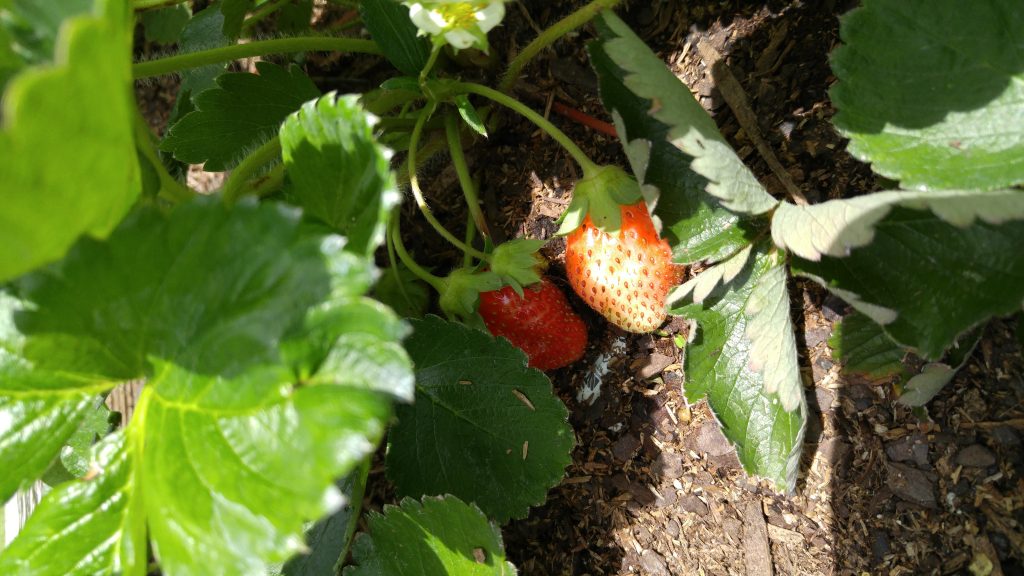 The strawberries are growing just fine. So are the tomatoes. And the carrots. And the peppers. And the flowers. You get the picture. Our garden is almost ripe for the harvest. For that to happen it takes the usual ingredients of sunshine and water. But then our garden plants bring their very own special skill to their growth process: They put down their roots.
To a vagabond like me, that is a pretty impressive feat. I honestly do not know what it feels like to live in one place for most of your life. Our strawberries, vegetables and flowers do, but I don't. In my childhood garden I used to grow all kinds berries and carrots. As a grownup the longest I have ever lived in one place was two years. Our current home holds the record of almost three years. I am turning into a plant that knows how to put down roots again.
The Psalmist knows that putting roots down is an important skill, saying about God's blessed, "They are like trees planted by streams of water, which yield their fruit in its season, and their leaves do not whither. In all they do, they prosper." (Psalm 1:3) The German in me has always imagined this tree to be an Oaktree of at least one hundred years. The Psalmist was most likely thinking of Middle Eastern olive trees. Some of those trees from biblical times are still around today.
There is something to be said for staying put:
– You mature more.
– You wrestle more with yourself and your surroundings.
– You learn to adjust.
– You learn to not just move on when the going gets rough.
– Once you put your roots down far enough the wind can no longer blow you down that easily.
Maybe that is what my garden plants can teach me: Our neighborhood may be as young as 10 or so years but still it is a place worth growing into. There is fertile ground here. Stay and grow.
What is your experience of putting down roots?
CROP Hunger Walks are community-wide events sponsored by Church World Service and organized by local congregations or groups to raise funds to end hunger at home and around the world. Our CROP Walk for West Fort Bend County will be held on Saturday, April 29th at George Ranch. Registration opens at 07;30. The walk begins at 08:00.
Background
With its inception in 1969, CROP Hunger Walks are "viewed by many as the granddaddy of charity walks," notes the Los Angeles Times (Oct. 26, 2009). On October 17, 1969, a thousand people in Bismarck, ND, walked in what may have been the start of the hunger walks related to CROP – and raised $25,000 to help stop hunger. As far as we know, York County, Penn., was the first walk officially called the CROP Walk for the Hungry – and that event has been continuous since 1970. For West Fort Bend County we started the CROP in 1972. Currently, well over 2,000 communities across the U.S. join in more than 1,000 CROP Hunger Walks each year. More than five million CROP Hunger Walkers have participated in more than 36,000 CROP Hunger Walks in the last two decades alone. Last year, St. John's United Church of Christ contributed 37 out of 118 walkers and $2801 out of $12038 total.
What does CROP stand for?
When CROP began in 1947 (under the wing of Church World Service, which was founded in 1946), CROP was an acronym for the Christian Rural Overseas Program. Its primary mission was to help Midwest farm families to share their grain with hungry neighbors in post-World War II Europe and Asia. Today, we've outgrown the acronym but we retain it as the historic name of the program.
Where do CROP Hunger Walk funds go?
CROP Hunger Walks help to support the overall work of Church World Service, particularly grassroots development efforts around the world. In addition, 25 percent of the funds raised remain in Fort Bend County and go directly to Helping Hands, our local food-bank in Richmond. CROP Hunger Walks help to provide food and water, as well as resources that empower people to meet their own needs. From seeds and tools to wells and water systems, the key is people working together to identify their own development priorities, their strengths and their needs – something CWS has learned through 70 years of working in partnership around the world.
I recently had a chance to connect back with the Italian side of my family. We had not spoken in over 20 years. But now passageways into a new connection have opened up. That is my current experience with what the month of April is all about. The name April comes from the Latin aperire, aprire in Italian, abrir in Spanish, which in English means "to open". It probably comes from the flowers opening up as they start blossoming in the spring. For me connections to extended family are starting to spring up. With April drill weekend upon us in which ways are you willing to open up and start blossoming?

Last year was my 20th High School reunion in Germany. I did not go. But a friend of mine did. We talked about it a few months later. He was astonished that most people in our graduating class seemed to still be able to call each other without using a different area code. We agreed that probably the small sample of those who actually attended the reunion was not representative of our entire class. Of course, local people come to a local gathering. Our classmates who live in the US, in South Africa, and Australia, did not show up. No surprise there. So overall I guess my graduating class is split down the middle. There are really two kinds of people:
1. dwellers, who stay local and make themselves at home where they grew up and
2. vagabonds, who move regularly, explore the world, and reinvent themselves constantly.
I am a vagabond. I left my hometown right after high school, never to return. That is the norm in the ministry. Divinity schools are usually not available where you grow up and you cannot effectively minister to people who knew you as a child. But then again, a lot of professions ship people all over the world. The military rotates you from one assignment to the next every three years, the oil and gas industry makes people follow the boom and bust cycle from one place to the next. Refugees are running for sheer survival. We vagabonds have a great example in Jesus who is famous for saying: "Foxes have holes, and birds of the air have nests; but the Son of Man has nowhere to lay his head" (Matthew 8:20).
Then there are dwellers like my classmates who stay local. I envy them. They can rely on friendships they have established for decades. They can even tap into the vast network that their parents and grandparents before them created in the community. Everybody knows where they belong in the story of the town. They have their own spot carved out in their particular place. They belong. The Psalmist is famous for feeling at home like that – at home with God: "I shall dwell in the house of the Lord my whole life long" (Psalm 23:6b).
The church needs to be a place for both dwellers and vagabonds. It does not belong to those who have been there for a long time. The church needs to stretch the comfort zone of dwellers. On the flip side the church cannot let vagabonds pass by without offering nourishment along the way. It has to create an oasis for vagabonds. The body of Christ needs to provide opportunities for dwellers to leave their comfort zone and for vagabonds it needs to provide opportunities to learn stability.
I practiced dwelling recently by getting a landline phone. Since I moved to the US I have only had a cell phone and kept the number wherever I went. Now there is an actual wire buried in the ground to keep me connected. I am practicing being in one place. On the flip-side I have seen dweller friends volunteer in places they had never dreamed of. When you support people that are totally unlike you, you grow in totally new dimensions. Even if you stay local you can still expand your horizon. Both takes practice: Learning to stay put and learning to get out there. Practice what you are not naturally good at! It is worth it!

There used to be a strict rule at our house in the mornings: "Don't talk about anything important before I had my first cup of coffee." I would misunderstand you. I would not be able to pay attention. Short: I would not be at my best. So it was safest for myself and everybody else to avoid human interaction before the beast was tamed by caffeine. So whenever this rule was broken that could result in a rough start for everybody involved. Coffee ruled my life.
Matthew 6:21 reminds me, "for where your treasure is, there your heart will be also." That is a hard cup to swallow. Because it means that in effect I have made coffee the king over my morning if not over the whole day. Because in the afternoon I would need another dose. I treasured coffee to a level that I said I could not make it through the day without it. But coffee and I, we are not unique: Just today I had a lunch conversation where several people outed themselves as tea addicts. They could not even fathom giving up their ice tea that comes with every meal. I have known soda fanatics and from anecdotal evidence I think Diet Coke die-hards are the most fanatic.
So last Saturday something strange happened: I woke up early to go exercise. Now, that is not strange, that is normal for me. But what struck me was what I did not do: After the workout I did not rush to get myself a coffee. Instead I let the day go on – without the tiniest dose of caffeine. Maybe coffee does not rule my life? Maybe I can do it without the rush? Then came Sunday morning with a splitting headache and a fatigue that would last all day. Withdrawal was real and carried into Monday with general grogginess and muscle stiffness.
Today is Tuesday, day three without any caffeine, and I am okay. I am reasonably awake and attentive. It still feels somewhat funny but I am managing. In case you were wondering why I invite you so deeply into my intimate habits: That is what Lent is all about. Lent is an opportunity to give yourself a reality check of where your priorities are, what you can do without. "What are you giving up for Lent?" is not a cute question on the side. It has to puncture your very heart. It must reveal where your treasure truly is. Maybe the better way to pose the question is:
What is one thing I cannot live without?
What is one thing I wish I did not do?
Even though I started before Ash Wednesday I intend to stay away from caffeine all the way through Easter.
Can you imagine Jesus stood up on Easter morning from the grave without a single cup of coffee?
Time to brush up on your Latin and your French: Our February BTA will be on the weekend of Carnival that leads up to Mardi Gras. Carnival is derived from the Latin "carne vale" which means "good-bye, meat." Mardi Gras is French for Fat Tuesday, the last day of opulent feasting before the fasting of Lent. While the dates may be Christian in heritage, the concept of fasting is meaningful independent of its particular incarnation in a religious tradition. Here is my challenge for you this month: Pick a thing that you think you cannot do without. Then do without it for a certain amount of time. There are opportunities for personal growth in the practice of restraint.

While Houston was enjoying 80°F last week, I landed in Germany, to a freezing 32°F. A couple of days later I woke up to snow on my parents' balcony. On my week-long trip I had the chance to celebrate two family birthdays and reconnect with old friends. I'll be honest: It wasn't exactly a vacation because I went from one event straight into the next and that usually after very short nights. But it was all worth it, because it allowed me to make and maintain connections that matter in my life.
Many Texas families trace their pedigree back to one German root or another. Most of them not as recent as mine but still: There is a vibrant and relevant connection. And since 2017 marks the 500th anniversary of the Protestant Reformation, I encourage you to give Germany a chance. Our friends at St. Paul's Lutheran Church in Columbus are hosting a tour to Germany and Switzerland, July 10-20, 2017. The tour is going to hit all the important sites of Reformation history as well as some of Germany's greatest tourist attractions. They have a few seats left. Please pick up your brochure at our church office.
If you cannot see yourself making this transatlantic trip this summer, maybe you'd enjoy that we are bringing Germany to Rosenberg. The German Institute for the Southwest is now registering for German classes for all ages at St. Johns' United Church of Christ in Rosenberg. We will have a 10 Week Spring Course for Adults from March 18 to May 27, 2017 and a 10 Week Spring Camp for Children and Teenagers from March 11 to May 27, 2017. Classes are held on Saturdays from 9:00 a.m. – 12:00 p.m. except for March 15 (Easter Saturday). For all the details and registration please visit the Institute's website.
Finally there is another way we stay in touch with our German roots: Friends of St. John's wanted to have their high school daughter experience a semester at a German high school. On the other side I had a fellow minister in Germany ask on behalf of a colleague's daughter if she could find a guest family over here for a year of high school. This summer it is going to happen: the families have made their arrangements, paper work is in the process and soon we will have established another beautiful transatlantic connection. This is your church at work: mindful of its roots connecting into the future.
As a pastor in the United Church of Christ I firmly stand with our Catholic, Lutheran, Methodist, Disciples, and other ecumenical partners and signed with more than 2,000 religious leaders a letter supporting refugee resettlement. It reads in part: "Together, representing our various faiths, we decry derogatory language that has been used about Middle Eastern refugees and our Muslim friends and neighbors. Inflammatory rhetoric has no place in our response to this humanitarian crisis."
How we invoke our faith in response to the refugee crisis says a lot about how we see God. In their book "America's Four Gods" Froese & Bader make the basic assumption that there are four different ways we approach the sacred. I invite you to explore your own heart in light of these four perspectives with regard to the refugee question:
"I give you a new commandment, that you love one another. Just as I have loved you, you also should love one another." (John 13:34)
This represents what Froese & Bader would call the "Benevolent God". God wants us to help our neighbor, to welcome the stranger, to be nice and kind to one another. This implies respect and openness regardless of national origin, faith background, or any other division that the human mind might conjure up.
"Then I will draw near to you for judgment; I will be swift to bear witness against the sorcerers, against the adulterers, against those who swear falsely, against those who oppress the hired workers in their wages, the widow and the orphan, against those who thrust aside the alien, and do not fear me, says the Lord of hosts." (Malachi 3:5)
This represents what Froese & Bader call the "Critical God". We have to take care of the least fortunate or else…! There is a divine consequence that will come upon us on the Day of Lord if we do not live in accordance with God's will. So you better take care of refugees or God will be mad at you.
"On that day they read from the book of Moses in the hearing of the people; and in it was found written that no Ammonite or Moabite should ever enter the assembly of God, because they did not meet the Israelites with bread and water, but hired Balaam against them to curse them." (Nehemiah 13:1-2)
This represents what Froese & Bader call the "Authoritative God". Those people from foreign lands and of foreign faiths are dangerous. Remember how they attacked us in the past? It can surely not be safe to have them come here now. We have to be vigilant and protect our own. God does not want us to house people that have a bad track record.
"What are human beings that you are mindful of them, mortals that you care for them?" (Psalm 8:4)
This represents what Froese & Bader call the "Distant God". So, there are few hundred people stuck at American airports right now. What's the big deal? Tens of thousands die every year from starvation. Thousands more die in wars around the world. If God really wanted to change that, God probably could. Certainly those problems are way too big for me little minion to solve. There is nothing I can do about it and God doesn't seem to care much either.
Of course, these are caricatures that do not exist in the pure form that I made up here. But they give you an idea that words represent ideas. And it is clear that our response to the refugee crisis is also a response to God's call. Maybe you want to take "The God Test" and find out what you say about God and how that shapes your response to the refugee crisis.