Browsing articles from "May, 2018"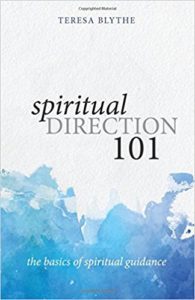 The sticker on my windshield tells me that my car needs an oil change every three months or after so many miles. Also I go in for a spiritual oil change at least every three months, preferably every one or two. People have done that since the dawn of time. In recent years spiritual direction has entered the mainstream. More and more people understand that body, mind, and spirit need regular check-ups and check-ins. And where there is a demand, there will also be a supply. Spiritual direction comes out of the monastic tradition but is now available to everyone and offered by persons from a variety of backgrounds.
In her book Spiritual Direction 101, Teresa Blythe addresses those who want to hang their shingle and become active practitioners of spiritual direction. Now Blythe continues to remind her readers that everybody can simply call themselves spiritual director. The title and the work and not regulated in any way but she insists on maintaining the ethics of the profession as outlined by Spiritual Directors International. One big take-away for the aspiring or practicing spiritual director is to not do this work alone. Blythe continues to emphasize that spiritual directors receive supervisory spiritual direction themselves.
If Blythe's book is your first formal education in spiritual direction you will love it for its bibliography. There you will find most important classics and a few hip and coming approaches. Blythe also shares abundantly from her own praxis of many years – like a list of most helpful questions a spiritual director can ask, with the top three being:
– What is it you care most about in life?
– When do you feel most fully alive? When do you feel least alive?
Although there is skill and knowledge involved, Blythe keeps reminding her readers that, "this is one of the great tests of spiritual direction: If you can remember that God is the true director." Whether you work with groups or individuals, whether you work with cisgender or transgender persons, whether you work with people who are similar to you or very different, spiritual direction is about "honoring the third chair" – a reality that transcends the here and now. From this spirit of inclusion Blythe details how to work with the aging, the addicted, clergy, and other groups.
Finally Blythe gets into the nitty gritty of setting up shop: location, decoration, pricing, marketing and much more. Spiritual directors see their directees in coffee shops, church offices, professional offices or retreat centers. Their fees range from free to top dollars. Working your call to become a sustainable praxis requires a lot of discernment. It is probably best to check in with your own spiritual director about that when you meet next time. Oh, by the way, you don't have to do spiritual direction as a stand-alone business. It also works well in other ministry settings. I just scheduled my next spiritual oil change.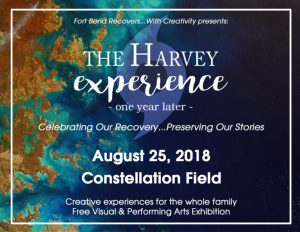 I do not remember the names of my high school music or arts teachers. And they don't deserve to be remembered. They told me I wasn't good at music or arts and I believed them. To this day I don't trust that I am a creative person, at least as far as formal arts and music are concerned. You may be the greatest artist or musician or you may be challenged as I am. Regardless of your skill: creative expression is important for developing and maintaining resilience. I have been part of the Fort Bend Recovers working group for emotional and spiritual health since Hurricane Harvey hit our community. Working with these dedicated leaders and helping our community get back on its feet is very rewarding. There is a lot of resilience that needs to be showcased and celebrated. And that is exactly what we are going to do:
Fort Bend Recovers … with Creativity's vision is to celebrate our community's restoration and resilience by promoting healing and recovery through original works. Fort Bend Recovers …with Creativity's first project will be to present "The Harvey Experience – one year later". This is the title of the anniversary event. We plan to hold the event on August 25th 2018. We are formulating our call for submissions, developing creativity categories which include both visual and performance art. The call for submissions will be worded to encourage residents of Fort Bend County (young and old) to tell their Harvey story – in writing, poetry & essay, in paintings, in music, in dance, etc. We hope that we will get a Harvey quilt, a Harvey rap song, and many Harvey paintings and drawings and photographs. "Art has a way of transforming hard truth, ugliness, and heartache and turning it into something beautiful. We believe that creative works will be healing for the creators as well as the observers/participants." — Dr. Amy Harkins, a psychologist with Easter Seals Greater Houston
Fort Bend Recovers…with Creativity is working to finalize the details for The Harvey Experience. The details for the creative works will be posted soon. But don't let that stop you from starting to create. Express your Harvey experience and share your process. We are not looking for the next Mozart or Van Gogh. My high school music and arts teachers are not invited to the event. You are free to express yourself and find your own voice.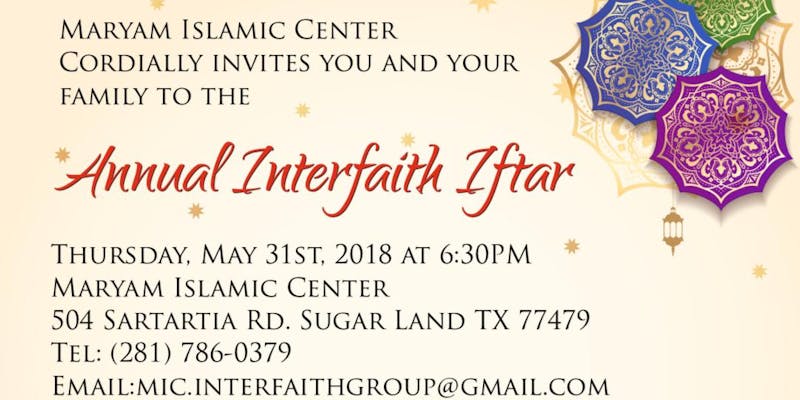 I am excited! I ordered 9 free tickets for my wife, my kids, my in-laws, and myself. We are going to the annual INTERFAITH Iftar of Ramadan at Maryam Islamic Center in Sugar Land on May 31st, 2018. Here is what is going to happen there:
6:30 PM – Arrival & Socializing
7:00 PM – Program Begins
8:15 PM – Fasting Experience/Iftar
8:40 PM – Prayer followed by Dinner
Amina Ishaq is the Lead for Maryam Islamic Center's Interfaith Team. Which brings me to the question: Who is the lead of St. John's Interfaith Team? How come we don't have an Interfaith Team? Anyway here is her introduction on the importance of the holy month:
"Ramadan is a special and holy month of the Islamic lunar year for over 1.6 billion Muslims around the world. It is a time for inner reflection, contemplation, discipline and devotion to God. As we fast and sacrifice food and drink during the daylight hours, we are reminded of Gods blessings upon us and are encouraged to be charitable.
Ramadan is a month of giving and sharing. It is an opportunity for friends and family of diverse faiths to understand one another and to show kindness to those around them. It is a time of renewal and recommitment to bettering oneself. It is a time for one to become closer to God through sacrificing ones most basic need in order to become more patient and disciplined. The holy Quran was also revealed in the month of Ramadan.
The month of Ramadan ends with the celebration of Eid-ul-fitr or the celebration of the breaking of the fast. On Eid muslims pray to God, greet one another happily, exchange gifts, eat delicious food, visit family and neighbors, give charity and have fun.
It is our hope that this Ramadan & Eid brings a sense of peace and hope throughout the world."
So, don't miss out. Please join me and my family this Ramadan. Get your free tickets over here. If you can't make it this time, then at least talk to your church council members about getting an Interfaith Team started at our church. I'd love to help!
We count how many people attend church every week. But that's not all: we also keep a membership roll of who "belongs to the church". Then we also look at how much money ends up in the offering plates every month. How big is your church? We answer that question in terms of Sunday attendance, membership and income.
In all honesty, the three measuring sticks of attendance, membership and income are not as accurate as they used to be. Originally the idea was that members attend "their" church regularly and give regularly to "their" church. That is hardly the case anymore. My own son went to preschool at a United Methodist Church. We attended chapel there regularly. I go to spiritual direction in a Roman Catholic Community. My wife serves a Presbyterian congregation and I join them for special services as time permits. In many patchwork families children attend services with mom one week, dad another and grandparents on a third weekend. We have children in our own Sunday School who are part-time Baptists. A lot of children hit every Vacation Bible School in town. Faithful church members of our own congregation – now in their 70s – tell me that was commonplace even when they were little. We went to a First Communion Service last Sunday. It was a great moment for our friends. But the reality is the kids had had communion at our UCC church for years – only on the Catholic side of their identity can they call it "First Communion".
Bottom line: Everybody is wearing multiple hats. Hardly anybody "belongs to" one particular church. We show up in places. We give when we find meaningful ministry that deserves support. For most people church does not fit into their life at all. So for those who show up and give, let's celebrate them and not give them a hard time that they don't abide by some rule of exclusivity. The church as the body of Christ belongs in all incarnations to the one God. Let us wear our human reflections of that lightly.