Browsing articles from "October, 2017"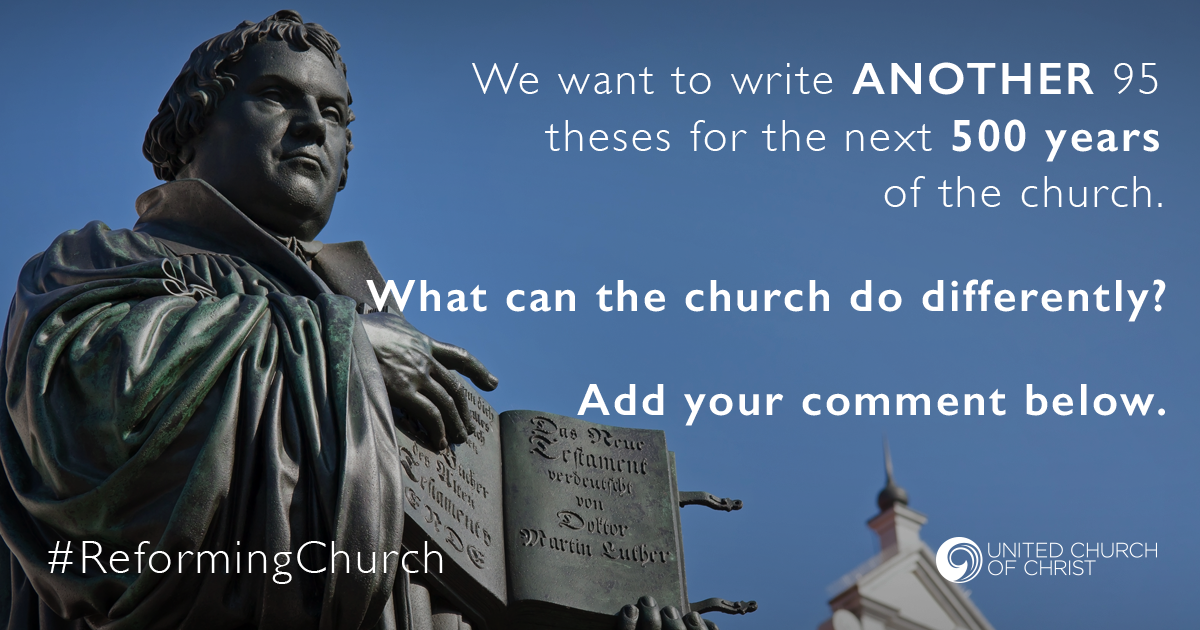 I love church traditions and I enjoy formal structure and I strive under rules and regulations. Today I am reminded though that the church must not become too attached to its traditions, structure and order. Today is Reformation Day. Actually it is the 500th anniversary of the Protestant Reformation. Today the body of Christ reminds itself that we are not about our traditions but that we are the living body of Christ.
Our church service starts promptly at 10 am and ends no later than 11 am on Sunday morning. But we also know that the church cannot limit worship to a particular place and a particular time.
Our church bulletin shows the order of worship that has roots reaching back as far as the first temple in Jerusalem under King Solomon's reign 1,000 years before Christ. But we also know that meaning-making cannot be limited to ancient words and traditions.
At our church Holy Communion is celebrated once a month. But we also know that spiritual nourishment must be available 24/7.
In our church elected members of the church council do the announcements. In our denomination a pastor has to have at least a master's degree to be even considered for office. But we also know that everybody must be encouraged to serve God's children whenever and wherever the spirit leads them.
Events planned for our congregation have to be scheduled way in advance so they can be put on the calendar. Every dollar has to be budgeted, received, spent and posted meticulously. But we also know that stewardship and commitment have to be reimagined.
The stain-glass windows and the organ are the backbone of our sanctuary. But we also know that sacred places pop up wherever people find meaning.
Martin Luther reminded us to become radical again, in the original Latin sense of the word radix, to go back to our roots. The first Christians did not have a bank account or a church newsletter. They worshiped in whatever place was safe at the time. They were constantly adapting to their environment. Over time we have developed structures that make us feel comfortable. The 500th Reformation Anniversary can remind us that the church is not only the building with the sanctuary. The church is not only the congregation of lovely people. The church is first and foremost the Body of Christ. I do not know what the future church may look like. Martin Luther did not know either. But one thing is for sure: It's going to be radically different as it always has been for thousands of years. God, I trust you have something wonderful in mind and thy will be done.
Listen to my three part sermon series commemorating the 500th Anniversary of the Reformation.
It is based Luther's three Solas:
Sola scriptura, sola fide, sola gratia!
Scripture alone, faith alone, grace alone!
There are three steps to learning: Know Be Do
The first sermon explores the "knowing" in terms of religious literacy:

The second sermon explores the "being" in terms of lived faith practices:

The third sermon explores the "doing" in terms of graciousness and generosity:

Listen to last Sunday's sermon here:


October 14th 2017 marks the tenth anniversary of my ordination to Christian ministry. I have served full time for fourteen years, but in Germany ordination is not granted until a few years into your ministry. How is an ordained person different from a non-ordained person? As far as God is concerned there is no difference because every Christian is a priest to the LORD. Ordination is a promise that professionals make to the church. For my tradition it is summarized in the Ordained Minister's Code. It has wonderful guidelines for ministry and life in general:
The Ordained Ministry
I believe that God calls the whole Church and every member to participate in and extend the ministry of Jesus Christ; that the privilege of witnessing to the gospel in Church and society belongs to every baptized Christian; that God empowers the ministry of the Church and its members by the Holy Spirit; that the Church nurtures faith, evokes gifts, and equips its members for service; and that God calls certain of the Church's members to various forms of ministry in and on behalf of the church.
I have been called by God to be a minister of the Lord Jesus Christ and ordained by the United Church of Christ to preach and teach the gospel, to administer the sacraments and rites of the Church, and to exercise pastoral care and leadership.
I will seek to witness to the ministry of Jesus Christ.
I will preach and teach the gospel without fear or favor. I will speak the truth in love.
I will administer the sacraments and rites of the Church with integrity.
I will diligently perform the work of ministry which I have agreed to perform.
Partnership in Ministry
I will nurture and offer my gifts for ministry to the Church. I will seek to call forth and nurture the gifts of others in the Church and join their gifts with mine for the sake of the mission of Jesus Christ and the health of the Church.
I will seek to understand, support and interpret the diverse ministries of the Church and its members as carried out throughout the world. I will stand with those who risk personal well being because of actions taken in response to their Christian convictions.
I will work cooperatively and collegially with those whom I serve in the particular ministry to which I have been called.
I will stand in a supportive relationship with my colleagues in ordained, commissioned, and licensed ministry, offering and receiving counsel and support in times of need.
I will be an advocate for fair standards of compensation for all ordained and lay employees of the church, particularly in the place where I serve.
I will be a responsible participant in the life and work of my Association, Conference, and the United Church of Christ.
I will be a responsible representative of the Church Universal and participate in those activities which strengthen its unity, witness and mission.I will seek the counsel of the Conference or Association Minister or the Association Committee on the Ministry should divisive tensions threaten my relationship with those with whom I minister.
The Ethics of Ministry
I will regard all persons with equal respect and concern and undertake to minister impartially.
I will honor all confidences shared with me.
I will not use my position, power, or authority to exploit any person.
I will not use my position for personal financial gain, nor will I misuse the finances of the institution which I serve.
I will not perform pastoral services within a parish or for a member of a parish without the consent of the pastor of that parish.
I will deal honorably with the record of my predecessor and successor.
I will not, upon my termination and departure from a ministry position, interfere with nor intrude upon the ministry of my successor.
Growth in Ministry
I will encourage and participate in the regular evaluation of my ministry.
I will seek to grow in faith, knowledge and the practice of ministry through intentional continuing education, study and devotional life.
I will cooperate with my Association in the periodic review of my ordained ministerial standing.
Commitments to Self and Family
I will live a life which honors my commitments to my family.
I will honor my need for time for physical and spiritual renewal, recreation and vacation.
I will honor my family's need for privacy and time together.
I will be a responsible steward of my personal and family finances. I will honor and accept responsibility for all debts which I incur.
I will attend to my physical well being and avoid abusive behaviors and abusive use of substances.
Relying on the grace of God, I will lead a life worthy of the calling to which I have been called.


At least 59 people were killed in Las Vegas on Sunday. The event has been called the biggest mass shooting in modern US history. It is appropriate to pray for the wounded, the families of the dead, and all those who do the hard work of helping the community recover. It is also important to enact measures that reduce the likelihood of mass shootings like this. One response though is not correct: being afraid.
The Jason Aldean concert was a happy time. So were the Eagles of Death Metal show in Paris and the Ariana Grande performance in Manchester. Music is full of blessing and joy. Fear has no room there. As Luke reminds us, "in that region there were shepherds living in the fields, keeping watch over their flock by night. Then an angel of the Lord stood before them, and the glory of the Lord shone around them, and they were terrified. But the angel said to them, 'Do not be afraid; for see — I am bringing you good news of great joy for all the people.'" And from there the choir of the heavenly host proceeded to give a concert of Hallelujahs, "Glory to God in the highest heaven, and on earth peace among those whom he favors!" Where there is singing there cannot be room for fear.
But is the world not getting more dangerous by the minute? All these mass shooting all the time. It seems to be so dangerous in America right now. The reality is that your chance of dying in a mass shooting is smaller than in other Western countries. In the US you are less likely to be injured or killed in a mass shooting than you are in Finland, Norway, or Switzerland. This is obviously a dark moment for everybody involved. But in the midst of this pain the message of the Psalmist is still true, "even though I walk through the darkest valley, I will fear no evil, for you are with me; your rod and your staff they comfort me."
The Bible is full of reminders to fear not:
After these things the word of the Lord came to Abram in a vision, "Do not be afraid, Abram, I am your shield; your reward shall be very great." (Genesis 15:1)
But now, this is what the Lord says – he who created you, Jacob, he who formed you, Israel: 'Do not fear, for I have redeemed you; I have summoned you by name; you are mine.'(Isaiah 43:1)
The angel said to her, "Do not be afraid, Mary, for you have found favor with God. (Luke 1:30)
"Do not be afraid, daughter of Zion. Look, your king is coming, sitting on a donkey's colt!" (John 12:15)
Let that ring true in our time and place as well:
Do not be afraid, Las Vegas!
Do not be afraid, Paris!
Do not be afraid, Manchester!
Do not be afraid!