Browsing articles from "May, 2017"
The Department of Defense recognizes June as Pride Month. The month of June was chosen for LGBT Pride Month to commemorate the Stonewall riots, which occurred at the end of June 1969. Since then our country has made lots of progress. So:

Today is a Ascension Day. Most of the time, churches will push the observance to the following Sunday, so more people have a chance to attend. Why should Ascension Day matter to you?
1. If you have a German background you would be pleased to learn that Ascension Day doubles as Father's Day. Also it comes as a national holiday that is traditionally celebrated with lots of day-drinking.
2. The theological message of Ascension Day is that the resurrected Jesus went back to heaven. On a practically level that means that Jesus is not here! There is Good News in the fact that the church cannot engage in a Führer cult following a person here on Earth.
This week will you find a church that celebrates this important holiday?
Some weeks in the life of the church look so unassuming. What could possibly be special about this week? Well, as pastor I am obliged to give you three perspectives on the next few days that you may otherwise have missed:

The window named "Ascension" at St. John's United Church of Christ
Thursday, May 25, is Ascension Day. It is a major holiday in the Christian tradition. Everybody remembers how Jesus was born on Christmas and was resurrected on Easter. But the final step of the Jesus story is just as important: his ascension into heaven. Luckily for you we will focus on that story next Sunday at St. John's United Church of Christ so you won't miss a thing. Yes, a pastor is a teacher and I am obliged to remind you of the things you need to know about the Christian faith.
Friday, May 26, is the beginning of Ramadan. It is a major holiday in the Muslim tradition. Now you may say that as church that's none of our business, but it is. Because let's be honest here: How seriously have you been taking the Lenten fast really? I shared my struggles with breaking my caffeine habit. But can you even imagine what it would be like to not eat between sunrise and sunset for an entire month? Our Muslim brothers and sisters live powerful examples of a spiritual practice that we need to get better at again. Yes, a pastor is a spiritual leader and I am obliged to connect you with practices you need to consider.
Monday May 29, is Memorial Day. It is a major holiday in the United States. Now you may say that as church that's none of our business. And to a certain extent that is true. Most Christians in the world have never been to the United States and don't know what this country celebrates on that day. But for people who live here it plays on an important theme that the Christian tradition has also: Reconciliation! After the Civil War both North and South had regional observances for their own war heroes. By the end of the 19th century a nationwide day had reconciled the memorial into one day for all. That is also what our church's message is in a nutshell: "That they may all be one" (John 17:21) Yes, a pastor is preacher and I am obliged to find the Good News in all places.
This week I challenge you to look for Christ in the heavens above, try a new spiritual practice for yourself, and work towards reconciliation in our country and around the world.
In 2009 President Obama received mixed reviews for his famous Cairo speech. Now Donald Trump's Riyadh Speech is in the books. The 45th president seems to care much less about religious matters than his predecessor. Here is a comparison of their word count when it comes to key spiritual issues:


Obama uses religious verbiage almost three times as much as his successor.
What is your take on this? Do the words a president uses matter?
Dr. James Emery White warns against "The Great Danger of Orthodoxy". Basically the point he is making is that Christians are too concerned with their focus on the presumable "right believes". Instead he proposes a balance of Orthodoxy (believing the right thing) and Orthopraxy (doing the right thing).
Now, let me be clear: I claim orthodoxy for my faith. My theology is rooted in the ancient ecumenical creeds of the church. It matters to me that there is a path to reconciliation after reformation era condemnations. And yes, especially in American culture I can see how overzealous orthodoxy can be a problem.
But can too much Orthopraxy really be a problem, too?
Let me explain. One of the fundamental splits that the church has suffered, the Great Schism of 1054 is still in full effect. It practically cuts Christianity in half: East and West. From a standpoint of Orthodoxy I am all Western, meaning I firmly stand by the filioque as an important matter of believing correctly. But that is not really what was at stake at the time.In reality it came down to a political power struggle over who ruled the Roman Empire. This supposed question of Orthodoxy was really a failure in Orthopraxy.
Christians have not sufficiently practiced Jesus's dictum "Love your neighbor as yourself". As matter of fact I think Jesus dismissed Orthodoxy over and over again: When some said you could not feed your friends on the Sabbath, he told them to set their priorities straight. When a man asked him, "what must I do to go to heaven?" Jesus's answer is always: "Practice love!"
Yes, too much Orthodoxy can cause problems. But how can too much Orthopraxy cause problems? What are minimum standards of thinking and believing that make a person Orthodox? Because here is the real crux of the matter: If you tell somebody they believe the wrong thing or the wrong way, you are not practicing love. If anyone wants to impose their Orthodoxy on another person they are neglecting their Orthopraxy.
The first official trailer for the new Star Trek series is out. I skipped Enterprise. So Discovery will be my first Star Trek experience on TV since Voyager. Here are a few observations:
1. They lead with a female Captain.
That is a genius move considering how well it worked with Voyager. Since Discover is set 10 years before Kirk, it is good to have a female lead before the macho takes over.
2. The Klingons look different again.
Klingons have seen several reboots in their appearance. But Trekkies raise all the right questions when it comes to the canon of the original timeline. On reddit they discuss theories of ancient Klingons, of the augment virus, or just a simple redo. Ultimately we will all get over the fact that the Klingons got a new look once again.
3. The uniforms are anachronistic.
Whenever you mess with the original timeline inevitably nerds like me will find the technology not representing the right time period. MegaBearsFan points out another important flaw: "In the Original Series, each ship, starbase, or installation had its own unique mission badges, similar to contemporary NASA missions. This was a detail that even Star Trek: Enterprise got right! But the Abrams reboot, and now the new Discovery series have broken with this detail, making the uniforms anachronistic within established series' canon."
4. Sign me up, CBS.
Of course, I will subscribe to CBS All Access just so I get to watch the latest in Star Trek. If you are that passionate about details you don't want to miss a minute of it, right? Unfortunately there is still no firm star date. All CBS says is "coming this fall."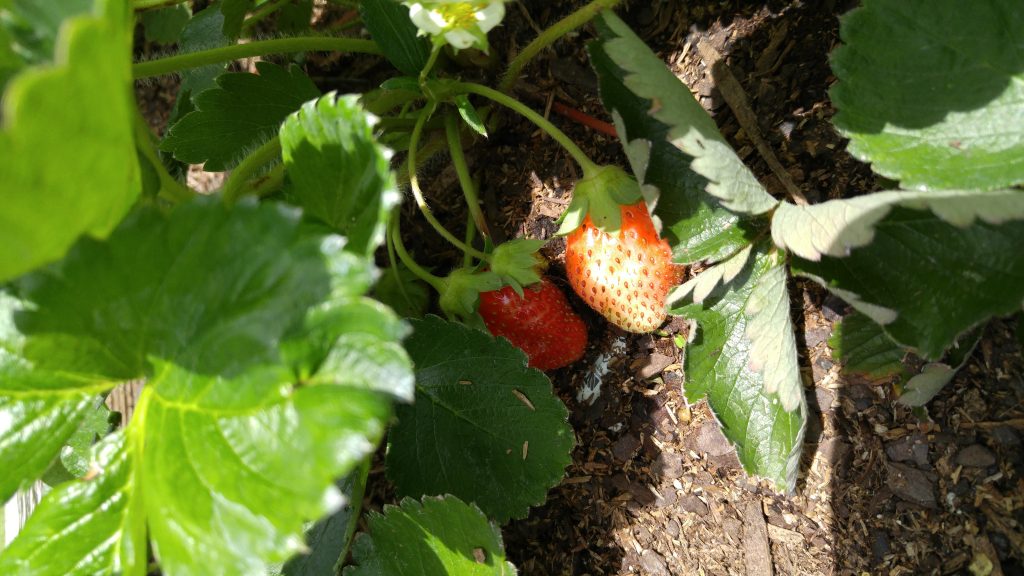 The strawberries are growing just fine. So are the tomatoes. And the carrots. And the peppers. And the flowers. You get the picture. Our garden is almost ripe for the harvest. For that to happen it takes the usual ingredients of sunshine and water. But then our garden plants bring their very own special skill to their growth process: They put down their roots.
To a vagabond like me, that is a pretty impressive feat. I honestly do not know what it feels like to live in one place for most of your life. Our strawberries, vegetables and flowers do, but I don't. In my childhood garden I used to grow all kinds berries and carrots. As a grownup the longest I have ever lived in one place was two years. Our current home holds the record of almost three years. I am turning into a plant that knows how to put down roots again.
The Psalmist knows that putting roots down is an important skill, saying about God's blessed, "They are like trees planted by streams of water, which yield their fruit in its season, and their leaves do not whither. In all they do, they prosper." (Psalm 1:3) The German in me has always imagined this tree to be an Oaktree of at least one hundred years. The Psalmist was most likely thinking of Middle Eastern olive trees. Some of those trees from biblical times are still around today.
There is something to be said for staying put:
– You mature more.
– You wrestle more with yourself and your surroundings.
– You learn to adjust.
– You learn to not just move on when the going gets rough.
– Once you put your roots down far enough the wind can no longer blow you down that easily.
Maybe that is what my garden plants can teach me: Our neighborhood may be as young as 10 or so years but still it is a place worth growing into. There is fertile ground here. Stay and grow.
What is your experience of putting down roots?