Browsing articles from "December, 2016"
I burned my right thumb pretty bad preparing our Christmas dinner. I poured water in a hot frying pan only to have the steam peel my skin off. Not that my mother told me a thousand times that the stove was hot. Growing up I knew better and touched it and got burnt, and touched it and got burnt, and touched it and got burnt anyway. There is a simple truth: When you touch a hot stove you get burnt. Problem is the world is not that simple anymore.
Oxford dictionaries named "post-truth" Word of the Year 2016. The choice speaks to a crisis of mutual understanding of the world. There used to be a shared acceptance of truth. That meant that an overwhelming majority of people agreed on what used to be called "facts". The truth has not changed. Overwhelming majorities may have shifted but they are still there. What has changed is that every opinion is now valued as much as the next one. That means that in the USA with our over 300 million people we have over 300 million truths. Everybody is free to make their own meaning regardless of the underlying hard facts of reality. What matters is what you think, not what is, or so we tell ourselves.
Obama founded ISIS. George Bush was behind 9/11. Welcome to post-truth politics https://t.co/QYrx76krF0

— The Economist (@TheEconomist) November 1, 2016
Since the world is growing ever more complex and complicated, the majority of people seems to throw the hands in the air and give up on facts altogether. People share on social media what feels right, or looks pleasant to them. With the power of Google, Snopes, and the like, fact-checking is so easy but why bother? That's nothing new by the way. When Pontius Pilate sentenced Jesus to death he could only ask, "What is truth?" (John 18:38). Everybody told him Jesus needed to be killed, yet he couldn't find a crime. A few chapters earlier Jesus states: "I am the way, and the truth, and the life." (John 14:6). Now that would be easy. What if the truth were just walking around for everybody to see, as a person of flesh and blood? While Christ is the truth we do have the problem that he ascended to heaven and we cannot see the truth born in flesh walk among us.
The challenge comes from Christ who is the truth. There is objective truth. When you touch a hot stove you get burnt. Not caring about facts does not make the blisters go away. But probably 2016 was the year of emotional backlash. We have been governed by reason for a long time. Eventually the pendulum will swing back to the golden median where facts are facts, and opinions are opinions, and feelings are feelings. In the meantime: May God grant me the serenity to accept people within the context of their own realities, the courage to stand for the truth where I can, and the wisdom to strike the right balance.

This is the Nativity Play I wrote for Christmas Eve 2016. It leans heavily on Dr. Seuss's "Oh, the Places You'll Go!". There are two dialoguing shepherds. Children can be invited to join as little shepherd helpers. [SLIDE] marks the cues for a new page from the Dr. Seuss book. Merry Christmas!
Grinch:
"Howdy everyone. So here we have baby Jesus lying in a manger. You may wonder who I am. I am one of the shepherds. My name is Grinch. Mary and Joseph are busy at the tax office. You know, that's why they had to make the trip here to Bethlehem.
Horton:
"And I am Horton. I am a shepherd as well. So Grinch and I, the two of us get to babysit today. But that is a lot of work. So can we please have all the kids come up as shepherds to help us watch the child?"
Grinch:
"Jesus of Nazareth, you are just a little baby boy. You better think small and stay close to your home town. Everybody will call you Jesus of Nazareth all your life anyway."
Horton:
"Well, I found this book of ancient wisdom here and it says something else:
[SLIDE] Congratulations! Today is your day. You're off to Great Places! You're off and away!
[SLIDE] You have brains in your head. You have feet in your shoes. You can steer yourself any direction you choose. You're on your own. And you know what you know. And YOU are the guy who'll decide where to go."
Grinch:
"But look at this little town of Bethlehem. They didn't even have a decent room for your family. You'd better stayed home. That's what we shepherds do. We stay out in the fields, where we belong."
Horton:
"That's true. As you make your way through Bethlehem…
[SLIDE] You'll look up and down streets. Look 'em over with care. About some you will say, "I don't choose to go there." With your head full of brains and your shoes full of feet, you're too smart to go down any not-so-good street. And you may not find any you'll want to go down. In that case, of course, you'll head straight out of town.
Then you get to where we work, the fields and pastures.
[SLIDE] It's opener there in the wide open air.
Grinch:
"Let me tell you one thing baby Jesus: Always make sure you have an extra pair of dry socks. When you work out there like we do your feet can kill you. Always stay on dry land."
Horton:
"Oh, Grinch, you know how kids are. He probably won't listen to us wise shepherds. He'll probably end up hanging around at the beaches of the Sea of Galilee. That's what all the young folk do these days. And Jesus
[SLIDE] But on you will go though the weather be foul. On you will go though your enemies prowl. On you will go though the Hakken-Kraks howl. Onward up many a frightening creek, though your arms may get sore and your sneakers may leak.
But then again: The angel said you are the Son of God. So, who knows, maybe you'll still a storm and walk on water someday."
Grinch:
"Listen up little fella. The angel said you're special. Don't flatter yourself. And be especially careful when you go to the big city. In Jerusalem people will throw you a parade like you're a king, but a few days later they'll drop you like a hot potato."
Horton:
"Oh, Grinch, please don't you always be so negative.
[SLIDE] Out there things can happen and frequently do to people as brainy and footsy as you. And then things start to happen, don't worry. Don't stew. Just go right along. You'll start happening too.
Grinch:
"Hey kids, I see Mary and Joseph are coming back. It's time for you to get lost. I don't want them to see you with all your germs around the precious little one."
Horton:
"Oh, Grinch, please, be nice for a change. Our little shepherd helpers have learned an important lesson today. This baby is special and off to great places. And you know what? He sends us out to follow in his footsteps.
[SLIDE] Congratulations, little shepherd! Today is your day. You're off to Great Places! You're off and away!
And the little shepherds returned, glorifying and praising God for all they had heard and seen, as it had been told them.
Christmas is a highly political story. Remember what triggered Joseph and Mary to go to Bethlehem? – The Roman Emperor had ordered a census so that he could tax all his subjects in their hometown. Herod was a satellite king for the Roman Empire. He governed the Roman province called Syria around the time Jesus was born. The gospel of Matthew tells the story that when Herod saw that he had been tricked by the wise men, he was infuriated, and he sent and killed all the children in and around Bethlehem who were two years old or under, according to the time that he had learned from the wise men. Baby Jesus escaped as a refugee to Egypt. As a grownup he was eventually arrested and crucified. The sign on his cross said what the wise man had been proclaiming at his Birth "Jesus of Nazareth, King of the Jews".
The mighty Roman Empire was afraid of a babe in a manger because people saw him as the king. As a consequence oppression only got harsher. Innocent infants were murdered. Today we call these acts terrorism. Terrorists want to spread terror. That is not the bomb or the killing itself but it is that feeling of not being safe in situations where you are actually supposed to be safe. A baby in crib, like Jesus in his manger is supposed to be safe.
Unfortunately terror never stops. Just over the last 48 hours we have seen events that question a decent sense of safety and security. The Russian ambassador to Turkey was shot to death in an art-gallery opening a photo exhibit. 12 people were killed by a truck plowing through the crowds at a Berlin Christmas Market. Places of art and entertainment are supposed to be fun and safe. That is what terror does: Bringing fear to places where it does not belong.
Christmas is a highly political story. There is much to fear in the world. Some things have always been scary. Other terrors are brought upon the innocent on purpose. But the Christmas story also contains the answer to the fear of terror. It is the proclamation of the angel in the Gospel of Luke: "Do not be afraid!" That is not only an emotional comfort like "Don't feel bad.' It is a profound call to resist the temptation of being terrorized. Baby Jesus will not die today! Working for peace in Syria still makes sense! Creating community in the city is still a beautiful thing! Do not be afraid!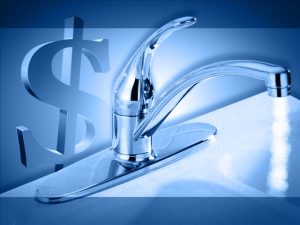 I know a good deal when I see one. Today I want to share a well kept secret with you. It costs $76.44 per member per month to run our congregation. That is if the 2017 proposed budget finds approval on Sunday. Now, obviously not all members contribute. Those who do give, give a lot more. Then there are quite a few non-members who give very generously. $76.44 is just an average that is more the exception than the rule, but it is a good reference point. As I look at out family budget at home, $76.44 is roughly what we pay for our monthly water bill. So the church costs as much as your water at home. What do you get for that? Browsing through our proposed budget for Sunday I find a lot of value:
– The church keeps up a cemetery that is available to you and your loved ones at a low cost.
– We support three musical professionals who provide choir leadership and instrumental accompaniment, as well as concert series.
– Youth get instructed in the Christian faith in a year-long confirmation class.
– We provide meeting spaces not only for worship and education, but private parties, community events, and social groups.
– Your children and grandchildren get to participate in children's church, vacation bible school, and seasonal programs at no extra cost.
– You get to join Bible Studies, and special devotional and service opportunities.
– Pastoral care is available to the home-bound and hospitalized, and those dealing with loss, or those fixin' to get married.
– Our church office is open every weekday to provide the communication and coordination that we need in order to do God's work together.
– If you want to be a delegate to regional and national gatherings of our denomination, we will pay your travel so we stay well connected and resourced.
– In all we do we worship God, not only that one hour on Sunday morning but literally 24/7 in various missions and ministries.
Now, I am a theologian, not a mathematician. But in my humble opinion we offer all this and much more in a very cost-efficient manner. Don't get me wrong, I really appreciate that I have safe and reliable water at home. But I do think the church offers more bang for the buck.