Browsing articles from "November, 2016"
I walked into the living room this morning. This time of year the entire space looks like a winter wonderland. There is not a square inch that is not filled with Christmas decorations: a collection of ten nutcrackers, five Christmas stockings, two trees, hundreds of lights, five advent calendars, and all kinds of knickknacks, wreaths and evergreen everywhere. The one collection that stands out most though are our currently 18 nativity scenes. They range from tiny candle holder to children's toys to finely crafted olive wood straight from the Holy Land. We have amassed them over the years always looking for the perfect one. In the process we found out that there probably is no perfect one because we really love having this museum of variety in our living room.
Remember how I walked into the sanctuary last week?
There you will find a similar collection of nativity scenes. There are 26 of them currently. Some display the stable with child-like naivete. Some create a royal palace around the divine child. They come it all shapes and sizes.

Both at home and at church I am very diligent at making sure to take Jesus out of the scene where possible. The baby simply does not belong in the manger until Christmas. If he is glued in or otherwise attached I will not break the piece but a removable Jesus will be removed. That is good Christian practice to me because it sends a powerful message: Advent is not Christmas!
Advent derives from the latin adventus and means "coming". Christ is still in the process of coming! He is not born yet. Our job is to be here tensely waiting. There is no fulfillment yet. There are no gifts yet. Expectation is building up. Advent wreath and calendar serve as countdown clocks to tell us: It is not Christmas yet! And there is great reward in expectant waiting.
The Stanford marshmallow experiment showed how important delayed gratification really is: Psychologist Walter Mischel placed a marshmallow in front of series of children and left them alone with it for 15 minutes. Before he left he told them that they would get a second marshmallow if they did not eat the first one while he was away. Wait 15 minutes and add 100% – sounds like a great deal. In follow-up studies, the researchers found that children who were able to wait longer for the preferred rewards tended to have better life outcomes, as measured by SAT scores, educational attainment, body mass index, and other life measures.
Christ is in the process of coming. The baby has not hit the hay yet. There are no shortcuts.

The Holiday Season is in full swing and it comes with extreme expectations. We are supposed to connect with a big group of relatives that are hardly familiar on a very intimate level very quickly. Who does not have family around will experience loneliness and disconnect even more brutally. And then there is the obvious food trap.
I want to use the turkey as an allegory for the time between Thanksgiving and New Year's. In November the turkey is all about overeating and overdoing all kinds of indulgences. Come January most people go cold turkey and forbid themselves pleasures via new year's resolutions.
Please be conscious of these traps and treat your emotions like your glucose level. Do not get drawn into the emotional and relational expectations more than necessary. Do not submit your body and soul to a too harsh drop from feast to famine. Avoid the extremes this holiday season.
I walked into the sanctuary this morning. It's Monday morning and I wanted to see how the Advent decorations looked this year. I wasn't around to help set up the afternoon before. But I can tell: Everybody knows exactly what they are doing. Everybody knows exactly where each piece goes. It looks gorgeous – like every year. Then I started checking for the little things that are sometimes off: No, the tree is not crooked. No, the extension cords are in place and actually long enough. All is well. All is as it always has been.
I find that comforting. I like it when tradition keeps me grounded. I think it is healing in an ever more hectic and divided world that there is this bastion of togetherness and grandeur that just falls into place year after year. There is beautiful stability in knowing what's going to happen: The smells, the bells, and all those little things that make the holidays merry and bright.
As I am floating through the sanctuary I lay my eyes on the dozens of nativity scenes that are neatly arranged along the windows. My mood changes. All of a sudden I find myself bored. It is kind of same old same old. How is the gospel of Jesus Christ supposed to come alive for a new generation, for a new day and age when we keep everything exactly the same year after year?

But that's how a liturgical church works. Repeating rhythms come with opportunities and limitations. The paraments are also the same as every year. One shows the Alpha and the Omega, a reference to Revelations where the one who was seated on the throne said, "See, I am making all things new." Wow! There is the promise of newness in the same old same old. That's why we do this: Because the new needs to be birthed out of what came before.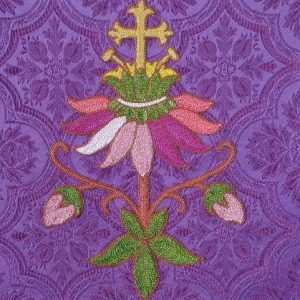 That is also reflected in the other parament with its Isaiah reference: "A shoot shall come out from the stump of Jesse, and a branch shall grow out of his roots." That old kingdom of David is coming to new life and new fruition in an entirely different shape, form and context. Out of an ancient flower grows the cross of Christ. May this Advent season surprise you with its openness to an entirely new future and may its traditional same old symbols guide you into something fresh. It worked for me this morning in the sanctuary.
Thanksgiving is right around the corner. The story goes that the pilgrims thanked God for sustaining them in a strange and dangerous land. They had just escaped another grave set of dangers from their nemesis King James of England. Walking through the four centuries since then we discover a few kings that did not turn out so well.

1600s
King James is not the king. The pilgrims sure did not want to live under him. These separatists did not want to be a part of the king's church so they preferred to risk the journey across the Atlantic instead.

1700s
King George III is not the king. The american colonies declared boldly: "The history of the present King of Great Britain is a history of repeated injuries and usurpations, all having in direct object the establishment of an absolute Tyranny over these States."

1800s
Prince Carl of Solms-Braunfels is not the king. He may have brought the first German settlers to Texas but along with the Adelsverein he did not make good on many of his promises: free land, safety and plenty of opportunities. A lot of it did not come to pass for many early settlers.

1900s
Adolf Hitler is not the king. He demanded worship for himself but the confessing church denounced him declaring: "We reject the false doctrine that beyond its special commission the State should and could become the sole and total order of human life and so fulfill the vocation of the Church as well."

Jesus Christ is the king. This week the church celebrates Christ the King Sunday. The last Sunday of the liturgical calendar puts all of creation, including all of history under the lordship of Jesus Christ. No matter how terrific or horrific our leaders, past or present or future may be, their reign is subject to Christ's reign. And their service will not be judged by how great they are but by how humble they are: "But it is not so among you; but whoever wishes to become great among you must be your servant, and whoever wishes to be first among you must be slave of all." (Mark 10:43-44)