Browsing articles from "March, 2016"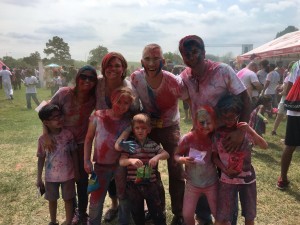 Over one billion persons in the world are Hindus. We have wonderful friends right in our neighborhood who came to the US from India. This past weekend we joined them at the Houston Holi. Holi means "colors" and that is what this festival is best known for: People throwing colored cornstarch at each other. It is great fun and like any other festival it has stage performances, vending booths and bounce houses for the kids. What makes it unique are the colors: They are everywhere, the air is filled with colorful dust, every square inch of clothing and skin is covered. Family, friends, and total strangers throw handfuls of color at each other recreating the entire rainbow.
In the religious background of the Festival of Colors, there are two legends that are very fitting for the Easter Weekend:
1. Prahlad is a saintly boy who was challenged by the demoness Holika. After a lot of temptation Prahlad was supposed to be killed but through divine intervention death loses to life. Holi is the celebration of life overcoming death.
2. Krishna is an ancient deity that is usually depicted with dark skin. Eventually he married Radha, a goddess with "fair skin". Holi is the celebration of color covering everyone's face so the color of your skin does not separate person from person.
Just like Easter, Holi is tied to the spring equinox and this season comes with life starting to spring, blooming with hope and bringing out more colors. I am going to crack open a wonderfully colored Easter egg now.
We have been strolling through Lent by walking at different venues for the past six weeks. The final of our strolls will take place during church on Palm Sunday. This Sunday is truly all about walking. It marks Jesus' entry into Jerusalem, that is: it marks the transition of the Jesus movement from Galilee (northern Israel) to Judea (southern Israel). Google maps shows that the most direct route for a walk from the Sea of Galilee to Jerusalem takes about 30 hours of constant walking. I have done this trip multiple times by bus and honestly I cannot imagine walking it.
But according to biblical tradition the Son of David had to enter the city of David as the king that he was. It is this royal entry that makes Palm Sunday special. People got a sense of David's kingdom being restored with peace and prosperity for all, getting rid of the Roman occupiers. Hope for heaven on Earth. They spread their cloaks to line the streets for his donkey and welcomed him with joyful shouts of "Hosanna!" The lesson here is that as Christians we celebrate the king of Israel. At its core the church is nothing but a Jewish sect. The king of the world came as the king of the Jews and will draw all God's children to the heavenly Jerusalem.
The entirety of Holy Week follows the Middle Eastern background of our faith: Maundy Thursday reminds us of Jesus and his disciples celebrating the Passover, on Good Friday the curtain of the temple was torn in two, opening the Holy of Holies. And finally Easter is a reflection of the Exodus out of death into resurrection, from Egypt into the promised land. Jesus spent 40 days in the desert just like Israel spent 40 years in the desert. Our Lent season reflects all that and brings the hope of eternal life to all the people. Hosanna!
As an Army Chaplain I do not have a choice: When we conduct chapel services in the field there are weapons all around us. Force protection never stops. In the Army everybody with the exception of the Chaplain is in charge of protecting themselves, the team, the nation, the world.
As a local church pastor I cannot imagine people bringing firearms to church. Jesus is so loud and clear in his call for non-violence that the threat or application of force cannot be part of the church's culture. When the church blesses arms that leads to crusades and bloodshed in the name of Christ.
But the question that my military ministry poses is a valid one in the local church also: How do we best protect the safety and health, ultimately the life of our people at church? For the longest time the two-fold answer was simple enough:
1. We trust law-enforcement officials to keep us safe.
2. The church just like a school, a polling location, a racetrack or an airport is not a place for taking the law into your own hands.
Everyone I have spoken to, seems to join in a clear consensus, that we do not want to see firearms in the sanctuary. How do we go about doing that?
It appears that we have the following options:
1. Do nothing and let common sense and common courtesy rule our behavior towards one another.
2. Hand out a card or other document on which is written language identical to the following: "Pursuant to Section 30.07, Penal Code (trespass by license holder with an openly carried handgun), a person licensed under Subchapter H, Chapter 411, Government Code (handgun licensing law), may not enter this property with a handgun that is carried openly" and "Pursuant to Section 30.06, Penal Code (trespass by license holder with a concealed handgun), a person licensed under Subchapter H, Chapter 411, Government Code (handgun licensing law), may not enter this property with a concealed handgun"
3. Post signs with the same text in both English and Spanish on every entrance to our buildings with each letter at least one inch in height.
The church council has wrestled with this issue since late last year and had not been able to reach a conclusion when the new Texas laws went into effect on January 1st. So on Sunday, March 13th, we have scheduled a table talk after church to address this issue. We need your input on the question of how do we make our people feel safe in the sanctuary?