Browsing articles from "January, 2016"

Persons with Roman Catholic background are the majority of new members we receive into our congregation. St. John's United Church of Christ is normal in that regard. Throughout our denomination around 40% of newcomers were raised Catholic, according to "Catholics in the United Church of Christ", a booklet composed by two former Catholics who became UCC clergy. Our church council has a significant portion of former Catholics as well.
In that sense it strikes me as odd that we avoid the term "catholic" when we recite the Apostles' Creed. We need to fix that. As a united and uniting church our main goal is to bring the body of Christ closer to oneness and that is what "catholic" means: the ecumenical church universal. From now on we will go back to the traditional wording as printed in the hymnal.
The experiences of being Catholic are at least as diverse as they are in Protestantism. Whether you received your education before or after Vatican II makes the world of a difference. Whether your weekly CCD classes were top notch or you hardly ever went, determines how familiar you are with the church's traditions.
Many Catholics, as Mary Luti and Andrew Warner describe it, "would have stayed in the Church 'if only…' If only it were okay to be gay, or for priests to marry, or for women to be ordained, or for divorced and remarried people to receive Holy Communion." These Exiles usually remain Catholics with Mary and the Saints in their hearts. Who can blame them? Complex spiritual journeys are always welcome in the United Church of Christ.
Culturally they are easy to spot. Sometimes a Freudian slip will have them talk about mass, parish, or priest. Please remember: A Catholic priest typically covers a flock of 1,600 whereas the average UCC pastor only shepherds 200. You have more and easier access to your pastor in our tradition. Make use of that!
When we receive new members we celebrate their journey of faith that has brought them to where they are. The book of worship provides beautiful words for the occasion:
"By your baptism you were made one with us in the body of Christ, the church. Today we rejoice in your pilgrimage of faith which has brought you to this time and place. We give thanks for every community of faith that has been your spiritual home, and we celebrate your presence in this household of faith."
If you want to learn more about "Catholics in the United Church of Christ" the 32 page pamphlet can be ordered here.
The traditional period in the northern hemisphere for the Week of Prayer for Christian Unity is 18-25 January. Those dates were proposed in 1908 by Paul Wattson to cover the days between the feasts of St Peter and St Paul, and therefore have a symbolic significance. In the southern hemisphere where January is a vacation time churches often find other days to celebrate the week of prayer, for example around Pentecost (suggested by the Faith and Order movement in 1926), which is also a symbolic date for the unity of the Church.
In Houston our 3rd Annual Ecumenical Prayer Service during the Week of Prayer for Christian Unity will be held on Friday, January 22, 2016, starting at 7pm. The 2016 host is Pleasant Hill Baptist Church at 1510 Pannell St., Houston, TX 77020. All are welcome!

The oldest baptismal font in Latvia dates from the time of the great evangeliser of Latvia, St Meinhard. It was originally located in his Cathedral in Ikšķile. Today it stands at the very centre of the Lutheran Cathedral in the country's capital, Rīga. The placement of the font so near to the Cathedral's ornate pulpit speaks eloquently of the relationship between baptism and proclamation, and the calling shared by all the baptised to proclaim the mighty acts of the Lord. This calling forms the theme of the Week of Prayer for Christian Unity for 2016. Inspired by two verses from the First Letter of St Peter, members of different churches in Latvia prepared the resources for the week:
"But you are a chosen race, a royal priesthood, a holy nation, God's own people, in order that you may proclaim the mighty acts of him who called you out of darkness into his marvellous light. Once you were not a people, but now you are God's people; once you had not received mercy, but now you have received mercy." (1 Peter 2:9-10)
Archaeological evidence suggests that Christianity was first brought to Eastern Latvia in the 10th century by Byzantine missionaries. However, most accounts date Latvia's Christian origins to the 12th and 13th centuries, and the evangelising mission of St Meinhard, and later of other German missionaries. The capital, Rīga, was one of the first cities to adopt Luther's ideas in the 16th century, and in the 18th century, Moravian missionaries (Herrnhut Brethren) revived and deepened Christian faith throughout the country. Their descendants were to play a central role in laying the foundations for national independence in 1918.
However, the totalitarian darkness of the 20th century estranged many people from the truth about God the Father, his self-revelation in Jesus Christ and the life-giving power of the Holy Spirit. Thankfully, the post-Soviet period has been one of renewal for the churches. Many Christians come together for prayer in small groups and at ecumenical services. Conscious that the light and grace of Christ have not penetrated and transformed all the people of Latvia, they want to work and pray together so that the historical, ethnic and ideological wounds which still disfigure Latvian society may be healed.
I hope you will come and attend this most marvelous service on Friday, January 22, 2016, when the Rev. Joshua Lawrence will represent the Houston Association of the United Church of Christ.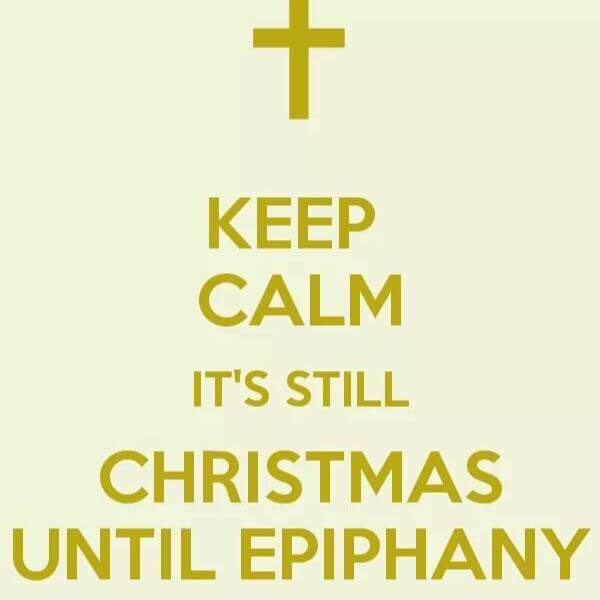 Yes, Virginia, there is a war on Christmas.
No, it is not happening right after Halloween when the self righteous do not like the design of disposable coffee cups. By that they only admit not to prepare for their coffee runs by bringing a reusable travel mug. No, the actual war on Christmas is going on right now, between Christmas and Epiphany. Most of our neighbors had their decorations down by December 27th. The Christmas radio station disappears as soon as Christmas begins. Virginia, that is where the war on Christmas is real.
In America there is confusion to when Christmas is happening. Many people and businesses confuse the holiday season with the Christmas season. Christmas is a church service: It is the Mass celebrating the Birth of Christ, short Christ-Mass. Since the 5th century Christians have celebrated the birth of Christ this time of year. Leading up to Christmas is the liturgical season of Advent. Christmas does not start until after Christmas and it goes on for 12 days all the way through Epiphany on January 6th. Whoever insists on saying "Merry Christmas" before then is waging war against one of Christianity's most important holidays.
How did all of this come about? Well, in America we have a thing called the holiday season. It is the period of time from Thanksgiving until New Year, including such festivals as Christmas, Hanukkah, and Kwanzaa. That is where misunderstandings happen: Most major religions have their festival of light this time of year from Hindu to Jewish and Christian. And the retail industry loves this time of year. The cultural commercial holiday season is there to lead up to and support people in celebrating whatever their faith holds dear. The greeting for the season is "Happy Holidays" because it celebrates a variety of wonderful occasions.
As a Christian I indulge in both, the civil holiday season and the liturgical Christmas season. Not everybody knows that they are distinctly separate things and you will always find the terms used interchangeably. But it is my job as pastor and teacher to remind myself and my readers that, yes Virginia, please leave your lights and decorations up until Epiphany. And you, FM 99.1, please play Christmas music not only during Advent but also during Christmas!