Browsing articles from "December, 2015"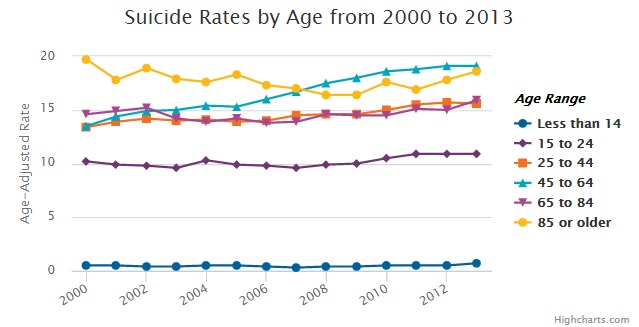 The holiday season is supposed to be jolly and merry. Let me tell you that it does not always work out that way. As a matter of fact there are more deaths this time of year than any other. The sun setting so early leaves us in darkness. And the pressures that come with expectations for the festive season add to the burden.
There is a reason that most major religions have a festival of light in the winter season, because light and hope are in short supply when it is dark and cold all around us. You may call it Hanukkah, Kwanzaa or Christmas. The point all these festivals make is: Light a candle in the darkness.
Dr. Martin Luther King Junior expressed it most beautifully:
Darkness cannot drive out darkness, only light can do that.
In 2015 I have worked on five suicides. On the Army Reserve side of my ministry two Soldiers killed themselves. On the local church side I know of three families who had people commit suicide. The military has an aggressive strategy where us chaplains regularly teach suicide prevention and suicide intervention. In the church we do not have such a thing. But since 2015 has been so deadly I intend to change that. I will speak up about suicide on a regular basis. You may call it my new year resolution: In 2016 I will work harder on training the church in suicide prevention and intervention.
Yes, you read that right: Suicide can be prevented. It is not a tragedy that strikes from the outside but it is human behavior that can be changed. It can be done. It is hard but possible. And to get one thing out of the way: Suicide is not a sin! The person who kills themselves is not bad for doing so. When the Psalmist talks about walking through the darkest valley, that is where that happens. If you cannot find a way out of the dark you may end up killing yourself. Yes, you too, as you read this right now.
If you feel that happening to yourself, please snap out of it and ask for help!
If you see that in a family member, friend or coworker, wake them up and show them the light!
In the epic battle between the empire of darkness and the rebellion of light the good guys always win. The death star will be destroyed. And make no mistake, I am not talking about a galaxy far far away. That struggle is happening right here, right now, in every heart.
Darkness cannot drive out darkness, only light can do that.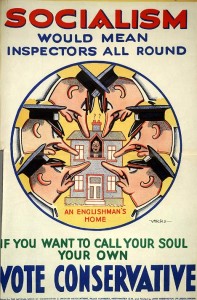 (English poster for the 1929 elections)
Merriam-Webster has picked a word of the year. Actually they did not: they declared 2015 the year of a suffix: -ism.
Since 9/11 the world has been flushed with -isms related to terror-ism. The recent shootings in San Bernardino brought it back to the top of the agenda.
This trend toward -isms gains steam in a presidential election cycle that is fueled by labels: conservatism and liberalism. One candidate gets accused of promoting fascism, another embraces socialism. Pick your label that you like or hate.
In the United Church of Christ we are intentional about exposing and ending the negative labeling of persons: sexism, genderism, ableism, racism. We have consistently stood up for the equal treatment of all God's children. Whenever a group of people has been singled out via an -ism we have stood right there with them.
"You are those who justify yourselves in the sight of others; but God knows your hearts" (Luke 16:15)
It is so tempting to look at people and judge a book by its cover. We slap labels on people so we can categorize them. That is useful to a certain degree in order to find orientation in the world. But throwing -isms around as a method of judgement is just lazy because it cuts short a deeper exploration of a person or idea. We must acknowledge the sin of -ism. Because when we don't we are bound to commit it because it is so convenient.
The Lord be with you!
Und mit deinem Geiste!
Lift up your hearts!
Wir erheben sie zum Herrn!
This is how over 100 people started the Communion Prayer for our German Christmas Service last Sunday. A few times a year we have multilingual events whereas Holy Communion is usually celebrated once a month. It so happened that our Adult Sunday School class worked on the topic of Holy Communion as well. When I stop by towards the end of their time I sometimes get to attend the final round of conversation and sometimes there are issues they request my input on. Communion was such an issue and their question was: Who can receive Holy Communion?
The short answer is: Everyone!
The main reason for that is simple: Holy Communion is nothing but the Word of God made accessible to those who wish to receive it. It has the same message that every sermon has: God loves you. Everyone is invited to hear the Word of God in the sermon, so everyone is invited to eat and drink the Word of God in Communion as well. Bread and wine are tangible sermons.
Some traditions have tried to limit access to the table by excluding those who are not considered worthy. By that standard nobody would be allowed at the table because we are all sinners. Jesus had Judas at the table of his Last Supper knowing full well he would betray him. He was not excluded but on the contrary Jesus has consistently dined with sinners. That includes you and me. That is also the reason why on Communion Sundays the order of our service includes a Prayer of Confession followed by the Assurance of Forgiveness. We need to acknowledge our sinfulness because it actually makes the Lord's Supper all the more important.
There used to be a variety of age limits on the participation in Holy Communion. The argument usually went like this: Children do not grasp the meaning of Holy Communion. Yet understanding is not a prerequisite for participation: Family Ministry brings Communion to people in retirement homes and I can assure you that some of the residents do not even recognize that they are holding a cup of grape juice in their hand. What they do understand though is the feeling that there is a group of people that cares for them and that is after all what communion means – being together with one another and with Jesus Christ.
I have read two pastoral autobiographies lately. You would say they could not be any more different:
1. Eugene Peterson's The Pastor is about him starting a family-oriented home town church in suburbia at a time when his baby boomer generation was just moving into their starter homes.
2. Nadia Bolz-Weber found her call to ministry later in life and is kind of a poster child for the postmodern, meaning-making, downtown hipster church culture.
To me the secret to their successes in ministries has more in common than meets the eye. Behind the obvious cultural differences they do the exact same thing: They open their lives not only to friends and parishioners but the broader public. They are low-boundary people.
I cringe when church functions are invited into their homes. I get uncomfortable when the privacy of church members is at risk when pastor talks too much. I worry about the example they set for colleagues to the left and to the right. If this model of doing pastoral ministry were the norm most pastors, including myself, would not be any good. People who open up that much intimidate me.

Wow, did you see what just happened? I opened up! All I set out to do was to write a book review for Accidental Saints by Nadia Bolz-Weber. And now here I am becoming more like her. At first I was appalled by the book, but reading what I write about it, I must admit: You cannot argue with its transformational power. I guess I am one of those Accidental Saints, too. I guess everybody is to a certain extent.
Disclaimer: I received this book from Blogging for Books for this review.

The Rosenberg City Council has invited me to give the invocation for tonight's meeting. World AIDS Day is held on December first each year. This is a time when we remember people who have died from AIDS-related illnesses and people who are living with HIV; a time to give thanks for the progress that has been made and to reflect on what still needs to be done. It is an opportunity for people around the world to unite to eradicate AIDS and show support for people living with HIV. It is a time to commit anew to ensuring that no one is left behind.
The Ecumenical Council of Churches provides a beautiful World AIDS Day Liturgy this year. So I will adapt the Prayer of Confession that was originally composed by Rev. J.P. Mokgethi–Heath, Church of Sweden, to fit the occasion at City Hall tonight and offer the following prayer:
God our Creator, we confess that we have not looked upon all whom You have created with the same love and celebration as You have. We have not affirmed all Your people as having equal worth and equal dignity. We have stood by as others have been humiliated and cast out; Creator God, Have Mercy on us.
Jesus our Redeemer, in Your life on earth you lived the inclusivity you preached. You reached to the margins of society and drew all to salvation through Your sacrifice on the cross. We confess that we have not lived your inclusivity. Day by day we encounter people whom You have redeemed and walk past without recognizing the dignity you have bought for them; Redeemer God, Have Mercy on us.
Holy Spirit our Sustainer, You breath life into all around us. Your breath fills us with life and draws us to want to praise You. We confess that our community has not been a welcoming place for all. We have associated with those we feel comfortable with and been apathetic about the countless people who have felt barriers to entry, barriers to full citizenship; Sustainer God, have Mercy on us. Amen.