Browsing articles from "October, 2015"
What if there is no big difference between the living and the dead? First off: There is a huge difference! If you have ever lost somebody you know the void, you know the pain and you know that nothing can ever fully replace them. When somebody dies life changes for the rest of us in a dramatic and sustained way. The day of their birth or their death will remain special. The holidays make obvious that the seats at the dinner table are now arranged in a different way. Nothing is the same anymore.
But again: What if there is no big difference between the living and the dead? All it takes is a change in perspective. Most people die within a century of their birth. That is our nature. But if we look at death from God's eternal perspective things change dramatically:
"For a thousand years in your sight are like yesterday when it is past, or like a watch in the night." (Psalm 90:4)
What if our lives, what if all of human history, what if all of time and space just last for a blink of God's eye? A few generations up or down the family tree turn into nothing. Ages become seconds. Every person that has ever lived and ever will live can be together in one moment of God's time.
All Saints Day tries to stress that unity of both the living and the dead.
Is that supposed to tell me that my pain is irrelevant?
– No! Grief is our human reality here and now for us who are left behind.
Is that supposed to mean that my parent, spouse or friend is not really gone?
– No! Death is as real as life is. But when we say that we hope for the Resurrection to Eternal Life it is only fair to assume that this is already a reality for some of us.
All Saints Day is an invitation to relate to the ones you have lost both in loving remembrance of a shared past and hope for a future reunion. And maybe in God's eyes both are taking place at the same time: Right now!
With our St. Martin's Day Celebration fast approaching it is time to get your supplies ready to build your lanterns. We will gather on November 12th at 5pm to build them. Then it's stew supper at 6:30 followed by a skit and finally our lantern procession. Please RSVP on Facebook.
The most common one is based on a box of Brie cheese. Detailed instructions are over at UK-German Connection.

Another easy way is to use a two-liter soda bottle or a milk jug as your body. Since it's transparent to light all it needs is stickers as decoration or like this found on Pinterest.

A word on lighting: We will have several pre-lit handles available. But please plan to bring electric tealights or glow-sticks in case we run out.

A great source for more lantern patterns and craft suggestions is Heiliger-Martin.de It has instructions with images so don't let the German language deter you.

Flip your Bible open on a random page, point your finger on a random verse and read it out loud.
How would you feel if you had to live your life accordingly?

Every other day I run two miles at five o'clock in the morning. I have to do that because I need to be in shape for the Army Physical Fitness Test and I want to do it because I have always enjoyed exercising. Also I believe God calls us to take care of our bodies. Every muscle, bone, joint and organ is a beloved creature of God just as the whole body is. In recent months we have had multiple occasions in the church were staying active came up: Several people share about their experiences on their early morning walks. We have learned that getting your heart pumping can help prevent Alzheimer's disease. Strong legs can prevent falls. Being in good physical shape helps you withstand the stresses of surgery better and makes recovery faster and easier. Exercise is a spiritual practice. It is taking care of God's creation: Yourself!
Here is how Genesis 1:28-31 speaks to this issue:
"God blessed them, and God said to them, 'Be fruitful and multiply, and fill the earth and subdue it; and have dominion over the fish of the sea and over the birds of the air and over every living thing that moves upon the earth.' God said, 'See, I have given you every plant yielding seed that is upon the face of all the earth, and every tree with seed in its fruit; you shall have them for food. And to every beast of the earth, and to every bird of the air, and to everything that creeps on the earth, everything that has the breath of life, I have given every green plant for food.' And it was so. God saw everything that he had made, and indeed, it was very good. And there was evening and there was morning, the sixth day."
Martha Grace Reese in her 2008 book "Unbinding Your heart" interprets this as a call to combine physical and spiritual exercise:
"[T]hese powerful stories show God's joy in what God has brought into being. God is still creating. We can join God in that joy and care-taking. Today, take a 'Prayer Walk.' Choose a place – whether in nature, a shopping mall, your office, the library, the grimy bus station downtown, your own neighborhood or someone else's. Walk through it slowly. Try to see it with God's eyes. Feel God's love for the place, the growing things, the people. As you walk, bless the houses, or rooms or paths. Bless the people who will go in and out of them, their families. Pray for God's healing, guidance, protection. Pray as you feel the Spirit moving you to pray for anyone you see. What did you notice?" (page 128)
Maybe we ought to start a walking group at the church. Maybe we need to walk around this neighborhood and bless all who live in it. Maybe we need to stay in shape together, because after all: It is easier to get moving when you do not have to motivate yourself alone.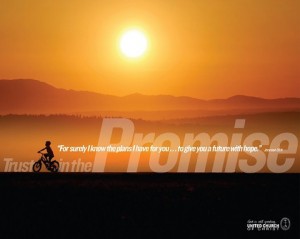 Congress pulled it off this time. There is no government shut-down even though the new fiscal year is here and a budget is nowhere in sight. Spending bill after spending bill keeps our country stuttering along. As a church we are charged to be a witness to the world. Not only through our words but especially through our actions. And at St. John's United Church of Christ we do have a budget for every year, we pay all our bills when they are due. We increase care for the elderly and educational opportunities for all. We do not leave the next generation with a pile of debt. We update the infrastructure of our facilities before huge repairs become due. That is our way of showing the world how to prudently manage your affairs in a Christian spirit. That is a powerful witness to young people learning how to budget and congressmen and congresswomen alike: Make a plan and stick with it.
Granted, our affairs are not nearly as complex but still we need to do all the things we need to do. And we always want to do more and better. It is a miracle how the generosity of our givers allows us to do more good for more people. The math is pretty simple: We are about 180 members. Our budget is about $180,000. That makes an average giving of $1,000 per person per year to keep us going. A lot of giving happens through the offering plates on Sundays. So let me break down the math even further. If everybody makes it to church 50 Sundays a year and gives $20 each time, we make budget. That is of course an average and reality looks very different. But it illustrates that it can be done.
But your generosity is not limited to that. The Endowment Fund and the Memorial Fund receive generous contributions above and beyond our budget. But please keep in mind that these are additional giving options. Our first and primary ministry is to serve God's people here and now. Jesus said: "Let the dead bury their dead" (Luke 9:60). While the maintenance of our assets and gifts on behalf of passed loved ones are very much appreciated, primary effort has to go into our active ministries in our community and around the world.
The problem in Congress is that they are willing to let the whole budget process collapse over one or two line items. As a United Church of Christ congregation we value unity over separation. We come together across ideological spectra and send a powerful witness every-time we create and meet a budget: All God's children need all of us to pitch in and to do our part. That is the stewardship God has entrusted us with – not only over the church, but the world.