Browsing articles from "August, 2009"

Filled with gratefulness and joy we announce our daughter's birth:
Phoebe Katharina Haas was delivered by cesarean on August 22 2009 at 3:47 pm.
She was 21 in tall and weighed 7 lbs 12 oz. Mother and child are in good health.
Now Marie is a proud and loving big sister!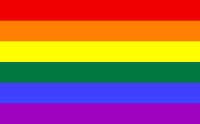 Obama used to be the big hope for Liberals. The dream of a better world, equality not only for people of all ethnicities but sexual orientations as well. No way – breaking his promises he wants to keep "Don't Ask, Don't Tell". Same thing with the "Defense Of Marriage Act" – candidate Obama wanted to do away with it, President Obama wants to keep it. His actions are not helpful for LGBT community at all, but sheer symbolic politics: Harvey Milk and Billie receive the Presidential Medal of Freedom, that's all.